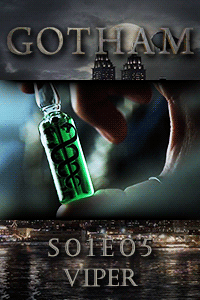 The general consensus around #gothamsnark this week seemed to be, "ugh, I have to watch Gotham now." Let me just add, "UGH. I HAVE TO RECAP GOTHAM NOW." More importantly, though, THANK YOU SO MUCH FOR WATCHING STILL.

Here's to you:

Sweeney: Someone on Twitter (a) was confused by my watching this show and then (b) admired our dedication. A toast to all of us who see things through to the end even as it defies our own self-interest so blatantly.

Alex: Thirded. I am so touched (and only slightly confused) by everyone's commitment to watching along with us. You guys are the best!