Previously: A new Watcher came to town, Faith got her steal AND her murder on, and the Mayor became indestructible.
—

Consequences
Kirsti: We open underwater to a whole lot of air bubbles. Buffy fights her way towards the surface, only to have the Deputy Mayor pull her back down. She breaks free and surfaces only to have Faith push her back under. She wakes from this nightmare wearing pyjamas covered in sheep. She wanders into Joyce's room where the news on TV informs us that the Deputy Mayor's body has been found. Welp, nice try on that whole hiding the body thing, Faith. I guess when most of your kills go poof on their own, your body hiding skills aren't that great. (S: Not that either one of them would even know if there was a section on that in the Slayer Handbook.) We see the Mayor on TV, and he's super pissed, vowing to find the killer. "It's just terrible, isn't it?" says Joyce, and we cut to Buffy's horrified face. Roll credits.
In the Wiggins Library, Wesley tells Buffy and Faith that he wants them to look into the Deputy Mayor's death. Buffy gets an "OH GOD, NO" expression and says that it's not really their jurisdiction. But Faith – wearing darker lipstick than ever – says it's fine. And I'm going to have to stop and talk about the costuming for a second because the camera just panned out and BUFFY IS WEARING JEANS. Not overalls. Not a micro mini. Not pastel business pants. JEANS.
Sweeney: BUFFY OWNS JEANS?
Lorraine: And sometimes she owns a bra! Crazy things happen in Sunnydale. Crazy things.
K: Clearly an apocalypse is brewing. But I digress.
Giles says he doesn't think it's worth looking into, on account of Not Supernatural, but Wesley stands his ground. They bicker until Cordy arrives, interrupting to ask for a book. Wesley gets an #awkwardboner and wrongly decides that Cordy's a teacher. Giles passes through the background to announce that she's a student and Wesley's #awkwardboner dies an abrupt and hilarious death.
S: TRULY HILARIOUS.
K: I honestly can't say I blame him, because Charisma Carpenter looks at least 30 in this scene.
He watches her go, and Faith says, "first word: JAIL, second word: BAIT." He reminds them that he's their commander (LOL WHUT) (S: He's lucky they were so distracted; surely Giles should have noticed that neither of them seized this opportunity.) and that he wants them to look into the murder. They agree, and leave to patrol.
In an empty classroom, Buffy says that they have to say something, but Faith won't have a bar of it. She wants to know why Buffy can pretend that Angel's dead when she needs to, but can't protect Faith now. Buffy, clearly distressed, says that she IS trying to protect Faith, but that avoiding it will make it worse. Faith reminds Buffy that she was there, and that if she goes down for the murder, she's taking Buffy with her. She storms out, leaving Buffy alone.
Buffy heads in search of Willow, who's apparently stolen Buffy's Overalls of Sadness. I'm not sure I blame her after her best friend bailed on her for a night of crime. There's some awkward small talk, and then Willow pretty much runs off, leaving Buffy alone again.
Lor: A murder rap and BFF problems at the same time? Harsh.
K: Cut to the scene of the murder where the police are collecting samples and taking witness statements and apparently not roping off the area very well because Angel is watching from the shadows. He makes a face that looks like he needs to poop but I'm pretty sure it's supposed to convey that he's joining the dots because we get a shot of the blood on the dumpster followed by a flashback of Angel noticing the blood on Buffy's hand the previous night.
Lor: I still cling to my theory that he's smelling this blood. Like, hmm, that blood smells like the blood I smelled on B's hand! That's a vampire thing, right? Right?
K: I feel like he could have conveyed sniffing at the blood smell much better by raising his nose in the air a little and flaring his nostrils. You know, like Oz did in Lover's Walk. Instead, we get Poop Face…
Lor: Doesn't really make a difference because I just made up the sniffing thing 'cause I think it's funny.
K: Segue over to City Hall where the Mayor is shredding papers. Apparently using the shredder is usually fun and cheers him up, but not this time, because damn that Deputy Mayor for leaving a paper trail! Mr. Trick pulls out a file from the coroner's office. The Deputy Mayor's wound had wooden splinters in it and that someone was apparently killing vampires not a block away. The Mayor giggles creepily at the idea of a Slayer up for murder one as we fade to black.
Later that night, Faith and Buffy break into the Deputy Mayor's office. Faith says that they did the world a favour because clearly he was crazy boring. Buffy doesn't take that very well, despite Faith's claims that it was a joke. (S: LOL REMEMBER THAT TIME WE COMMITTED MURDER?) They snoop around a bit, and Faith picks up a framed photo from the desk. "He came out of nowhere…" she says quietly, but when Buffy tries to agree, Faith gets defensive. Back to square one on the regret-having front!
They do some more snooping, and Buffy says that she thinks the Deputy Mayor was looking for them. This theory is backed up by the entire lack of papers in his filing cabinet. They go to leave but have to hide quickly when the Mayor and Mr. Trick walk past discussing evil things.
Out on main street, Faith's sarcasm is showing: "So the Mayor of Sunnydale's a black hat. That's a shocker, huh?" Buffy is actually surprised by this, which REALLY? Bless. (S: I was just thinking, at the beginning of the episode, how interesting it is that we've known he was evil for a long time now. I think this is the first time we've been IN THE KNOW and Buffy hasn't for such a long time.) Faith says that Buffy really has a lot to learn about people not showing their true faces. Buffy gets all "I GUESS I DO, LITTLE MISS MURDER", although perhaps a little less aggressively than that. Faith immediately gets defensive. Buffy says that she knows how Faith feels, because she feels the same – like it's a nightmare that she can't wake up from. She begs Faith to let her talk to Giles, but NOPE. Faith justifies what she did, because sometimes there's collateral damage and clearly he was a black hat anyway and LALALA CAN'T HEAR YOU.
Faith: You're still not seeing the big picture, B. Something made us different. We're warriors. We're built to kill.
Buffy: To kill demons! But it does *not* mean that we get to pass judgment on people like we're better than everybody else!
Faith: We are better! That's right, better. People need us to survive. In the balance, nobody's gonna cry over some random bystander who got caught in the crossfire.
Buffy: I am.
Faith: Well, that's your loss.
Faith walks away as the Flutes of Sadness play.
Lor: It's an interesting argument and I think it would hold up more for Buffy if it were accompanied by some remorse. "He came out of nowhere while I was staking," is pretty legit, you know. Also, as Faith goes on and on about being better than everyone and being awesome, I can't help but think about how she's a fluke slayer. It was a weird loophole that ultimately brought Faith into the calling. She could afford to bring the conceit down a few notches.
K: Excellent point. Let's just all be grateful that she doesn't throw a "You died, I'm the REAL Slayer" in Buffy's face…
Cut to Buffy arriving home to find the police waiting for her. It's the same douchey detective who didn't believe that Ted punched her in the face, so clearly this is going to end GREAT. We cut between interviews with Buffy and Faith, and it's obvious that their stories don't match up. Also, there are witnesses who put the two of them in the alley. He asks them both to call if they remember anything, and as he drives away from Faith's crappy motel, we see Angel lurking near a pay phone. Because lurking's what Angels do best!
Sweeney: I'm pretty sure brooding is his number one skill. The lurking tends be a side-effect of the brooding.
K: Because lurking's what Angels do SECOND best.
Cut to Willow's bedroom. Buffy, wearing a truly awful hot pink coat, says that they need to talk. Willow word-vomits about wanting to be free of bad feels and how she's jealous of "the Slayers Only attitude" that's cropped up recently, and Buffy bursts into tears. There's hugging and mutual crying and we cut to post-Buffy explaining everything. Willow's clearly horrified. She tells Buffy to go to Giles because he'll know what to do.
Over at the Wiggins Library, Giles emerges from his office, and just as Buffy's about to spill her guts, Faith appears behind Giles with a super bitch expression on her face. "It's okay, Buffy. I told him," she says. Except that Faith told Giles that BUFFY killed the Deputy Mayor.
Lor: SAY WUH? I'm taking back that one time I said I missed Faith.
K: Fair call.
Buffy tries to explain, but Giles gets his angry-and-disappointed face on, and tells Buffy to go to his office and Faith to leave. In his office, Buffy pleads her innocence, and Giles says that he knows Faith's responsible. Apparently, she's a sucky liar. Buffy is relieved and also a little scared of what Faith might do. Giles says that they should have gone straight to him, because accidental murder has happened before, and the Council can fix things. But WHOOPS, TOO LATE. Also, they need to get Faith to admit what she did before they can help her. Denial ain't just a river in Egypt, yo. He says it's essential that no one else know, but DOUBLE WHOOPS, Wesley's lurking outside the door.
Sweeney: And looking pretty smarmy too.
K: SO MUCH.
Cut to Wesley's hotel room where he's phoning the Council for help, specifically Suit Man from that one time Buffy had the worst birthday ever. Back at school, Buffy and Giles meet with Willow and Xander to discuss a plan of action. Willow suggests an intervention, but Giles thinks a one-on-one approach might be best. "Well, I can be the one on her one," says Xander and Buffy gives the best reaction face of EVER: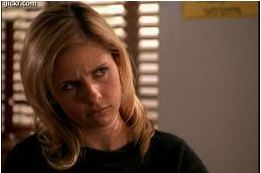 Xander goes on to say that they have a connection and the others are all "LOL, NOPE." He says that they "hung out a little…recently, and she seemed to be, um…responsive." At that, Willow gets an "OH GOD, NO" expression while Buffy and Giles take a further detour down the "why the hell would Faith talk to Xander" highway. There's eventual realisation followed by a collective and unspoken "EW." Buffy points out that Faith basically uses and discards the guys she sleeps with, and Giles suggests that Xander help with research instead. AGAIN calling bullshit on everything that happens in The Zeppo. God, you guys. That fucking episode will haunt us forever.
Sweeney: Just to briefly point out Xander grievances so that the Xander fans don't virtually torch us, Buffy's comment about Faith thinings the guys she sleeps with are kind of a joke was a genuinely shitty thing to say. Noted. Acknowledged.
K: It really was. We cut to Willow crying in a toilet cubicle about the Xander/Faith news. Ohh honey, he is so not even REMOTELY worth crying over.
Sweeney: NOPE. So much for that bridge mending.
Lor: Someone fetch Oz and his adorable face!
K: Cut again to the Wiggins Library and Xander moping about the fact that his first time wasn't the deep and meaningful shag he thought it was. Because, you know, being kicked out right after didn't give it away.
Sweeney: UGH, FINE, I'LL TRY AGAIN: see but, that's still really shitty and feeling feels is kind of the Team Feels thing. (SAY FEELS AGAIN. FEELS.) Putting myself in his position for a hot second, it seems truly awful.

Lor: It has the added bonus of now being a recognized thing. Even though he was pushed out of the hotel room, in his head there was still a level of, "RIGHT ON! SEX!" Now, having seen everyone's reaction and heard the shitty truth from B? Sucks. Three seasons in, and for all the self-deprecating Xander does, he isn't big into sharing his woes. For this to be a public woe? Brood on, kid.
K: Truth.
ANOTHER cut across to Faith's motel room where Xander has clearly decided to ignore all sensible advice and talk to the raging psycho anyway. Faith spins the "Buffy's the murderer" story, and Xander says that he heard that version. Faith isn't impressed, and is even LESS impressed when Xander says that he'll testify for her in court. She tries to seduce him (EW), and when he says that he thought they had a connection, she decides to add rape to the murder wrap, throwing him on the bed (EW) and spouting her "I see, I want, I take" mantra again.
Sweeney: The near-rape probably doesn't help his larger masculinity woes, which still annoys me as a thematic thing, but, you know, shitty.
K: Again, truth. "I can make you scream", Faith says between kisses. "I could make you die." With that, she starts strangling Xander, but luckily(??) Angel's on hand to hit her over the head with a baseball bat.
Lor:  See?! That's what happens when you lurk! You know if murder-rapists are murder/raping people nearby! 
K: Cut over to the mansion where Angel has Faith chained to the wall. She tries to make a Christian Grey thing out of it, but Angel's all "LOL, NOPE, THAT BOOK SUCKS."
Lor: No, but seriously. Faith mentions "vanilla" sex and then Angel mentions the "safety word" and my eye keeps twitching uncontrollably.
K: I'm sorry, Lor, but BAHAHAHAHAHAHA. He walks out to the garden where Buffy's waiting. When Buffy asks how Faith's doing, Angel makes a funny: "It's like talking to a wall. Only you get more from a wall." Buffy's hopeful for Faith's full rehabilitation into society, but Angel's not so sure.
Meanwhile, over at City Hall, the Mayor and Mr. Trick are watching security camera footage of Buffy and Faith sneaking into the Deputy Mayor's office. The Mayor is NOT pleased, and tells Mr. Trick to come up with a solution to deal with them.
Back at the mansion, Angel's trying to "I've been there, I'm a killer" Faith, but she won't have a bar of it. "I hope Evil takes Mastercard," she says when he tells her that she doesn't know the price of the path she's going down. There's some Tinkly Pianoing about feelings and how Faith can trust her friends, and basically I stop listening because Angel's talking for a really freaking long time. (S: -_-) Then Wesley and a couple of men from the Council break in. They beat Angel up, leaving him wrapped in a net, and take Faith away in handcuffs, to be taken to England for assessment and punishment.
Lor: It's a lucky thing Wesley knew where Angel lived and had the key to Angel's manacles…
K: In a van en route to the airport, Wesley tells Faith that their goal is to help her. She jiggles her restraints, and he tells the man from the Council to go and tighten them. She knocks him down and pins him with her boot, demanding that Wesley let her go. Because he's a giant chicken with no spine, he does. And gets head butted for his trouble. Sorry Wes, but LOL. You had that coming. Faith jumps out of the still moving van and heads into the night.
Over at the Wiggins Library, Angel fills the gang in on Wesley's part in taking Faith. Buffy says that they should intercept the van en route to the airport, but Willow's all "Uh, WHY?" because maybe Faith deserves to be locked up. (S: I'd like to point out that unlike SOME PEOPLE she acknowledges her bias when making this point.) Then Wesley and his black eye arrive, and the Scoobies are all, "wow, you suck at this." They split up to go in search of Faith.
We cut to the docks, where Buffy was to search. Of course, she won the prize – Faith appears at the top of a gangplank and says, "you don't give up, do you?"
Lor: It's interesting that Buffy isn't giving up on Faith. She's previously had such a black and white view of right and wrong. Maybe I'm just saying that because around this point in the episode, I'm with Willow. Give up on her already!
K: There's some back and forth, but Faith goes that step too far and says that she bets Buffy even liked it when Angel was on his Angelus-y psycho spree in season 2. Buffy eventually snaps and punches Faith.
Sweeney: Faith, unsurprisingly, appreciates it, as that's basically what she was going for.
K: Just as they're about to fight, a palette of crates starts to fall. Buffy pushes Faith out of the way and gets trapped under the crates herself.
Faith's about to help Buffy when Mr. Trick and a group of vampires show up. Faith fights them while Buffy fights unconsciousness and a very large crate. She frees herself only to be punched in the face by Mr. Trick. He tries to strangle her with his tie, and Faith – now out of opponents – debates whether to help or not. Just as Mr. Trick is about to bite Buffy, Faith stakes him.
Sweeney: He conveniently dies slowly enough to get in one last snarky line.
K: It irritates me that the run of the mill everyday vampires go *stake* *poof*, while the ones who've had speaking roles over more than one episode have time for last words. It's all or nothing, Whedon. NOT BOTH.
Lor: Their SAG cards say otherwise…
K: The two Slayers stare at each other, and we cut to the Library. Buffy says that Faith's not past redemption because she saved her life, and says that she's not going to give up on Faith. "Then I think she stands a chance," Giles says. At that, we cut to the Mayor's office. He goes to leave and finds Faith standing there. She tells him that she killed Mr Trick, and "I guess this means you have a job opening." The Mayor closes the door behind her, and we fade to black.
Welp. I guess Buffy's REALLY the good girl now.
Lor: Aw, man. This entire episode did a number on my opinion of Faith, and I know that was the point. Clearly, I don't know how it plays out or if there is "redemption" for her, but as it stands, I can't even say this is love/hate. She has great moments and lines pre-this episode but there was one specific moment where I was all, "NOPE. DONE.": when she tried to maybe-rape-probably-kill Xander. GUYS. THAT IS NOT OKAY. And I don't even LIKE Xander!

The rest of this season should be interesting.
I'm just going to stop liking people now. It's easier that way.
K: Probably for the best.
Next time on Buffy the Vampire Slayer: Anya's back and she's looking for some help getting her necklace back. Find out if she succeeds in S03 E16 – Doppelgangland.