Previously: NED IS DEAD.
–

Lorraine: We are zoomed in on a sword dripping blood, as we are definitely picking up this episode one second after Ned Stark's beheading. The camera pans out into the cheering crowd and in the out of focus background, we see the executioner lift up Ned's head.
Arya Stark is still being held by Yoren, a member of the Night's Watch. He calls her "boy" repeatedly and carries her out of the crowd. Arya sees her father's headless body being dragged away. Sansa faints. I feel more for Sansa in that second than I have in the entire previous nine episodes.
Sweeney: +1. If my heart weren't already shattered into all the little pieces over Ned's death, it would be breaking for her as well at that moment.
Lor: You know that it's hard times for Team Feels when we've run out of tiny-heart-pieces.
Yoren tells Arya to keep her mouth shut. "I'm not a boy!" she shouts at him. "You're not a smart boy, is that what you're trying to say?" She struggles against him, but when he asks if she wants to live, she settles. He uses his knife to cut off her hair and tells her that they will be traveling north.
Winterfell and Bran Stark's dream with the three eyed Raven. His voice cuts in, telling us that the raven always leads him to the crypts where his father is. Sweeney told me not to get too excited about this three-eyed raven, but it does have a little meaning. Three eyes usually stands for foresight and Bran was repeatedly being lead to his father's resting place.
I'M SORRY. I LIKE PREMONITIONS. Believe it or not, I blame Sweet Valley High.
Sweeney: I…don't remember telling you this? But yay premonitions? Honestly, I didn't pay very close attention to the premonition dreams the first time around, in part because they have the feel of something that is probably a lot more useful for readers of the books than watchers of the show.
Lor: I take your non-remembrance as an almost apology for premonition hatin'.
Bran is telling all this dream stuff to Osha, the captured Wildling, and she assures him that his father will not be down in the crypts for many years. Bran guesses that she is afraid of the crypts. She mildly protests but her, "SHIT BE SCARY" face says otherwise.
Sweeney: CRYPTS ARE EXCITING. The catacombs are high on my list of when-in-Paris recommendations. But, yeah, fine, scary too.
Lor: Shit Be Scary Crypts: Osha is carrying Bran as he holds a torch and exposits. His grandfather Lord Rickard was burned alive by the Mad King. Lyanna, Ned's sister, was kidnapped by Rhagar Targaryern, and though Now Dead King Robert started a war for her and won, Lyanna died anyways. Then Bran points out where he saw his father in the dream. Osha's all, "see? Nothing here?" but a big, fat definitely something shadow passes in front of the camera.
Through its perspective, we see something get closer to Osha and Bran and then we switch perspectives and see it is a direwolf. Osha and Bran fall to the ground but the direwolf doesn't attack. Rickon strolls in, calling after his Shaggydog. Bran tells Rickon to leave the crypt with them, but the little dude refuses. He "came to see father." Bran, despite having come down here to essentially do the same, forcefully tells Rickon that their father is in King's Landing. Rickon assures him, however, that he saw their father in the crypts last night while he was sleeping. Osha and Bran exchange, "Damn. Shit really do be scary," looks. Someone commented on the last post about Rickon being kind of creepy. Since he keeps showing up to basically say people are going to die, I can't really find fault in that opinion.
Sweeney: Word.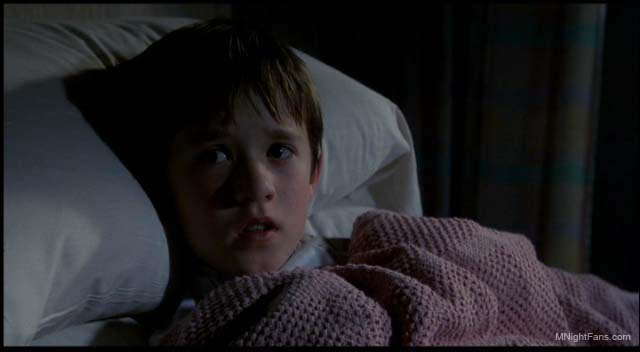 Lor: Outside again, Osha is trying to reassure Bran, saying that it's natural for him to miss and dream of his father. That bubble is soon burst, as Maester Luwin is reading some Raven Mail. Bran looks like he doesn't need to be told what it says.
Sweeney: FEELS.
Lor: We walk with Lady Catelyn Stark as the Strings of Ancient Sadness do double time. Soldiers bow as she walks by, and she is stone faced until she reaches a wooded area. There, alone, she starts hyperventilating right until she hears the sounds of someone else's breakdown. She follows the sound and finds her son Robb beating up a tree with his sword. Cat calls out to her son until he stops. Showing no sign of her previous emotion, she evenly tells him he is ruining his sword. Robb drops it all, "Fuck a sword! My papa is dead!" Cat hugs him as he cries. Now that his time killing trees is over, he vows to move on to killing them all. She evenly reminds him that they have Arya and Sansa. "We will get them back. And then we will kill them all."
Sweeney: This scene is lovely and heart-breaking and kind of epitomizes how hard this show is to snark, because I really just want to keep shouting "FEELS!" every eight seconds.
Lor: The Mad King's last words were, "burn them all." Interesting, isn't it, how similar that is?
Sweeney: Something about murdering family members inspires murdery vengeance feelings. Which is problematic because then you're going up against known murderers, which I suspect is a dangerous venture.
Lor: That's where that nifty "learning how to die" training would come in handy.
Throne room, where Joffrey appears to be presiding over Westeros Has Talent. A minstrel sings a tune about Now Dead King Robert's death via boar, and it has some choice lyrics about the lion in Robert's bed. You see, 'cause lion is for Lannister. Turns out, the minstrel sang this treasonous song in a tavern and was brought before the king. He promises never to sing it again, but Joffrey orders his tongue cut out. Horse death and tongue removal are two things I hope we see less of in season 2. Like, if I had a season 2 wish list, less of those things would be on it.
After his sentence is pronounced, Joffrey is done for the day. He removes his Kristy Thomas Crown of Cunty Fictional Characters, and starts to leave the throne room. He finds Sansa, who has been watching this all happen, and who looks for all the world like someone she's betrothed to just beheaded her father. Joffrey says she looks "nice." He asks her to walk with him. In the background, and again slightly out of focus, we see the minstrel's tongue being sliced off.
Westeros: Where frightening things happen in the unfocused background. Also: boobs.
Sweeney: We'll have to add that to our t-shirt wish list.
Lor: I'd rock that shirt.
Joffrey and Sansa are walking, as he explains that as soon as she "has [her] blood" he will impregnate her. I've never heard a more threatening thing in all my life. (S: Adds an unparalleled new kind of discomfort to starting your period for the first time.) They stop and when Sansa sees where they are, she freaks out. There are a line of heads displayed on pikes on the top of a castle wall. Sansa is averting her eyes, but Joffrey points out her father's head and orders her to look at it and see what happens to traitors. He thinks he was merciful to Ned, giving him a clean death. Sansa begs to go home, swears she won't do any treason, but Joffrey says they are still to be married. He yells again at her to look at her father's head. Joffrey also points out her nanny's head and says he will soon gift her with Robb's head. "Or maybe he'll give me yours," Sansa says. Oh, girl. From your mouth to Grandmother Willow's ears.
Sweeney: This definitely falls under the category of Things You Should Think But Not Say, but yeah, PLUS ONE. And score for Sansa, even if it was an ill-advised comment.
Lor: A little of her inherited bad-assery is showing there.
Joffrey takes a step toward Sansa, but remembers that his mother told him that king must never strike his lady. While I understand why that would be a lesson close to Cersei's heart, "A king must never be the tooliest tool who ever tooled in the whole history of tooldom," should've probably been the lesson they started with. Joffrey instructs one of his guards to smack Sansa instead. I'm not sure that's what his mother meant, but you never know with Cersei.
They are standing on a raised platform, and it is at this moment that Sansa looks down to the ground. After being threatened with Joffrey's sperm, it's no wonder she would consider pushing him off it. She walks closer to Joffrey but  The Hound stops her under the guise of wiping the little bit of blood on her lip. Joffrey leaves and The Hound advises Sansa to save herself pain and just listen to the little jerk. Sansa tries to hand him back his hanky, but he basically says she's probably going to be smacked a lot, so she should keep it.
At Robb's camp, an older man is saying that he thinks they should join forces with Renly Baratheon. Robb speaks up and says that Renly is not the  next king, as he is the youngest brother. It is Stannis Baratheon who is next in line. Lord Jon Umber stands and says he doesn't want Renly OR Stannis. He doesn't want anyone in King's Landing telling them how they should live way up in the North. He points his sword toward Robb and says he's the only king he'll bow to. "The king in the North." Robb is shocked. He's probably remembering how this morning he was hacking at a tree! Now people want him to be the king! Crazy day, man. Several other men, including Theon Greyjoy pledge their loyalty and they all starts chanting for their king in the north.
Sweeney: CHANTING! CHANTING! CHANTING!
Lor: MY FAVORITE.
Lady Cat pays Jaime Lannister a visit. He's tied up and bloody, but still manages to quip quite a bit, even after Lady Cat punches him IN THE FACE with a rock. A commenter last post pointed out how no one seems to really rally behind Catelyn, but let me tell you that so far in this episode she has been solidly fantastic. The have a little chat about whether or not her gods are real and then Cat asks him about Bran's fall. He admits that he pushed him, but won't tell her why.
Sweeney: Sidebar on Cat: This time around I became a lot more aware of how truly awful she was to Jon Snow. I mean, I get her feels about her husband's infidelity, but treating him like shit for existing is pretty ridiculous. That said, I love her when she gets all HBIC like this. This bitch is clearly Arya's mother.
Lor: Agreed. 
Queen Cersei's room, where there is a naked Lancel Lannister. Oh come on. I mean, not that cousin sex is any worse than twincest, but he's like 10 years old! And, seriously, there are so many non-Lannister men! GET YOU ONE OF THEM, CERSEI. Sorry. I don't really catch what happens in this scene and I refuse to go back and see Lancel's butt again.
Sweeney: Understandable. I think this scene is just there to really make sure we know Cersei's all about the incest. Also so we know that Lancel sucks, which isn't really news.
Lor: Thanks for nothing, scene.

At Tywin's war council, his men are glumly laying out the score: Jaime is captured, Robb is proving to be smarter than they expected, Robb's direwolf is racking up a death toll, and Stannis and Renly have also positioned themselves against the Lannisters. One man suggests brokering peace with Robb, but Tyrion says that option was lost when Joffrey removed Ned Stark's head. A few more suggestions are laid out but Tywin repeats himself 'cause no one seems to understand. THEY HAVE HIS BOY JAIME. He sends the men away, save for Tyrion.
Tywin gives Tyrion a backwards, "I guess you aren't a fool," type of compliment, which is a lot coming from him, I'm sure. He's sending Tyrion to King's Landing to serve as Hand of the King in his stead. "You are my son," Tywin declares and it's confusing because for a second, you want to feel happy for Tyrion. But then, Tywin finishes off this little pow-wow by informing Tyrion he can't take his "whore" to court. Less confusing.
Across the Narrow Sea. Inside of a tent we see Daenerys sleeping while Ser Jorah watches over her. She calls out to him and he helps her sit up. Daenerys asks after her son, but he did not live. There is no Rhaego and I am sad. Yes, because dead babies are sad, but also because that scene where everyone was chanting RHAEGO! RHAEGO! RHAEGO! is inexplicably one of my favorites. Don't ask, just go with it.
Sweeney: Because CHANTING! CHANTING! CHANTING!
Lor: Scratch what I said. It is explicable.
Dany wants to know what happened to her son. Mirri Maz Duur, up to no good witch lady and often found holding dances with the dead, says Rhaego was born dead and deformed. She doesn't have very good bedside manner, either, because she goes into detail about he was gross and "scaled like a lizard," and a number of other weird things. Mirri says she warned Dany that death would pay for Kahl Drogo's life. She doesn't go into details about how horse killing was probably just for funsies.

As they exit the tent, we see that they've been abandoned by most of the khalasar. The Dorthraki are decidedly not ride or die.
Dany sees Kahl Drogo and he's laid out near the edge of a cliff, catatonic and in desperate need of some ChapStick. Mirri is all, "BUT HE'S ALIVE LOL!" Dany asks when he'll be back to normal and Mirri says never, but she masks it in juju nonsense about suns setting and winds blowing. Dany says her son was innocent, but Mirri says he was to be the Stallion Who Mounts the World. Now, they are all saved from his destruction and, um, mounting. The Dorthraki destroyed Mirri's temple and before Daenerys spoke for her, three men had already raped her. Dany thinks she saved Mirri's life, but she has no temple and no people left. She says one need only look to Drogo to see what life is worth when all else is gone. So I guess the answer is, "dirty skin and chapped lips." Or, abridged, "not much."
The Wall. Jon Snow is preparing to leave, even though Sam reminds him what happens to deserters. Jon leaves all the same.
Sweeney: Somehow, Sam just isn't a very menacing force.
Lor: Over at Tyrion's red tent, Shae is packing stuff and complaining about being left behind thanks to Tywin's command. Tyrion decides to ignore his father's wishes and invites Shae to join him at King's Landing. This makes her happy.
Jon is riding through the night but notices he's being pursued. He speeds up, but when one of his pursuers is knocked off his horse, he figures out he's being chased by Wall-mates. Jon tells them to go back, but they won't let him leave. They remind him of the words of his vow and stand around solemnly.
Daenerys is sponge bathing Drogo and asking him to come back to her, but there is no response. She cries over him and repeats back some of the juju sun setting stuff.

She kisses him and then, with a pillow, suffocates him. Aw, man. This show just made me feel bad about the death of guy who we first saw getting rapey and most recently ripped a guy's tongue out. DAMN YOU, SHOW.
Also, this is not the death I would've imagined for Drogo. He's so helpless. This is not the death of a war lord.
"The thing you need to understand about kings…" Maester Pycelle is sitting on the edge of his bed, talking to a so far unseen person, giving us more back story on recent kings. Apparently the Mad King was a charmer, before the whole "mad" thing. As he starts talking about Robert, we see that Julia Roberts is the person in his room. Not real Julia Roberts, but you know, Ros. She's facing away from the camera so that we see her ass as she washes her vagina.
Pycelle keeps blabbering on, saying that now he serves Joffrey, who he calls capable and military-minded. Ros looks bored to tears, but asks what it is you need to understand about kings. She soon gives up as Pycelle doesn't even seem to hear her. She sees herself out. When shes gone, Pycelle hops up out of bed and does a series of stretches and squats, WHILE BACKLIT.
Sweeney: THIS WAS SO UNNECESSARY. Reusing a gif from recently: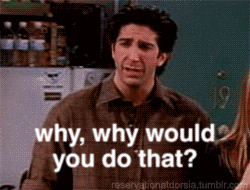 Lor: Thankfully, we cut to Pycelle fully dressed in his robe and chains. Before he leaves his room he purposefully bends over and hobbles out.
Interesting. I'm not sure it was worth the hooch-cleaning and backlit peen action, but we now know that this is Pycell's game. He is not nearly as weak as he plays. Also, it's interesting to consider what he said about Joffrey. He seemed to have only good to neutral things to say, but then again Ros is one of Littlefinger's girls…
Speak of the devil, he is standing in the throne room looking at the iron throne. Varys approaches and wonders if, when he pictures himself on the throne, all the people who sneered at him now kiss up to him. They don't, because in his imagination, Littlefinger beheads them all. Varys claims that he has no interest in the crown. What follows is the typical needling between these two. Basically, Littlefinger is all, "you have no balls, lol" and Varys is all, "you think way too much about my lack of balls, bro." This is interrupted by the entrance of Prince Douche.
Yoren is telling Arya that she will be called Arry and will travel with the group of men he's gathered for the Night's Watch. He tells her to lay low and to pee in private, which seem like good life lessons no matter who you are.
Sweeney: A+ and TRUTH.
Lor: Arya is almost immediately accosted by some of the boys she's to be traveling with. A hefty boy takes interest in Arya's sword and pushes her down to the ground. The Hefty Heckler says he once kicked a boy to death. When Hefty reaches for Arya's sword, she unsheathes it and points it at his face. "I already killed one fat boy," she sneers. "I'm good at killing fat boys. I like killing fat boys." This is an awkward moment to be proud of Arya, but it's just that I love her sense of survival so much.
This scuffle catches the attention of an older boy who scares away the Hefty Heckler. We know this boy, for he is Gendry, Now Dead King Robert's oldest bastard and the one Ned found working for the armorer. (S: YAY GENDRY!)
Gendry recognizes that Arya's sword is castle forged steel and assumes that she stole it- not that it matters. They will be traveling with rapists and thieves and all manner of men whose pasts don't matter when they reach the Wall. Arya asks what his story is, and he says he was an armorers apprentice, but then his master got sick of him.
Interesting indeed. That may be true, but I just think the timing is suspect. Lord Aaryn, we previously learned, was the one making sure Robert's bastards were taken care of. He's gone, and Ned's gone and Robert's gone, and suddenly Gendry is pushed away by his master.
Sweeney: You're a clever one, you. It's almost like we've been detecting the shit out of things for a while now.
Lor: Indeed. Nancy Drew taught us well.

Yoren yells at them all to get a move on, because winter is coming and they can't dilly dally or else they'll be late for winter. Something like that.  Arya leaves King's Landing, with one long look back.
At the wall, the Lord Commander knows that Jon Snow ran away from home. Jon is freaked, but apparently, running away for a night is a common occurrence when you've taken a lifetime vow. "Honor made you leave, honor brought you back," the Lord Commander says. Jon clarifies that it was his friends who brought him back. "I didn't say it was your honor." Burn.
The Commander goes on that the war beyond the wall is more important that Robb's war or who is sitting on the Iron Throne. He wants Jon and his direwolf to be there the next day as the Night's Watch rides out beyond the wall. I love that he made sure to mention the direwolf.
Sweeney: Because if you're going north of the wall, you need a little DIREBOSS support.
Lor: We keep hearing the Commander's voice narrate as the scene switches to the next day as the men prepare for their journey. They will look for Wildlings, White Walkers and Benjen Stark, dead or alive. Then he asks Jon, "are you a brother of the Night's Watch or a bastard boy who wants to play at war?" The music of I'm Not a Bastard Anymore swells up as we see Jon riding with the other Night's Watch men through the tunnel that will lead them beyond the Wall.
Now Dead Kahl Drogo's body is wrapped and on top of a pyre. Daenerys has her dragons eggs arranged around his body. Ser Jorah wants her to sell them and live her life out as a wealthy woman, but that isn't part of her plan. Jorah says he vowed to serve her, but he can't stand by and see her act out on her intentions. He cannot watch her climb on the pyre and burn with Drogo. Dany's all, "Aw. That's cute that you think I burn," and gives him a tender kiss on the cheek.
Interesting.
She turns to face the people who are left. She tells them they will be her khalasar, and releases the slaves, telling they can leave if they wish. A lot of them do wish, and this causes Mirri Maz Duur to smile. Jokes on her, though, because Dany orders her tied to the pyre as she finishes her speech: I am Daenery Stormborn, of House Targeryan, of the blood of old Valyria. I am the dragon's daughter, and I swear to you that those who would harm you will die screaming. Mirri shouts that she will not scream and Daenerys is all, "UH, what part of PYRE don't you understand, bitch?" Burning alive seems like one of those things that would probably cause you to scream.
Dany lights the pyre and as the fire catches, Mirri begins to sing. And then she starts to scream. Daenerys walks into the fire and we fade to black.
The next day, the people of the khalasar are waking up and Jorah is walking toward the charred remains of the pyre. In the middle sits a naked, soot covered Daenerys with a dragon on her shoulder and one in her arms. Jorah kneels before her calling her "blood of my blood." Daenerys stands and we see that there are three dragons. All the people bow before her as the dragon on her shoulder spreads it's adorable, killer wings and screeches.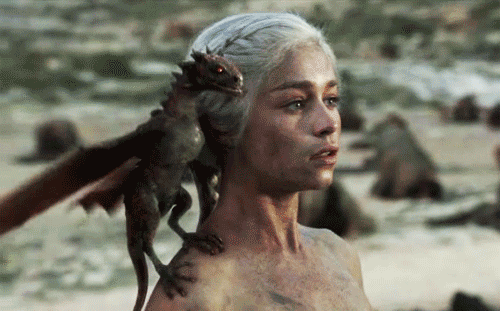 YOU GUYS. DRAGONS. I knew those long, lingering shots on the eggs couldn't be all for naught. It's interesting to me that Daenerys made a point of saying that she didn't want Mirri's screams, but her life. There were three eggs and three deaths: Rhaedo, Drogo and Mirri. Considering all the "death in exchange for life," stuff, it feels like that could be significant.
Sweeney: That's a great point, but I'm still stuck on "DRAGONS! DRAGONS! DRAGONS!"
Lor: Chanting! Chanting! Chanting!
Also, Daenerys is definitely fire-proof, which seems like a handy thing to be if you are going to carry dragons around.
Sweeney: FIRE CANNOT KILL THE DRAGON!
Next time on Game of Thrones: Lots of people are after the Throne of Discomfort and Cersei is after our Arya. Bitch wants to die? Find out in S02 E01 – The North Remembers.