Previously: Buffy got crazy irrational about her roommate, only her roommate turned out to be a demon trying to steal her soul. WHOOPS.
—

The Harsh Light of Day
Kirsti: I have a love/hate relationship with this episode. Because it's kind of awesome. But there's also a crapton of douchey nonsense that pisses me off. So…yeah.
We open at the Bronze. Oh, trusty Bronze. At least something around here is still the same… Also the same? Dingoes Ate My Baby are playing and Willow's doing her proud face over Oz's musical abilities.
Lor: Also, Devon is wearing a belly-shirt with the US flag on it. Oh, trusty horrible fashion. You too are still the same.
Sweeney: And we're so glad for it! I would be so lost and confused without it.
K: So true.
Willow stops for a minute to point out to Buffy that Parker's there, and turns out Buffy doesn't need to look because she's sneakily perving on him in a contrivancy convex traffic safety mirror thing. Through the conversation, we discover that Parker and Buffy have been hanging out pretty much non-stop all week, but that they're not here together. Buffy says it's on account of how she doesn't want to crowd him. Willow makes an "Ugh, please don't turn into one of THOSE girls" face, and then turns as Oz walks up to ask the girls if they're ready to go. She then points out that Parker actually HAS a reflection, giving him a millionty bonus points. She then tells Oz that "Buffy's having lusty wrong feelings" before back pedalling and pointing out that they're both young and single and there's clearly no wrong there.
Sweeney: Which is what frustrates me about this episode. I don't object to giving Buffy a storyline like this, but after being all tragic magic vagina, THIS is how we ready her to have a legit relationship? Really?
K: A+ and 1430 to you, Sweeney.
Parker appears out of nowhere to say that he's heading out, and does Buffy want to be walked back to her dorm because Sunnydale has some creepy weird shit happening after dark. He and Buffy leave, and Willow gets a "BEST WINGMAN EVER" face. Cut to the back of the Bronze, where Willow's helping the band pack their stuff into Oz's van. Devon mentions that they're playing a show in LA soon, which is a not-so-subtle clue that Oz is going to appear in an episode of Angel. I'd call that a spoiler, but considering we're covering both episodes today, I'm sure you can cope.
Lor: Whatever, K. You just like ruining things.
Sweeney: It can be really hard to resist the urge to spoiler gloat.
K: EXACTLY.
Anyway, Oz and Devon head back into the Bronze to get more stuff. While they're gone, Harmony approaches Willow. They have a, "haven't seen you since graduation!" conversation, and each say that the other hasn't changed at all. Uh, it's been like four months, you guys… Harmony bursts Willow's bubble about not having changed by vamping out and nomming Willow's neck. Roll credits.
Lor: I will take this time to (1) be equally appalled at Willow's sheep-fur-trimmed black coat and (2) express nit-picky shock over this turn of events. I cannot believe that Willow wouldn't know whether Harmony was dead or not. And I find it hard to believe that the vamp who was nomming her mid-Graduation day chaos took the time to turn her. Unless there is some sort of vamp-turning-lay-away-plan I should be aware of.
Sweeney: +1, especially to that second point. The Great Contrivance Spirit was all sorts of present on graduation day.
K: Excellent points.
Oz pulls Harmony off Willow, and they scare her off with a crucifix. But not before she says "Guess what? I have a boyfriend too. And he's going to be mad that you were mean to me!" Harmony may be vampire now, but other than that, nothing's changed! Cut to the main street, where Parker's grilling Buffy about her hobbies. Her reply? "Mostly I…hang out and…do stuff." You and me both, Buff. You and me both. Parker notices the Angel nom mark on her neck, and she says it's from an angry puppy.
Snort. Parker mentions that his father died the previous year, and then stops to point out that he's not mentioning it to get sympathy. "Don't you hate guys that are all "I'm dark and brooding so give me love"?" "I… I've never met that type." AHAHAHA. Anyway, apparently the moral of Parker's Dead Dad story is that he's all about carpe-ing the diem. As part of this, he asks her to go to a party with him the following night. Buffy gets all smiley and blushy and YAY TO THE LACK OF BROODING.
Lor: Not even. I give this scene an emphatic, "meh." I'm not looking forward to any plots revolving around B's "secret identity." Also, Parker and Xander resemble each other except the part where Parker has eyebrows Sandy Cohen would be proud of.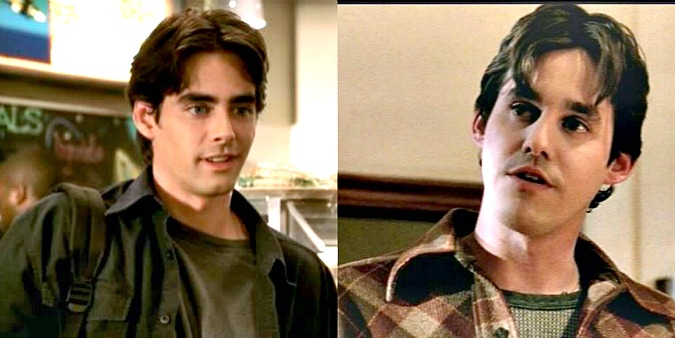 Sweeney: YES, BUT ESPECIALLY TO THE EYEBROWS.
K: OH MY GOD, HE TOTALLY HAS SANDY COHEN EYEBROWS. How did I never notice that before?!
Cut to Giles' where Xander is shelving books. I have to stop and insert this whole conversation because it's fabulous:
Xander: "I'm not enjoying this."
Giles: "Well, shelve them correctly and we can finish."
Xander: "I don't get your crazy system."
Giles: "My system? It's the alphabet!"
Xander: "Huh. Would you look at that…"
Anyway, Anya walks in, and YAY ANYA. (L: Boo her hair…) (S: SHE'S A SPECIAL SNOWFLAKE, LEAVE HER ALONE. Sorry, I need to be capslocky indignantly defending someone; I don't know how else to cover Buffy.) Both Giles and Xander are surprised to see her, considering she did a huge running away thing before graduation and hadn't been heard from since. Anya drags Xander outside and is her typically fabulously blunt self, demanding, "where is our relationship going?" Xander's rather shocked to hear that they HAVE a relationship. Apparently going to the prom together means Anya thinks they're dating. Bless. She pushes for a standing Friday night date, and Xander's all "Uhhhhh… Things usually sort of develop on their own."
At that, we cut to Buffy's dorm room door. Parker goes to kiss her, but they get cockblocked by Willow and her bleeding on account of Harmony biting her thing. Buffy tells Parker that the angry puppy has returned and she needs to go deal with it. LOL. Nice cover, Buff. He leaves, and they head into the room to find Willow a bandaid. Oz and Willow fill Buffy in on the whole Harmony's a vampire thing, and Buffy's all "What kind of idiot would date Harmony?" At that, we cut to Harmony walking through an underground tunnel. She approaches a man using an pneumatic drill. "Hi baby. I'm back," she says. He turns and pulls off his protective mask, and SPIIIIIIIIIIIIIIIIIIIIIIIIIIIIIIIIIIIIIIIIIIIIIIIIIIIIIIIIIIIIIIIIIIIIIIIIIIIIIIKE!!!!!!!!!!!!!!!! Fade to black.
Lor: I had to cut out a few I's from that "Spike" so that it wouldn't awkwardly cut to the next line. True story.
K: After the Not Ad Break, Spike is discussing the location of a crypt with one of his minions. It's typical Spike stuff – some sass, a little threatening and violence, and then Harmony interrupts with "How's my little blondie bear?" This relationship will never not be hilarious to me, despite its undertones of domestic abuse. Harmony wants Spike to kill Willow, but he won't on account of Super Secret Business and No One Can Know I'm Here. Harmony throws several minor hissyfits until Spike says that he'll take her to a party that night.
Cut to Buffy and Parker walking into the frat party, where Bif Naked is playing, which seems a little too much pulling power for a college party at UC Sunnydale. BUT I DIGRESS. Everything's going well until they bump into Spike and Harmony "helping" a "drunk" guy leave the party.
Buffy and Spike indulge in a little mocking-each-other's-relationships banter that culminates in Spike making a run for it. Buffy follows, and she and Spike get into a small fight. She mocks him about Harmony some more, asking if Dru dumped him again. Harmony interrupts with "Yeah, she left him for a fungus demon. It's all he talks about." Awesome. Spike says that they're leaving because this isn't the time. Harmony then thoughtfully spills the beans, letting slip that they're searching for Gem of Amarra. Spike drags her off into the night.
Lor: And for a better part of this scene, Buffy just stands there watching him with a stake in hand, just two episodes after we saw her kill Sunday by throwing a stake. No, I don't expect her to kill Spike but it wouldn't have killed them to think of a reason why she didn't…
Sweeney: RIGHT? Look, I get it, GCS, he's awesome and he's here to stay. He is, however, a mega evil vampire and killing him is Buffy's whole mission statement so you need to at least halfass a reason that she isn't even trying.
K: YAY WHEDON PLOT HOLE!!
Over in Xander's basement, he's hanging a disco ball from the ceiling. Anya walks in and wants to talk again. He asks if she wants a drink, and while he's getting said drink out of the bar fridge, she slips her dress off, resulting in this reaction, which will forever sum up Xander to me:
Back at UC Sunnydale, Buffy's on the phone to Giles. She fills him in on the events of the party, and he gets all "LOL WHUT." The Gem of Amarra is apparently a vampire fairytale, the equivalent of the Holy Grail. Giles agrees to look into it nonetheless, given that Spike thinks it's real, and Buffy heads back to the party.
Over in Spike's lair, Harmony asks if she can turn Antonio Banderas into a vampire. LOL. Spike acts like a douche to her some more, and it culminates in sexy times.
Lor: Thank you for being brief because the scene was disturbing and absolutely had domestic violence undertones, but also Harmony is just stupidly annoying. And then, even though I didn't want to watch, Spike had his shirt off. WTF SCENE? What the eff.
Sweeney: I DIDN'T EVEN KNOW WHICH FEELING TO CONCENTRATE ON.
K: RIGHT??? This is why I have a love/hate relationship with this episode. Because a) SHIRTLESS SPIKE, but b) Shirtless Spike is the absolute worst kind of twatty douchecanoe to Harmony and I want to punch her in the face for 1. being annoying, and 2. staying with him. GAH.
The camera pans away and we cut over to Xander's, where Anya's explaining that them having sex will mean she'll be able to stop thinking about him, and Xander hasn't moved at all. HILAR.
Anya: "I like you. You're funny and you're nicely shaped. And, frankly, it's ludicrous to have these interlocking bodies and not interlock. Please remove your clothing now."
Xander: "And the amazing thing? Still more romantic than Faith…"
They kiss, and we thankfully cut back to the frat house where Buffy offers the following explanation to Parker: Spike's an alcoholic, and she was worried after seeing him around so much booze.
Lor: Funny considering the whole vampire/blood thing being often compared to an alcoholic/alcohol thing.
K: Parker asks if she and Spike used to date, and she cracks up laughing. He's glad, on account of JEALOUS, and they slow dance to "Lucky." Parker sweet talks her, and they make out a little.
Cut to Parker's dorm room for some sexy times, with "Lucky" still playing in the background. Giles, meanwhile, has found something and leaves Buffy a voicemail to call him.
The next morning, Buffy wakes up alone. Obviously, after the LAST time she indulged in some sexy times and woke up alone, she wigs out a little. Also, in the harsh light of day (do I get a gold star for using the episode title, Sweeney??), his dorm room is less "romantic alone time" and more "Parker's kind of a slob and EW."
Sweeney: It's not quite the same when you know there's a prize, rather than being rewarded with this sense of importance by the demi-gods known as "the writers." But I like giving gold stars, so yeah: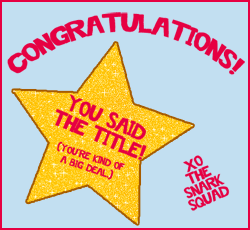 K: It's so sparkly!!! She's searching for her clothes when he returns with coffee. She asks if he has plans, and he says that his mum's coming to visit but that he'll call her later. UH HUH. A LIKELY STORY.
Lor: My thoughts exactly. Nothing about Parker makes me like him, but sweet Jesus, is Buffy's second sexual partner also going to turn out less than ideal? REALLY? Breaking a man with her vag wasn't enough?
Sweeney: I guess I cheated because of the future-knowing, so I'll clarify that you actually said this first even though I didn't know. But it makes me feel like our SRSLY is that much more legit, since it's shared.
K: As much as I love Joss Whedon, I really hate him for deciding this was a thing that had to happen.
Cut to Xander's, where he and Anya are dressing. She says that she's over him now, and when he goes "Um… Okay?" she throws a hissy fit and runs out, leaving Xander in a world of confusion. Oh, Anya. Never change. Over at Spike's lair, Harmony's writing "Spike loves Harmony" on Spike's back in black lipstick. He wakes up and says that he has to get back to work. "You love that tunnel more than me," Harmony says. "I love syphilis more than you" Spike retorts.
Buffy walks into her dorm room and starts undoing her ridiculous shirt. She's interrupted by a "Good morning" from Giles, which obviously brings a look of horror because a) undressing in front of father figure, and b) busted on the walk of shame by father figure. AWKWARD. Willow, meanwhile, makes "FOUR FOR YOU, BUFFY SUMMERS, YOU GO BUFFY SUMMERS" gestures in the background.
Giles, apparently, needs to talk to Buffy about the impending disaster. Apparently the gem is both real and in Sunnydale. Spike: 1, Watcher and Slayer: 0. Willow ushers Giles out and Kermit flails her way over to Buffy's bed to ask for details. "Details? I mean, not DETAILS, I don't need a diagram, but maybe, like, a blurry water-colour?" Oh, Willow. You're adorable.
Lor: I love them best-friend-ing and I love her hair.
Sweeney: I wish I had commented first, so I could say more than "YEAH, THIS TOO!" But they are the absolute cutest.
K: Cut to Spike's tunnel. He says that they're close, and that no one's to leave the tunnels until they're into the crypt so the Slayer can't track them. Harmony throws a little hissyfit, and the minions walk off in disgust. Spike gets all domestic violence-y again, and when Harmony tearfully wonders why she lets him be so mean says, "Love hurts, baby." At that, we start a montage, cutting between Buffy carrying her Sunnydale High yearbook around campus asking people if they've seen Harmony, checking her answering machine for messages from Parker, Spike drilling into the roof of the tunnel, and Buffy staring miserably at the phone.
Spike breaks through into the crypt and wanders around with a lantern. He's about to grab a hideous pendant off a skeleton when Harmony says "Oooh. Pretty!" from behind him, and asks if she can take stuff. He pretty much says "UGH. WHATEVER." and reaches for the ugly pendant again. He yanks it off the skeleton and puts it on. Harmony, meanwhile, is covering herself in jewellery and asking if he feels any different.
She keeps wibbling away in the background as Spike marches over to a crucifix. He grabs it, and it burns him. Harmony's all "OH WELL", and keeps on talking until Spike snaps and stakes her. He pulls the stake out, and instead of her turning into a pile of dust, the wound heals. She beats at his chest, and he grabs her hand, staring at a ring she's put on. He takes a piece of cloth, wraps it around the crucifix, and holds the crucifix to her forehead, where absolutely nothing happens. Harmony throws the ring at him and tells him to get out. He leaves to "go and play outside."
We cut over to Giles' where I've suddenly decided that I would 100% watch a spin off featuring Oz and Giles:
Oz: "Okay, I'm either borrowing all your albums or I'm moving in."
Giles: "Oz, there are more important things than records right now."
Oz: More important than this one? *holds up "Loaded" by The Velvet Underground*"
Giles: "Yes, well, I suppose an argument could be made…"
Meanwhile, Xander has discovered that Giles owns a TV, and the Scoobies are all very disappointed in Giles. It's kind of hilarious to watch him defend himself. Xander turns it on just in time to see a news item about a giant sinkhole opening up in the middle of town. YAY FOR TV – they're done with the research.
Sweeney: I know we're pretty well past trying to count ALL the ways that contrivance is driving this plot, but…um, I guess that's what I'm doing here. Carry on.
K: Cut to campus in the middle of the day, where Buffy has just spotted Parker telling his "my dad died" sob story to another young impressionable girl. Buffy's all "Uhhhhh, what's happening??" on account of she's used to Angel, who's either hideously devoted or trying to kill her. Douchey Parker is a massive douchecanoe, and gets all "AHAHAHA, FRESHMEN" when she said that she thought he liked her and didn't it mean anything to him? He blows her off and walks away as the Piano and String Orchestra of "Welp, There Goes Buffy's Magic Vagina Again" strike up. "Well, that was pathetic" comes Spike's voice from behind her, and she turns in time for Spike to punch her in the face. Fade to black.
Lor: Just… just imagine me head-desking. I hate Parker and I hate when Buffy temporarily misplaces her spine.
K: Right there with you, Lor. Right there with you. After the Not Ad Break, Buffy's on the ground, hurting from Spike's punch, while he stands around monologuing: "Innit a fantastic day? Birds singing, squirrels making lots of rotten little squirrels, sun beaming down in a nice, non-fatal way. It's very exciting, I can't wait to see if I freckle." She jumps up and stakes him, then stares in horror as the wound heals. He shows off the ring, then punches her again, knocking her to the ground.
He vamps out, and we cut over to Giles, Oz and Willow entering the crypt. They find Harmony crying. She vamps out and rushes at Willow.
Sweeney: The vamping out looks super weird without the helpful addition of being shrouded in darkness.
K: SO MUCH. Xander, meanwhile, is hammering furiously on Buffy's dorm room door. Anya turns up in a slightly creepy stalker way, and he's all "DUDE. I DON'T HAVE TIME FOR THIS" and leaves Anya standing in the hallway. Down in the crypt, Giles holds Harmony off with a stake while he questions her. Harmony spills the beans: "He staked me, then he took it. He tried to take it right off my finger. Like I wouldn't have just given it to him. I would have given him anything he wanted. He was my platinum baby and I loved him." Then she makes a run for it, and escapes through the hole in the crypt floor.
Out in the daylight, Spike and Buffy are fighting to the death.
Lor: On campus. In broad daylight. And yet, no one is around. Thanks Contrivance U!
K: Contrivance U is the best. Especially seeing as when she was talking to Douchey Parker two minutes earlier, there were people EVERYWHERE. Anyway. They're pretty equally matched, but Spike slowly starts to gain the upper hand. Xander approaches, looking to help, and gets his arse kicked. Spike taunts Buffy about sleeping with Parker, and plays on her "Oh God, what did I do wrong?" concerns: "I wonder what went wrong. Were you too strong? Did you bruise the boy? Whatever. Guess you're not worth the second go. Come to think of it seems like someone told me as much. Who was that? Oh, yeah. Angel." That gets Buffy fighting mad, and she throws herself back into the fight. After throwing him around a bit and destroying some university property, Buffy pins Spike and yanks the ring off his finger. Sizzling noises ensue, and Spike runs for the sewers. Buffy, meanwhile, sits down to nurse her injuries and stare at the ring.
Cut to Giles', where the Scoobies are staring at the ring. Giles argues for destroying it, but Buffy won't have a bar of it. She wants Angel to have the ring. Oz says he'll swing by while the band are playing in LA. On campus that night, Buffy's asking Willow if she'll always have a Magic Vagina That Turns Men Evil. When Willow tries to reassure her by saying that it's okay to make mistakes, Buffy gets all "Parker said that one time." Willow calls him a poop head and I love her for being a badass witch who's dating a werewolf and still saying "poop head" like my seven year old niece.
Buffy gets a little desperate and asks if maybe she and Parker could still work out. Willow's all "Oh, honey, NO." Buffy leaves to take a walk by herself, and the camera pans out to show her, Anya, and Harmony, all walking alone in the dark, forming three points of the Mopey Triangle of "Love Is The Worst." Fade to black.
Lor: I see the love/hate here. I like Anya and Spike and Oz, but there were so many little plot things that added up to grating. Plus, Buffy has sex and it's "bad" again. That would be the "hate" portion of the episode…
Sweeney: EXACTLY. Anya, Spike, and Oz are the only things to appreciate in this episode in which Contrivance U just makes shit up as it goes, as Contrivance Entities are known to do.
K: It's season 4, you guys. It only gets more contrivance-y from here. Oy…
Next time, on Buffy the Vampire Slayer: It's Halloween and the gang head to a frat house party. Which goes swimmingly until their nightmares start coming true. Find out what Anya's afraid of in S04 E04 – Fear, Itself.