Previously: Riley realized he liked him some Buffy, we were introduced to The Initiative and Willow and Spike stole the show. No surprises, really.
—
Pangs
Lorraine: Buffy, in jeans and a leather jacket, approaches a tall, blond, slightly dorky looking guy who she immediately punches IN THE FACE. (S: BAMF BUFFY GREETINGS.) He puts his vampgrill on and says things were much better for the college-vamps back when she was in high school. Something like that. I don't want to consider this too deeply because how many vampires are parading around as college students and why didn't she know this before? Anyways, she dusts this vamp but gets a sense that something is still out there, lurking.
And then I LOL forever because it is in fact Angel lurking in some bushes. I like Angel more now, thanks to his own show, and I'm sad his intro back into Sunnydale is via lurking in bushes. You are past that now, my broody, broody friend. Roll credits.
Sweeney: Angel fangirling generally amounts to a lot of D: faces as he does something sad and feelsy, so I need take advantage of this rare opportunity: ANGEL BACK IN SUNNYDALE!!!!!!!!!!!!!!!!!!!
Carry on.
K: Lurk lurk lurk lurk snore. Sorry, y'all. Team Heartless Cow is back. 
Lor: Kirsti, girl. Team Heartless Cow never left.

At a university ground-breaking, Dean Guerrero introduces us to Dr. Gerhardt, a professor of anthropology who explains that the university is building a new cultural center. As she speeches, we see that Willow, Buffy and Anya are standing by having a "who is wearing the fugliest outfit?" contest. I think I'm voting Anya, because her pants are giving me Geometry class flashbacks, though a case can be made for Buffy's hat alone.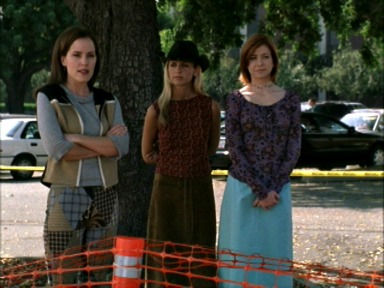 Sweeney: In a rare upset, Willow appears to be the loser of the Fashion Trainwreck contest!
Lor: She's doing her best, though.
Anya is commenting on Xander's manliness, as he stands with the construction crew on site. It's his job of the episode. She says she's imagining having sex with him. Buffy and Willow exchange looks. It's the look I'm exchanging with you all, right now, via Internet.
K: I'm also going to mention that Buffy, she of the hideous cowboy hat, judges Xander for his outfit and makes a Village People reference. Pot, meet kettle. 
Lor: Dr. G keeps speeching and apparently it's Thanksgiving, a holiday she says is about making our culture stronger. Willow takes offense and gives an impassioned speech about Thanksgiving being about Pilgrims wiping out indigenous people. Buffy mentions that Joyce is visiting some "Aunt Darla" and has abandoned her only daughter during a typically family-oriented holiday for which universities close. Anya calls Thanksgiving a "ritual sacrifice," and when Buffy says it isn't like that, Anya offers, "To commemorate a past event, you kill and eat an animal. It's a ritual sacrifice — with pie." She isn't wrong.
Sweeney: 1430 for Anya.
K: If season 4 has given us anything, it's Anya Appreciation. 
Lor: Dr. G finishes her boring-ass speech and breaks ground. Anya gets super happy when Xander starts digging and TMI's that she is imaging having sex with him again. Buffy snarks, "Imaginary Xander is quite the machine." Xander digs like, three inches down, and suddenly he falls through the ground into some sort of underground room. Seriously, he throws two shovel fulls of dirt and that's it.
K: Archaeologist Kirsti has SO MANY ISSUES WITH THIS. It should be at least 2-3 feet of excavation to reach that. Also, given that the roof Xander fell through was made of wood, it would have collapsed years ago from the weight of the dirt on top of it. GAH.
Lor: I think I'm going to make fun of you for the rest of the recap for always referring to yourself kind of like you have an Inner Goddess. It'll be great too because you won't see this until it's published. LOVE YOU.
Later that night, Angel continues to bush-lurk, looking up at Buffy's dorm window.
Up in the Bigger on the Inside Dorm Room, Buffy stares wistfully out the window as Willow exposits that the room Xander fell into is the lost Sunnydale mission. B wonders how a mission can be lost, and it's all thanks to the 1812 earthquake. In the hall, students are "whooping and hollering" according to my closed captioning all in "post-midterm frenzy" and excitement over the upcoming holiday. Buffy is sad she isn't going home, but suddenly decides that she will make dinner for her friends. Willow thought they agreed that Thanksgiving was a sham, but Buffy clarifies that it's "a sham with yams." Buffy appeals to Willow on the basis of emotional memories and comfort food. They agree that they could invite Xander and Giles, and Willow perks up at the thought of not inviting Anya. Buffy doesn't know though, as she feels the point of Thanksgiving is that everyone has a place to go.
Cut to Spike bumbling about and wrapped in a shabby blanket. He runs off into some bushes and we see that he's being tailed by Riley & Friends. They chit chat about being tired, going home for Thanksgiving and how even though the implant in Spike's head is working great, them not wanting anyone who knows about the Initiative on the loose. I'm not sure what the point of the Initiative is, then, because are you just gonna rehabilitate baddies and keep them in captivity? I'll find out later?
Sweeney: My memory might just be a little rusty, but no, I don't think you ever really will. As far as I can tell, the only purpose of The Initiative is some sort of deal with The Great Contrivance Spirit, wherein we, the viewers, are subjected to an atrocious season-long arc, which, if we agree to accept it's awful central premise, grants us a logical excuse for Spike to stick around.
Lor: Oh, I see. 'Cause of the implant. Welp. Nothing in life comes for free.
At Xander's place, he is getting dressed when Anya comes in and says she went to see him digging but he wasn't there. He claims to be feeling sluggish and Anya feels his forehead. Her many years inflicting diseases on men have allowed her to recognize that he is sick. He falls back into bed and she starts ripping his clothes off. When she shows no concern for catching whatever he has, he calls her a strange girlfriend and she perks up at the term. Xander recants, saying there is a chance he's delirious. Xander needs to learn how to be nicer to his girlfriends.
Sweeney: He does. But Anya takes it pretty well, because they're awesome together. Similarly snarky banter without ever being as willfully mean-spirited as he and Cordelia were with each other.
Lor: Over at the Formerly Lost Underground Mission, a green fog escapes through the hole Xander made.
Dr. G is on the phone in some sort of small museum and says she's excited about the lost mission.. The green fog enters and Dr. G notices it surround a knife and then materialize into a hand. Said hand is attached to a  Native American man who promptly slits Dr. G's throat. I'm really glad I didn't invest all that extra time completely spelling out her name.
K: Museum Curator Kirsti has problems with this because SHE IS NOT USING PROPER OBJECT HANDLING TECHNIQUES. One doesn't just pick up a historic ceramic pot and carry it around with one hand while talking on the phone. One uses two hands, and gloves, and a trolley. Sorry. I'll stop now.
Lor: And then Museum Curator Kirsti does salsa with some mergengue moves and somersaults like a panda.
Buffy and Willow head to the museum to investigate. It seems that Dr. G's body was missing an ear, leading Willow to guess that perhaps they are dealing with witches or ear-harvesting demons. She admits she's a bit off her game just as Buffy notices that something is missing from one of the cases: an early-1800s Chumash knife.
Later, at Giles's apartment, Buffy says it was terrifying, but she's talking about the grocery store. Giles is more interested in the, you know, murder. She tells him about the Chumash knife and he says Chumash were indigenous to the area. Buffy meanwwhile is laying out groceries. Giles wants to know why the festivities are at his house and she says something about American traditions and him as the patriarch. I appreciate any and all things that remind us that Giles is the best Substitute Parent ever. (S: +1) For his part, Giles isn't buying it and thinks she may just be sticking him with the clean-up. She quickly changes the subject back to the knife, which he promises to research.
When she's gone, Giles asks someone unseen what they think, and out comes Angel, saying  Buffy sounds good. Well, that's nice but Giles was asking about the murder. Angel thinks the murderer is who he's here to protect Buffy from, though Giles reminds him that's not his job anymore. Angel counters that it isn't Giles's job either, but that hasn't stopped him. Well, one of them dumped Buffy and broke her heart, though, so not the same? Giles doesn't want to keep this secret from Buffy but Angel claims his presence will distract her. Plus, he does all his best work in Sunnydale in the bushes. Angel suggests Giles contact a Father Gabriel and heads out to follow Buffy. Giles is all, "DUDE. QUIT STALKING HER." and Angel tries to convince us that stalking is no fun for him.
K: Uh huh. Nice try, Angel.
Lor: Spike, in his tattered blankie and more pale than usual, looks longingly inside of a building where there is a group of vampires feeding on a young man. The music is very sad, and for a second you feel bad for Spike because he can't kill people and feed on their blood. D:
Willow, in a giant peace sign sweater and long, floral printed skirt, walks with Buffy who is now on a mission to whip her own whipped cream.
K: Okay, I once again had problems with this. Does America seriously use that stuff that comes out of a can? Because EW. The only place I know of in Australia that uses canned whipped cream is Starbucks. And we closed most of those down because the coffee sucks. I've always whipped cream myself. #culturaldifferences
Lor: You enjoy whipping your own cream. Hands off our Starbucks and our Fruit Loops and our pre-whipped cream and all the other stuff that will give us happy, delicious deaths.
Riley comes over to say hello and Willow beats an obvious exit into a coffee shop. You can see her mic pack under her sweater. Weird.
Inside, she runs into Angel and starts to yell but he covers her mouth. Through his hand, Willow says, "Evil! You're all evil again," but he assures her that he isn't evil. Giggle. Angel explains that he's here to help Buffy, because she's in danger. Willow tells Angel to just tell Buffy, but he still thinks that would be worse. Willow goes on a "leaving for her own good," tirade and when Angel interrupts she admits that it's some of her own issues. Willow starts to ask about working with Cordelia but he interrupts, claiming ain't nobody got time fo dat. But then he spots Riley and asks who he is.
Outside, Buffy and Riley are filling each other in on Thanksgiving plans. Riley is flying home to Iowa and says that "home is the place that when you have to go there…" Buffy finishes, "they have to take you in."

SEGUE MAGIC to Harmony yelling "get out!" as Spike stumbles into her cave. Harmony sticks up for herself, but Spike picks her up and puts her on the bed. Just before they kiss, though, Harm snaps out of it and grabs a stake from under the mattress. Spike asks if she knows how dangerous that is, and she's well versed in the dangers of stakes, because remember, he staked her. She chases him out.
Sweeney: I still don't see much point in Harmony's continued existence, but this was entertaining. Also says a lot about the state Spike is in that he was successfully chased off by Harmony.
K: Truth.
Lor: Buffy walks through a church calling out for Father Gabriel. Outside, she sees that the Chumash Killer has hung Father Gabriel and is chopping off his ear. Buffy attacks and while they fight, Chumash Killer helpfully tells us that he is the spirit of his slaughtered people, bent on vengeance. Buffy is shocked, giving Chumash Killer a chance to turn into a bunch of crows and disappear.
Giles and Buffy are cooking and rehashing. He says it is common for Indian spirits to turn into animals. Buffy corrects him and says they are "Native Americans." Giles says he's behind on the terms and still wants to call them all "bloody colonials." I giggle but Buffy keeps on about how she likes her men like she likes her evil: evil. BEST. Buffy is struggling with this episode's baddie because she doesn't like the moral gray. Giles is all, "dude, he killed people," but Buffy decides she wants to handle Chumash Killer in a non-Slayer way.
There is a knock on the door and Willow enters with a stack of books and two boxes of frozen peas. Buffy is going on about the peas being frozen, but Willow was short on time since she was reading about the Chumash War. Giles points out that the Chumash were peaceful. Willow says they were fluffy kitties until the Spanish arrived. Through all this, Buffy is still more concerned about the peas being mushy and Giles says he likes them mushy. Is this a British thing? Mushy peas?
K: Yup. I actually wrote down "Of course Giles likes mushy peas. He's English" in my notes. 
Lor: Yeah, I'll be at Starbucks.
Willow goes on to enumerate all the ways the Chumash were wronged and killed. Chumash Killer is recreating the wrongs against his people and we pan back so that we are now watching the scene from outside the window. If it weren't for the fact that it's daylight, I would've guessed it was Angel in the bushes. And if we were in LA, the daylight wouldn't have mattered much. (S: It's all the smog, I bet…) It's a coyote. Willow thinks they should be helping the Chumash Killer and Giles doesn't think they should help anyone rape, pillage and murder. The coyote runs off.
Back inside, Giles and Willow keep arguing and it's making Buffy uncomfortable. She runs into the kitchen to baste. Giles whispers to Willow that Buffy might be in danger, but she already knows that as she saw Angel too.
Another knock on the door and this time it's Xander supported by Anya. Giles notes he looks like death and Buffy notes he didn't bring rolls. Apparently Buffy can only be a good friend and not completely self-involved one episode at a time. Last episode was a good one for her. Not so much here.
Chumash Killer is breaking into some displays and stealing weapons.
K: Museum Curator Kirsti stops to channel Effie Trinket and yell about how much showcases cost. Thousands and thousands of dollars, people. 
Lor: Museum Curator Kirsti prefers to use her thousands of dollars on diamonds and boas and not on replacement showcases.
Back at the apartment, Xander is looking bad and Anya tenderly wipes his brow. Willow mentions the various diseases the Chumash suffered from including malaria, smallpox and… syphilis. Xander freaks at syphilis but Willow assures him that it's mythical syphilis and will probably clear up when they… Buffy asks when they what, as they have no game plan. Giles: Let's give him some land. I'm sure that'll clear everything up. Buffy says that sarcasm won't solve anything which is funny (1) coming from her and (2) in the context of this site. Giles snarks for me when he points out that sarcasm is "sort of an end in itself." It is, indeed.
Sweeney: New unofficial motto! Thank you, Giles.
Lor: Xander says he hates Chumash Killer and Willow unhelpfully says that he's just doing what was done to him. Xander protests that he didn't give anyone syphilis. He wants to know when Buffy is going to get her slay on and she says that question is still before the court. Willow says there are two sides to the story, which is probably easier for her to say since she isn't the one who is going to be pus filled and blind. Xander counters that they are dealing with a vengeance demon and you don't talk to those, you kill them. Of course Anya, resident vengeance demon, is none too pleased. They all keep talking over each other and arguing until Buffy, who has been hand mixing a bowl of something, stands and shouts that this is not good… it needs more condensed milk.
K: Seriously, what the hell is she making?? I thought at first that she was massacring the potatoes, but condensed milk in mashed potatoes? EW. So maybe she's trying to whip the cream. In which case, adding condensed milk WILL NOT HELP. Nor will using a whisk, for that matter…
Lor: Buffy heads to the kitchen and Giles follows her to be all, "GIRL, FOR REAL. FOCUS AND FORGET THE PIE." Buffy says she can both take care of Chumash Killer and have a perfect Thanksgiving dinner. There is another knock and Giles and Buffy look at each other all, "everyone we know is here…" But they forgot that Spike is now in the opening credits!
Sweeney: Or they got the memo about how opening credits like to lie and mislead people.
Lor: Except this time the opening credits misled us about misleading people because sure enough, Spike is at the door in his tattered blankie and he asks for Buffy's help. B pushes him down and he falls into the sunlight and starts sizzling. Giles shows up behind Buffy and hands her a stake. Spike stands and asks for an invitation, but Buffy says that's not happening. He explains, though, that he can't bite people, and appeals to Willow for her testimony. "Trouble performing," Willow offers. Spike: Spike had a little trip to the vet and now he doesn't chase the other puppies anymore. (K: There are no words for how much I love this line) Finally, he tries to bribe his way inside and offers that he has information about the initiative.
Meanwhile, Chumash Killer wants to have a dinner party of his own and summons some fellow vengeance spirits to the party.
Buffy is tying Spike to a chair as he grouses that it's too tight and cutting off his circulation. Buffy points out that he doesn't have any circulation. He says again that he has information but he's too hungry to remember said information. Buffy smacks him lightly on the head and I can't explain why, but I love that little bit of interaction. (S: +1) (K: SO MUCH)
Also, I'm doing my best to buy Spike going hungry and not, I don't know, doing what Angel did for all those years and seeking a hospital, a blood bank, a butcher or, I don't know, a passing squirrel or something and chowing on that. Mostly because I'm excited at the prospect of his interacting more with the gang.
Sweeney: It makes zero sense, but it's whatever.
K: BUT WHO CARES!!!!
Lor: Anya has taken over the cooking and Buffy tells her that something requires brandy, which makes Spike say he wouldn't mind a cup himself. Giles has figured out that Chumash Killer is targeting authority figures and Buffy guesses that Dean Guerrero will be next. Buffy asks Willow if she's found a nice way to kill the spirit, but Willow doesn't want any part of this. They bicker until Spike thankfully butts in with "oh, someone put a stake in me." He says the history of the world is filled with conquering nations and that's just the way it goes. Willow says maybe they could talk to the killer spirit instead.
Spike: You exterminated his race. What could you possibly say that could possibly make him feel better. It's kill or be killed here, take your pick.
Xander: Maybe it's the syphilis talking, but some of that made sense.
Giles: I made these points earlier but fine, no one listens to me.
Word to all of them.
Buffy sends Willow and Anya to go warn the dean. Xander offers to go too and Buffy wonders if he's up to it. Spike: Oh, leave that one. He looks like he's ready to drop any minute and I think I can eat someone if he's already dead. This is quickly becoming the quote Spike show. Sorry?
Sweeney: Except not really. He's one of the few worthwhile things in this entire season.
K: I take back what I said earlier. It's Anya AND Spike Appreciation. Although I already appreciate Spike, so…..
Lor: Buffy tells them to hurry because dinner's in an hour.
The sun goes down and at the apartment Buffy sets the table, Giles studies and Spike wonders when he'll get fed. He asks if they know what happens to vampires that don't feed and Giles rather eagerly admits he's always wondered! Living skeletons, apparently. Buffy says Spike can have gravy because that has blood in it. Spike: Know what else has blood it in? Blood. Buffy threatens to gag him. She wants a nice civilized dinner. An arrow comes sailing into the frame and pierces the pilgrim centerpiece on the table. Buffy looks up to see Chumash Killer in the open (?) window. Buffy tries to tell him she feels terrible and offers, "you can have casinos now!" Ooooof. That line made me wince.
Sweeney: If only Willow had been present for that line.
Lor: The Chumash Killer and his buds start raining arrows into the apartment and Giles and Buffy duck behind the couch. Spike is left in his precarious position and is shot in the chest dangerously close to his heart. I wonder at that apparently not hurting at all? Not even a wince?
Over at the dean's house, it was a bust. They do, however, run into Angel and Anya pronounces him "large and glowery." At least she didn't say handsome! Score one for our livers.
K: YAY.
Lor: Xander assumes he's evil again and Angel's all, "WTF. You lose your soul a couple of times and everyone assumes you are evil." Willow explains that Angel is here for protecting and wonders if he's found anything out. He tells them about the missing Chumash weapons and they figure out that all the killers are after Buffy. Xander in this scene is sort of hugging himself and hunched over. It's a nice little touch of consistency, given that he's sick and all. (S: And given how little consistency seems to matter elsewhere in the episode.) Anyhow, Angel liberates some bikes from a bike rack so they can hurry to Buffy's aid.
Over at Giles's, he picks up the phone call from Angel and is all, "yeah, we know. We're being attacked." After he hangs up, Buffy says they need a plan. Spike deadpans about talking about it some more and we see he's now been shot several times by arrows. Buffy asks where the weapon chest is and Giles points her in the right direction. She reaches for it but is shot in the arm. Giles says they need help.
We hilariously cut to Willow, Xander and Anya  furiously riding bicycles to the rescue with super-hero music playing in the background.
K: The Cavalry are coming!
Lor: Once they arrive, Xander takes out one Killer with a potted plant and Anya and Willow grab nearby shovels and start pummeling another Killer. The Original Flavor Chumash Killer crashes into the apartment and engages Buffy in hand to hand combat. Another two Killers crash in and Giles takes them on. Spike is hit with another arrow, and at least gives us an "ow! Bloody hell" that time. Buffy stabs Original Flavor in the heart and he cuts her on the arm. Buffy shouts that the Killers don't die, but Giles is busy being in a choke hold.
Outside, Anya and Willow are still shovel-beating a Killer pretty thoroughly. Angel runs in to help and snaps the Killer's neck. Anya: What's he like when he is evil? Well, a lot less broody, but I didn't like him as much as, say, Kirsti did. That was probably a rhetorical question though.
K: It wasn't so much that I liked him more as he was far less boring when he was evil… 
Lor: Same, same.
Inside more fighting and from outside, Angel sends a stake sailing through the air to take out a Killer poised to attack Buffy. Anya and Willow run in to keep shoveling, Giles is having his head smashed against a wall, and Buffy picks up the knife Original Flavor dropped. She slices his arm and it harms him, so she deduces that he can be killed by his own knife because of ancient, tribal reasons. *cough* He also suddenly turns into a bear because… oh fuck it. There is no because.
Sweeney: This is really the epitome of "because of reasons."
Lor: 
James Marsters' delivery is brilliant. I want my text tone to be him saying, "a bear! You made a bear!"
Sweeney: SO IT SHALL BE.
K: She's not joking. She sent Lor and I an MP3 of that line. It's amazing.
Lor: SHE REALLY DID SEND IT TO US. BEST BLOGGY FRIEND EVER.
Buffy grapples with the bear as Spike tries to hop with his chair away from the danger. He falls back and I just think about the pain that  must come from falling on the arrows he's pierced by. Good thing he's inexplicably immune to pain today!
Xander comes in and yells for the bear's attention, throwing a potato at it for giving him syphilis. The bear is distracted enough that B is able to stab it with the knife. It, and all the other Killers, disappear into green fog. Everyone reconvenes around the table and Angel looks in from outside, broodily. He leaves and I honestly have no idea what the point of him being in this episode even was.
Sweeney: It was apparently the best contrivance they could come up with to set-up Buffy's confrontation with him in LA.
K: A+.
Lor: When I watched/wrote this I didn't know Buffy would be in LA too. Guess that makes sense. Ish.
Everyone sits around the dinner table, even Spike, who is still tied to his chair. There is no amount of anything that should explain this sudden having Spike at the dinner table thing, but again, fuck it. Willow laments turning into "General Custer" in all the commotion. Giles excuses her, saying that instinct takes over in violent situations. Spike speaks up and Xander shushes him. Spike: Oh, lay off. You all had a fine meal. And me? An entire siege. You'd think one of you would bleed a little. Especially with all them arrows flying about.
Giles congratulates Buffy on both the win and dinner, though she laments that it wasn't perfect. As Xander says that it felt perfect, we see the pilgrim centerpiece still has an arrow going through it. It's another great detail.
Giles is happy they all survived, Xander is happy his syphilis is clearing up and Willow is happy they got to work together, like old times. Xander, as he shovels food into his mouth: Yeah, especially with Angel being here and everything.
We get Buffy's perspective as everyone at the table looks at her with various expressions. Spike's smirk is priceless.
Over the end credits, Xander whispers, "oops…"
That was interesting! Happy Thanksgiving everyone.
K: And happy days to the glazier that Giles now has to call, as every single window in his house has now been smashed!
Lor: His children will also get a Merry Christmas.
Next time on Buffy the Vampire Slayer: Willow uses magic to try and get over Oz and mayhem ensues. Oh, Willow in S04 E09 – Something Blue.