Previously: Angel broke into Wolfram & Hart to steal files that would rescue some kids, and The Powers That Be Contriving encouraged him to grab an ancient prophecy about himself while he was at it.
—

To Shanshu in L.A.
Sweeney: Woo more finales! This double finale thing is fun. Especially now that it's summer and all my actually-still-on-the-air-and-not-a-decade-old shows are deserting me. Super rude.
This finale begins with Wesley trying to decode the Scrolls of Prophetic Contrivance, and Cordelia being a pest. He's struggling with the word "Shanshu" which I wouldn't have caught or cared about, but it's in the title. Only part of the title, though, so no gold star for you yet, Wesley. Cordelia wants Wesley to figure out what it says about Angel so he can move on to her fortune-telling, but Wesley's not having her shit. Angel found it amusing, though.

Kirsti: Wesley even throws a pen across the room. It's pretty great.
Sweeney: Out in the halls, ominous cameras are reading the directory for this building. I don't understand how other things happen in this building. Don't people complain about all the breaking glass and stuff? In my headcanon, the contrivance bank account that allowed Angel to have this office/basement in the first place also covered the cost of the rest of the building, which he just left abandoned or something. Anyway, Cordelia reads in the newspaper that Lindsey just got promoted, so that whole reform thing didn't work out.
K: Womp womp.
Lorraine: It must've been a very, very slow news day in LOS ANGELES. Also, Wesley says that Lindsey sold his soul for thirty pieces of silver, because he's Judas? And Angel is Jesus? OKAY.
Sweeney: AngelJesus hears the ominous cameras and notes that it's a little late for visitors. He approaches the purple-cape-wearing "visitor" only for it to be Mr. Nerdy Money Bags, as if someone heard us wondering about the endless dolla dolla billz Angel has for no apparent reason. Mr. Nerdy Money Bags blew off business stuff to come "hang" with them. He fanboys about all the cool magical stuff that must happen in Angel's office.
He asks if they've seen any cool demons lately as our way to segue magic to some weird robed guys chanting about bringing someone of pure darkness into the light. They casually walk away as their circle of magic dust erupts and what I can only assume is He Of Pure Darkness appears in the flames. His suit looks kind of like it was made out of duct tape. Boss Man, Lilah, and Lindsey are there to welcome this guy to Wolfram & Hart. Electric Cello time.
After the Electric Cellos, Mr. Nerdy Money Bags awkwards some more and leaves because of his painful lack of social skills.
Lor: He didn't really bug me before, but it's strange to me that a show ran by a big ole nerd would rely on such an obvious and painful portrayal of one. Seriously, a shiny, purple cape?
Sweeney: He got more campy and ridiculous here than he was in the previous episode. The shiny purple cape was a step too far.
Wesley suddenly realizes what Shanshu means and runs back into Angel's office and flips around some more books before confirming that it means death. Cordelia babbles about a potential raise while Wesley tries to be consoling with this news that it must mean that the vampire with the soul (as the prophecy never calls Angel out by name) has to die after the coming battles. Angel, for all Wesley's efforts, appears in no need of comforting and keeps reading his book, adding, "Anything else?" I guess he's seen a few apocalyptic prophecies in his day.
K: Plus, he's died once already, AND been trapped in a hell dimension for a millionty years. So 4,000 year old prophecy? Pfff, whatevs.
Lor: Nice try ladies. In our heads this is, "pffft!" In real life this is, "BROOOOD."
Sweeney: It wouldn't be the finale of Angel without a sizable helping of brood. He stirs from that brood when Cordelia starts to have another Migraine Premonition. Homeless woman vs a very smelly slime demon who lives behind a waste treatment plant. After Angel leaves, Cordelia complains to Wesley about how annoying the "scratch and sniff visions" are, threatening to issue a beat down to The Powers That Be (Contriving) if she ever meets them.
Back at Wolfram & Hart, the Duct Tape Demon is way pissed that they lost the scrolls. Lindsay offers to get them back, but Duct Tape Demon tells him to STFU and stay out of his way. He gets even angrier when he learns that Angel is the one who stole the scrolls, because Duct Tape Demon was summoned to sever Angel's ties to The Powers That Be (Contriving), and Angel having the scrolls basically means that his connection to TBTB(C) is complete. Lilah adds that Angel can't have made a full study of the scrolls, and Duct Tape Demon says he won't have that opportunity before making his dramatic exit.
Elsewhere, cops are arriving on the scene of where we can assume Angel was headed. Two random cops comment that they knew Kate would show, because everyone now believes she's crazy. (K: Her current hair situation lends itself to the confirmation of this belief.) Kate gets out of her car and heads back to investigate, telling them to stay put. I don't know why they were just standing around doing nothing in the first place, except to demonstrate some characteristic inept police work from members of The Traumaland Unified Police Departments.
Kate goes back to see Angel comforting and escorting a crazy homeless woman out. The homeless woman leaves on her own when Kate arrives so that they can have an intense conversation about the slime demon. Kate brats to Angel about how he's not even a person so he should STFU and she's all about ridding the city of his kind, the kind that killed her father.
I really appreciate that Kate wasn't instantly all right with the demon thing. I think that they have done a lot of really great things with writing that, and I get that the death of her father adds another element to it. That said, I don't know how many more scenes like this I can take. It's starting to get repetitive, and make Kate's character feel very static.
K: Agreed. Either become a vampire hunting vigilante, like Gunn, or suck it up and deal with the fact that Angel's not responsible for your father's death, girl.
Sweeney: Back at Brooding HQ, Wesley is getting his own brood on, as he has now extra confirmed that the prophecy is about death. Cordelia is very blase about it, because Angel faces death about as often as normal guys face waffles. (K: And, apparently, as often as Cordy faces dipping approximately half her face in glittery lavender coloured eyeshadow… Wowsers.) Wesley is less upset about the death prophecy than by how casually Angel took the news.
Cordelia still doesn't get what the big deal is, but Wesley goes on to say that Angel is cut off and isn't concerned by the idea of death because there is nothing in life that he wants. "He's got a soul, but he's not a part of the world. He can never be part of the world." Wesley takes Cordelia's doughnut away (rude!) and continues:
Wesley: What connects us to life?
Cordelia: Right now? I'm going with doughnuts.
Wesley: What connects us to life is the simple truth that we're a part of it. We live. We grow. We change. But Angel —
Cordelia: Can't do any of those things. What are you saying, Wesley? That Angel has nothing to look forward to? That he's going to go on forever, the same, in the world, but always cut off from it.
Wesley: Yes.
Cordelia: Well that sucks!
Sorry, long quote is long, but I liked it.
Lor: It just reminds me of Doyle.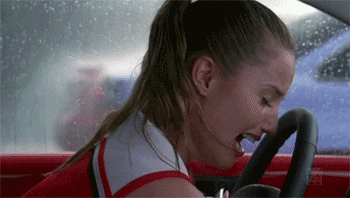 All this was basically Doyle's gospel. And then Angel lost Doyle. And then Angel re-lost Buffy. And then Angel lost faith in humanity and his ability to do good. Broooood.
Sweeney: FEELS. DOYLE FEELS.
Wesley doesn't think that there is anything he can do, and Cordelia shows us her awesome side with her determination to fix this. "He's Angel. He's good. He helps the helpless, and now he's one of them."
With that, Angel arrives, and she's trying to push coffee or doughnuts on him and gets upset when he laughs that he doesn't want anything.
K: Wait. Does her pushing doughnuts on him mean that he eats now? Because GODDAMMIT WHEDON. (L: LOL.)

Sweeney: Wesley awkwardly tries to clue Angel in to the fact that they were just discussing how he doesn't want many things from life. Cordelia says she's going to fix his cut-off-from-life problem with a puppy or a ficus or an ant farm, all suggestions that are shot down by Angel's blank stare.
Lor: BUT YOU GUYS. ANGEL WITH A PUPPY WOULD BE SO CUTE.
Sweeney: IT WOULD BE THE MOST PRECIOUS.
Wesley takes that as his cue to head off for more books to help with the decoding. He adds that Angel should take this as an opportunity to consult the oracles, but Angel's not having any of that. He will keep the scrolls locked up while Wesley's gone though. Cordelia just stands there being precious.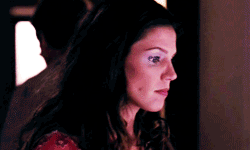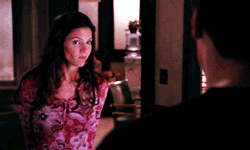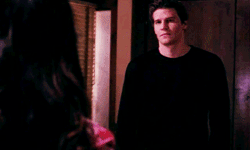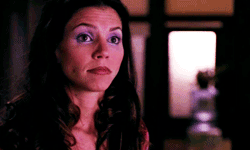 Kirsti: Angel heads back down to the Brooding Basement with a book, and we cut over to the Oracles. They're super pissed about being summoned by some gross poor person type who didn't even bring them a present, and the camera pans around to show us that their icky unwanted visitor is the Duct Tape Demon. They basically tell him that evil isn't allowed in there and to GTFO. He puts his hand behind his back, conjures up some kind of scythe-y thing, and grins in a crazy eyes way.
Lor: The Oracles probably deserve to be killed because they stood there stupidly for way too long. But okay. Avenue #1 to The Powers That Be (Contriving) cut off.
K: True. Cut to an open air market. Cordy looks at some paints and figures that Angel likes art and needs a hobby, so they'll probably be helpful. (S: Another fun Angel + Art reference! I saw a thing on Tumblr about Angel/Art being someone's favorite ship. I LOL'd and reblogged because, you know +1.) (K: I reblogged your reblog, because OBVS.) The stall owner, who has INSANE canine teeth that make me think she's a secret beastie, says that art therapy really helps mental patients so she's probably right. LOL.
Duct Tape Demon billowy-cloaks his way through the crowd to a Cordy who's now bought half the stall. He touches her hand as he passes, and she looks around in surprise. But there's no one there. She gets a vision and screams in pain, causing everyone to stare. It passes, and she gets out her phone to call Angel with the details. Then a second vision hits, and she screams again. But this vision doesn't end. She sees person after person in need of help, and ends up crying and screaming in the foetal position as everyone at the market walks past. Eventually, the stall owner runs over and yells for someone to call 911.
Sweeney: The screaming in agony is something that can easily miss the mark by being overdone and coming across too ridic to be believable, so points to Charisma Carpenter for making me genuinely uncomfortable and sad for her during this.
Lor: And fuck everyone WHO WALKED BY HER and didn't do anything to help. People suck. Also, avenue #2 to The Powers That Be (Contriving)? Done for. 
K: Conclusion? L.A. is full of arseholes. Seizure cut to the office. Duct Tape Demon billowy-cloaks his way in. Angel walks down the stairs to the Brooding Basements staring at the prophecy. Then he rolls it up, puts it back in the Spirit Stick and shoves it at the back of his weapons cupboard. REALLY SECURE, ANGEL. Great hiding spot. He locks the cupboard door and pockets the key, then gets a "something's there" vibe as he walks across the room.
He heads back to unlock the cupboard, but is interrupted by the phone ringing. He answers, asks what happened to Cordy, and then says that he's on his way. He runs out towards the sewers. Once he leaves, Duct Tape Demon appears. He breaks the lock on the cupboard door with no effort whatsoever, and takes the Spirit Stick. There are weird conjuring-y noises, then he closes the cupboard and leaves.
Lor: It pretty much sounds like he left a phone off the hook inside the cupboard, but that isn't nearly nefarious enough.
K: More or less. Cut to the psychiatric ward at the hospital. Angel runs down the corridor and says that he's looking for Cordelia. The nurse says that he'll have to wait, but he hears Cordy screaming and runs towards the room. A bunch of nurses are holding her down as the doctor orders another round of sedatives. When Angel runs in, the doctor says he can't be there, but he says he's family. Awww.
Sweeney: This was the cutest thing. It's not the first time this season we've been reminded of their chosen family. We already talked about it on today's Buffy finale, but, again, it's a huge theme across the Buffyverse, that family can be a thing you choose.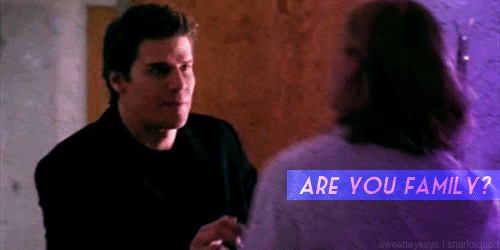 Kirsti: He gets asked a bunch of questions about her mental history and whether or not she uses drugs, and then the doctor tells him that they've been trying to sedate her but it's not working. Angel looks desperate and begs Cordelia to hear him. Nothing changes though. The doctor tells him that if the drugs don't work DOT DOT DOT, and he runs off in search of another solution.
Meanwhile, Wesley's arrived back at the office. He heads down to the Brooding Basement and sees the broken weapons cupboard. He opens the door – which seems dumb because it's making hella weird noises – and then backs away in horror.
Cut to outside and Angel driving towards the building. He pulls up and walks towards the building just as the entire ground floor explodes, throwing him across the street. Cut to the Now Flamey Brooding Basement. Angel fights his way in, yelling Wesley's name. He finds him on the stairs, bleeding and unconscious, and WHUT. The ENTIRE BUILDING just exploded. There's no way that a) the basement would be that intact, or b) that Wesley would have survived considering he was like A METRE from the origin point. But okay, show. Whatever. Angel carries Wes out of the building.
Sweeney: +1 to the general lack of sense-making in this scene. I'm glad Wesley's not dead, but he definitely should be after that.
Lor: Also, this really had nothing to do with Angel's connection to TBTB(C) but with Wesley out and Angel Investigations flaming, Angel is FOR REAL cut off from all things.
K: NO THINGS FOR ANGEL. Cut to some unspecified time later and Wes being loaded into an ambulance. Angel's all jittery and freaked on account of a) someone blew up his office, and b) his two best friends are basically at death's door. So he's none too thrilled when Kate bitches her way over and tells him that he's not allowed to leave because he's a witness to a crime. He basically tells her that he ain't got time for her shit, and that if homegirl wants to be enemies, bring it on. Based on the serious case of bitch face and crazy eyes she gives his back as he leaves, I'm guessing that will prove to be a bad decision.
Sweeney: Kate, I appreciated you for a while, but I'm with Angel at the party of So Over Your Bullshit.
Lor: GOOOOOO ANGEL!
Seriously, I cheered on his moment of bitchiness so much.
Sweeney: GIF win, right here. ALL THE CHEERING.
K: So much. Over at the hospital, Wes is in the ICU and hooked up to all kinds of monitors and IVs. Angel stands by his bed for a minute, then walks sadly away. He heads over to the psych ward to visit Cordy, who's now moved past screaming into silent crying. He tells her that he's going to fix it, because he needs her back. As he lets go of her hand, he notices a black symbol drawn on the back of it.
Lor: Also, she's borrowed a little bit of Faith's coma make-up. Girl looks rough.
K: She really does. Cut to Angel asking to see the Oracles. He's granted entry only to find them both dead on the floor. The ghost of the female Oracle appears, and basically says that shit's getting serious. It includes the line "I've been dead a while, and so far I don't like it," which I find strangely awesome. (S: +1) Angel asks for help, and shows her the mark that was on Cordy's hand. Apparently it's Duct Tape Demon's symbol. His name is Vocah, and he's a warrior of the underworld. He asks how to stop him, and the ghost starts to fade.
Summary: save the cheerleader, save the world. Oh, sorry. Wrong show. Find the scroll, save Cordy. Also, Duct Tape Demon "hides behind man's law." She fades for good, and Angel promises to stop him. He grabs the blood covered scythe and I hand over to Lor for the big finale.
Lorraine: We cut to Gunn and his merry band of gentle-thugs loading up their killer truck with food donations. Angel drives up and gets straight to the point of asking Gunn for help. Gunn tries to joke about Angel looking a little pale, but he's all, "FOOL. MY PEOPLE ARE IN THE HOSPITAL." For his part, Gunn gets the seriousness of the situation as Angel asks him to protect Cordy and Wesley while he goes after Vocah.
Despite a long establishing shot, I have no idea where we are. Inside, though, there's lots of white marble so perhaps the temple of the Oracles.
K: My money's on "some kind of mausoleum-y thing," which is based solely on watching too much Alias and Supernatural…
Lor: Okay! We'll go with that.
Inside, there are a bunch of vampires chained to a wooden box. The Duct Tape Affiliated Monks are chanting stuff as the Duct Tape Demon enters and chants his little bit, and it gets the earth a'quaking. The camera man zooms in on the wooden box but we can't see if there is anything in there. Thanks for nothing, Zoomy Camera Man.
After a cut to black, we see that Angel is lurking in some shadows just outside of Wolfram & Hart. Lilah asks Holland if they will be late, but he's of the mind that they can skip some of the chanting and blood rites. Before they head off, Holland tells Lindsey that the senior partners are watching, and he better not let them down. Holland gets in the car and Lilah takes this moment to remind Lindsey of that one time someone named Robert Price let the senior partners down and they made him eat his liver. I'm not sure how they de-livered him and them made him eat it, BUT OKAY.
K: Ew. Even if it's like that Greek myth where an eagle ripped out the guy's liver every day and it grew back by magic overnight…
Lor: Angel watches as the Wolfram and Hart caravan heads off. He hops in his Broodmobile and follows.
Sweeney: Getting some A+ lurking in, another essential Angel trope to work into the finale.
Lor: Back in the mausoleum , Vocah is still doing his ritual. There are five vampires, we see now, so he keeps saying things like, "five are without soul," and "five are without sun," and his monks reply, "yet they live." The Wolfram lawyers arrive and Holland comments that they haven't even gotten to the Latin yet.
Vocah stops his ceremony because he hears the trill of the Something is Out There music. He makes his scythe appear and Angel comes crashing through some window. If you thought the season finale wouldn't include Angel crashing into something, you must be new here. Welcome.
K: Crashing through things while dramatic music plays is what Angels do best.
Lor: As Holland watches Vocah and Angel in their scythe-off, he sing-songs Lindsey's name. We get some more of Vocah and Angel fighting and soon Lindsey is all FUCK IT. CHANTING DIDN'T LOOK TOO HARD. So he picks up the scroll and is all, "Latin? I GOT THIS." as Vocah keeps fighting Angel.
Apparently Lindsey's Latin is right on point, because the chained vampires are magically dusted. Their combined dust makes a funnel around the wooden box, then disappears as a bright light pulses out of the box and throws Lindsey up against the marble wall. And kids, this is why we don't randomly decide we can do rituals all by ourselves, okay? Just Say No to Latin.
Sweeney: If I weren't so opposed to Snark Squad ever endorsing anything anti-education, I would be putting this on a t-shirt IMMEDIATELY. Because seriously, kids. Just Say No.
Lor: Angel is still fighting as Holland commands the wooden box removed from the mausoleum. Angel finally gets the upper hand in the fight and manages to take Vocah's face mask off, revealing a missing nose and maggots and general nastiness I will now try to forget forever. (K: GROOOOOOOOOOOOOOOSS) Angel scythes him in the face.
Lindsey is all OH SHIT and grabs a nearby makeshift weapon. Angel calmly asks for the scroll but Lindsey doesn't want to give it up. He goes on a bit about how he had a crisis and Angel helped him pick a side. These Wolfram and Hart lawyers really boggle my mind. They deal with baddies constantly, and yet walk around with this invincible swagger. LINDSEY. STFU. GIVE HIM THE SCROLL. HE WILL EAT YOU.
But no. He's going to speech some more about it being foretold that Wolfram & Hart are to separate Angel from TBTP(C). Lindsey moves to burn the scroll in a nearby torch AND ANGEL THROWS THE SCYTHE AND CUTS HIS MOTHER FUCKING HAND OFF.
I LAUGHED SO HARD. OH MY GOD.
K: My notes at this point say "Ooooooooooh snap. Shit just got Game of Thrones-y up in here." Apparently Note Taking Kirsti is a lot less eloquent than actual Kirsti…
Sweeney: Except hand-chopping-off on GoT gave me feelings of general, "WUT? WHY WHY WHY?"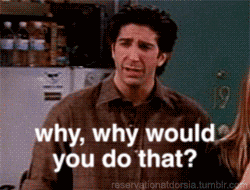 Whereas this was just awesome. "Oh, you won't let go of that thing I want? And I already hate you and hate that I can't do anything about how much I hate you? THEN I'LL TAKE YOUR FUCKING HAND OFF."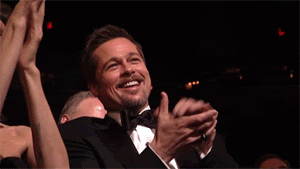 Lor: EXACTLY. Angel for his part looks super pained about having to have cut someone's hand off, but seriously, this is some of the best kind of violence. I approve so heartily.
He cut his hand off. Ha ha ha ha ha ha ha. Ha.
Oh, crap, and then we get a shot of Lindsey's rubber hand as Angel grabs the scroll and awful puns, "don't believe everything you are foretold." You had to ruin this moment for me, didn't you? Angel billowy-coats out of there.
We fade to Cordy in her coma make-up as Wesley's voice reads from the scroll about how if the beast touches you, you are going to go crazy. But Wesley says the magic words, there is a flash of light, and Cordelia comes back to herself.
K: The magic words, incidentally, are "Unbind, unbind, unbind." Obviously, this instantly reminded me of when Wesley told Buffy that the three key words for any Slayer were, "preparation, preparation, preparation," and she replied, "that's one word three times."

Lor: Cordelia smiles lovingly at Angel before her face crumbles into a little silent cry. Great work by Charisma here as she turns and looks at Wesley also. She tells Angel that she saw all those people in pain, and they have to help them. Angel agrees that they will.
Sometime later at Cordelia's apartment, she's busy in the kitchen while Wesley is still busy translating the ancient prophecies. He finds a bit about the Beast of Amalfie, a razor-toothed, six-eyed harbinger of death, but wait, that isn't due to rise until 2003 in Reseeda. Wesley doesn't know what they raised in the wooden box.
Cordy says that Wesley's been looking for answers for two days, but he needs rest and also eat a sandwich. She also hands Angel a cup of blood. He looks at her hesitantly, but she says, "don't be embarrassed. We're family." AW. YOU GUYS.
K: Team Heartless Cow has the warm and fuzzies.
Lor: Wesley and Angel still look at Cordy like she's still crazy. When Cordy asks what their deal is, Angel says that Wesley isn't used to the new her. She says that she knows what's out in the big bad world now, and that they have a lot of people to help. Then she insults Wesley and reminds Angel he's about to die. Good ole Cordy.
Wes then realizes he made a mistake. Shanshu doesn't mean die, it means live. The prophecies aren't saying he's going to die, they'res saying he's going to live… as a human. Once the vampire with a soul fulfills his destiny, his reward will be that he will be made human. Angel kind of blankly stares at them as Wesley clarifies that he's going to have to face a lot of fiends and apocalypses before this happens. I think this piece of news makes Angel happier than the human part of it.
We cut to Wolfram & Hart where the bestie in the wooden box is being kept in the vault. Lindsey has his arm in a sling. BECAUSE REMEMBER? ANGEL CUT HIS HAND OFF. Holland is all, "the bosses are pretty impressed you sacrificed your hand," and Lindsey looks at him like, "I HATE YOU."
K: Not gonna lie, I was kind off waiting for Holland to give Lindsey a hand made out of silver light, like the one Voldemort gives to Peter Pettigrew. 
Lor: Alas.
Holland promises that they will get Angel back, starting with what's in the box.
Lilah walks up to the box and coos at whoever's in there that things are confusing now, but they will be better soon. We pan back to reveal that it's none other than Darla.
Interesting that this whole ancient ritual would be all about bringing Darla back.
At any rate, I'm pretty sure shit's gonna get real for Angel next season.
See you there!
Next time on Angel: I just told you. Shit's gonna get real. Join us for the new season in S02 E01 – Judgement.