Previously: Angel helped out a client with some legit Childhood Trauma and Darla continued to dream-rape him.
—
Dear Boy
Lorraine: Today's episode starts with a flash!bang and a series of fast moving shots through LA. It managed to scare the shit out of me and threatened to give me a seizure. Thanks, show!
Sweeney: This show definitely needs to come with an epilepsy warning of some sort.
K: A+. Like, seriously. 
Lor: At the Brooding Hotel, Angel is half whining-half falling asleep on a couch as Cordelia says he must be tired from sleeping for three days. NGL, when I sleep too much, being more sleepy is a definite side effect. I know that has nothing to do with Angel's dream-rape, I just thought you all should know that Cordy should not be so judgey because being sleepy from sleep is totally a thing.
Cordelia is fretting over money again because apparently their Big Bag o' Racist Money is gone on stuff like mortgage for a huge hotel and her salary. Wesley asks about his salary and Cordy offers to pay him $10 or a chicken pot pie for every time he ID's a demon in one of his books. It makes me a little annoyed with Cordy, because Wesley is useful dammit! But the argument is taken into squabbling sibling territory when Wesley offers to smack Cordy to see if she'll get a vision.
Sweeney: It's hilarious and charming that they get all squabbling sibling!
K: It really is. Especially when they both just sort of turned up like stray puppies and never left.
Lor: Angel tells the children to stop bickering, as something will show up. Usually always around the time when they start talking about the visions or something turning up! And hey, what do you know. It's vision o'clock. We see some flashes of a gray, blobby demon thing.
Post vision, Wesley is hitting the books as Cordelia paces. Angel asks her if she wants to have a seat. "If I sit down, I'll throw up in my head." CORDELIA. YOU HAVE JUST PUT WORDS TO THE FEELING I HAVE ON FIFTY SHADES WEDNESDAY.
Sweeney: This is why Cordelia is one of our many spirit animals.
K: Actual best.
Lor: Wesley shows Cordy a picture of a demon, but it's not the one. Her vision had a more mushy demon that was growing out of the wall. Apparently, this wasn't the type of vision where she could magically pick up cross streets. They need to find the location as the real issue is the Mush Demon's disciples who are killing each other over how to worship it. Angel: This is why personally I rarely go to church. I snort but Wes and Cordy ignore him. Angel says he thought it was funny.
K: Awww, don't worry, Angel. The Snark Ladies thought it was funny too. Plus, it reminded me of the time Xander said something like "It smells like evil church", and I'm getting the opinion that Whedon and religion don't really get along…
Lor: Right? He's so subtle with it…
Also, this whole weird sleep thing really bothers me. I mean, yes because it's AP Creepy and the whole roofied-sleep and rape thing is crazy, but also, I get frustrated when Angel isn't useful. You start to like Billowy Coat Man with his saving of the day and figuring stuff out! Sleepy Angel with the snort worthy half jokes is not as fun.
Sweeney: Agreed. Why didn't anyone see the future and read our blog where we regularly discuss how much we dislike useless Angel?
Lor: Anyways, Darla appears on Angel's lap to say she thought it was funny too. Darla kisses up on Angel. We switch views to one with Wes and Cordy in the foreground. Angel startles awake, like he's pushing his ages old ex-girlfriend off his lap or something. He realizes what happened and claims to have definitely not drifted off.
Cordelia starts to describe the look and feel of the place in her vision and Angel identifies it in less than 20 questions, probably so I'd be tempted to go delete my comment about him being useless. The place is Saint Bridget's, an old convent that's been cursed with a string of murders. The city bought the place and built a water tank there. Angel says they are going to need Gunn for this job. Wesley asks if they can afford his services and Angel's all, "JUST CALL."
Seizure Cut to the Fang Gang arriving to the Water Tank Convent as some folks dressed in red robes fight folks dressed in black robs and the Mushy Demon watches. Gunn isn't sure about fighting in the middle of a religious war. Angel and Wes decide to go after the Mushy Demon and hope that'll break the thrall over the humans. Cordy starts to say how good it is they are fighting each other and not attacking them when the Mushy demon spots them. All of the robed folks attack.
K: Is it just me or is the Mushy Demon once again some kind of weird cross between Cassandra and the Abzorbaloff? Because that thing gave me serious non-specific Doctor Who vibes…
Lor: We get shots of each of the Fang Gang members fighting their way through the mass. Gunn calls out for Angel to have his back, but Angel is just straddling one guy and punching him over and over IN THE FACE. Gunn's all, "…okay then," and goes after the Mushy Demon himself. He uses his Hubcap Axe to axe him in the Mushy Demon head and all is done. The FG catches its breath but we still hear those awesome whuuu-PUSH! punching sound effects, as Angel hasn't stopped beating that guy's face. Wesley pulls him off and says it's over. Angel looks dazed, confused and perhaps a little like what one would like after consecutive nights of being roofied.
As they leave, Gunn asks if all that team work stuff is over, and Angel tries to concentrate on the fact that the job got done. Angel heads to get the car and Wesley tries to excuse him with the whole "not sleeping well" thing. "He's off his game," Cordy adds. "Since when is it a game?" Gunn says as he glares holes into Angel's back.
K: Hey, look on the bright side, Gunn. At least you got to use your awesome Hubcap Axe!
Lor: Angel is walking through a busy part of town and sees Darla walking on the opposite side of the street. As he watches her, he flashes to bits of his rape-dreams and the music gets all DUN DUN DUN! about it before we head to the Electric Cellos.
After the credits, we are back in Ye Olde Times and I see that Juliet Landau is in this episode! Drusilla, you crazy bint! I'm already preparing myself for the fun.
Sweeney: I flailed a little. We 2/3 Snark Ladies love a good flashback more than we hate shitty wigs/accents, but I'm going to say that we are probably all on board with these more comprehensive flashbacks that bring in more characters that we've met elsewhere. Continuity! Adding depth to multiple bit characters! Excellence.
K: Man, wait until we get to episode 8 of Buffy. You'll both have kittens. And so will I, because it's BRILLIANT. For now, I shall say that I'm totally on board with the return of Juliet Landau.
Lor: Angel finds Darla and they chat about the people she just killed. They don't have accents here, but Angel still has a terrible wig. I just really want to throw a brush at him right now. Anyways, Angel asks Darla about their plans and she wants him to guess what they are doing. He spots three sisters he immediately ID's as innocent virgins. One of the sisters is super special, though, because she has visions. She is none other than not-crazy-quite-yet Drusilla. Angel says that Dru knows what's coming, but Darla holds him back. It isn't time yet.
The Seizure Cut back to the  present is another random scream that made me jump. SHOW. STOP RANDOMLY SCREAMING AT IT. I went back and slowed the cut down to see what it was. I think it was the streetwalker Darla killed and ate before Angel found her.
Angel tries to catch up to Darla but loses her in the crowd.
Back at Brooding Hotel, Cordelia is interviewing a potential client. See, he thinks his wife is abducted by aliens every so often, but he recently found a hotel receipt from when she was supposed to be on an alien planet. Wesley and Cordelia give him the best DAFAQ eyes. Just then Angel walks in and the client asks if that's him. Wesley gives a cute, proud papa smile and Cordelia makes with the introduction. The client asks Angel if his wife is cheating on him. Angel answers, "probably" and blows past them.
K: Smooth, Angel. Really smooth.
Lor: Wesley hurries the client out as Cordelia goes after Angel. She tells him off for being rude to a potential client with a Visa, Mastercard and fixable problem. While she's ranting, Angel is standing behind her, sniffing her hair. Cordelia notices and gets away from him while yelling, "personal bubble!"
K: The number of times I yell "personal bubble!!!" in my daily life is astonishing. In short, Cordelia is my spirit animal. 
Lor: Wesley comes in demanding to have a man to man talk with Angel and Cordy shares that he was feeling her hair.
Angel apologizes and says he's been out of it because of "her" being in town. Cordelia groans and starts to say that she likes Buffy just fine… Angel interrupts and says that it's Darla, not Buffy. Angel partly confesses about the rape-dreams and Wesley reminds him that this is impossible because Angel dusted her in Sunnydale. Vampires don't come back from the dead. Angel says he did and he's also not crazy and he saw her.
He clarifies he was walking on the promenade.
K: Surely you'd lead with that??
Lor: Wesley and Cordelia try to convince him that he's only seeing her because he's dreaming about her.
At Wolfram & Hart, Darla tells Lindsey that Angel is falling apart. Lindsey congratulates her on exploiting Angel's strengths and weaknesses and she gloats that she created a lot of those strengths and weaknesses. Lindsey thanks her for that, as they now have so much more information on Angel.
Darla asks what the plan is. They don't want Angel dead; the want him dark. Darla notices Lindsey's cheap plastic hand and asks to feel it. She rubs it down and asks if Lindsey doesn't feel anything and he responds, "not in my hand." I'm not sure what this little exchange was for, other than inserting a little sexual creepiness into the scene. It was Extra Credit Creep from Darla! You go girl.
Sweeney: It's all that extra credit work that keeps her in the AP classes. She's got her eye on the Valedictorian of Creep prize!
K: Because I can see the future, I'm gonna go ahead and hope that Lindsey didn't follow through on the "not in his hand" feelings. Because of reasons.
Lor: Spoilers!
Lindsey changes the subject back to Angel and asks how it feels to see him again, on account of how he betrayed her and all. Darla says that everyone betrays you, but what keeps you up at night are missed opportunities. "God I could eat his eyeballs," she adds. I added it just for Kirsti's eyeball phobia. (K: THANKS, LOR…) Lindsey gives a little, "whatever. Go for it," and Darla declares him fun for a human. Lindsey says he just has a lot of interest in Angel, as do many others.
Segue Magic to Kate being approached by a man in a dark coat named Jack. Kate asks if he's been too busy to pick up the phone and say hi, which gives Jack the opportunity to give us a Kate recap: she's been moved out of downtown and she doesn't like the mainstream cases. She keeps her scanner on so she can go investigate the bizarre cases. He offers her an envelope and inside is a picture of the Hyperion Hotel with Angel Investigation's calling card attached and a Post-It note that says, "he's moved." Kate thanks him.
At another hotel, Cordelia is dressed up in a skimpy maid outfit as she cleans up some glasses and carefully places a listening device near a couple. The man is all, "right now?" and the woman replies that the aliens abduct her whenever the mood strikes her and she's feeling pretty mood-strikey at the moment. Wesley is nearby pretending to read a newspaper and Angel is on the other side, watching from behind a tree.
K: Still stealthier than Sydney Bristow.
Lor: A+
Angel sees the adulterous couple walking up to the room and stops them. He says that he's been listening in on their conversation and points to Wesley and Cordelia who have been tailing them and taking pictures all day.
It's the little Wesley things that make me happy.
Anyways, Angel says he doesn't like doing this. It's "crass." He tells the wife that her husband knows what she's doing, and that she should go home and either work it out or not. The couple heads off.
Cordelia flips out about paying customers again, but Angel thinks some things are not worth being paid for. Just then, he spots Darla getting up from a table. Angel heads her off and she pretends not to know him. He yells at her that he can smell her, but she insists that her husband is outside about to bring the car around. A hotel worker tries to hold Angel back from Darla, but Angel flips him over easily as Darla runs off calling to "Stephen." She runs into the arms of a man in the bright and sunny lobby and they look back at Angel who is clearly wondering, "WHAT IN THE ACTUAL FUCK?"
Sweeney: As are we all, Angel. All of us Snows, anyway.
K: LOL. LOLOLOLOLOLOLOL.
Lor: STOP IT, KAKA.
Back at Brooding Hotel, Cordelia is complaining about having to run from hotel security and being petted by people who mistook her outfit for whore-y. Wesley thinks the bright side is that now they know that whoever that girl was, it wasn't Darla, on account of being able to walk in the sunlight. Wesley wants to help Angel get through this and Cordelia says he needs professional help.
Angel isn't letting it go, however. Lurking stalkers never let it go. Also, he knows it's Darla because he can smell her. Wesley is like, "dude. No. Stop it."  Angel just turns, sniffs Wes and says he had sex with a bleached blonde the previous night. Cordelia is shocked but mostly about the Wesley having sex part. Clearly, she hasn't been exposed to the Internet because we all would do him.
Sweeney: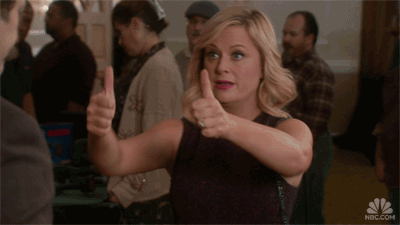 Lor: Angel looks up the fake name Darla gave (DeEtta Kramer) in the phone book (LOL). He instructs Cordelia and Wes to keep looking things up under that name. He's off to try something else, but asks Wesley for a few bucks first for the cover charge. Wesley is all, "NO. NOT THAT." But yes, Angel is going to magical karaoke.
Cut to Angel singing "off-key." My closed captioning actually made sure to tell me it was off-key. Also he's singing "Everybody Have Fun Tonight" by Wang Chung. He cuts it off in the middle and apologizes to everyone whose ears were exposed to that noise.
K: And even though I'm grateful that he did, my ears are still bleeding and I watched this episode two days ago.
Lor: He finds Lorne and demands answers about Darla. All Lorne can offer though, in his awesome, smooth operator way, is that Angel is headed for a dangerous place, far off his path. Lorne recommends he just go home. Angel gets a little growly with him, but Lorne knows he won't do anything to him. "You're a good boy."
Angel calls Cordelia and though she hems a little, she offers him the address of DeEtta Kramer. Wesley makes fun of Cordy for not standing up to Angel and then pulls out a tranq gun in case Angel gets a little too happy, by which I mean evil. Cordy asks if the gun will do the trick and Wes looks thoughtful before saying he should probably call Gunn.
Angel is lurking outside of the Kramer household and he sees Darla and her "husband" sitting down to a meal. Inside, we learn the husband is an actor and also he likes to babble about acting. He annoys Darla enough that she presumably grabs his balls (?) and threatens to kill him if he doesn't shut up.
Sweeney: This is another amazing gif that we will use all the time.
K: And with good reason! It's perfect.
Lor: Darla's got a ear piece in and she asks Lindsey if he can hear her. He can, and says that they need a few more minutes to set things in motion. Darla tells him to hurry up because she can sense Angel's presence.
Back and Brooding Hotel, Wesley and Cordelia are tag-teaming the "sometimes Angel goes evil" explanation to Gunn and I love it. Gunn's "ANGEL GOES EVIL?" and accompanying "SRSLY?" stare is brilliant. Wes shares that as far as evil, blood sucking demons go, Angelus was the worst, especially when he was ravaging the world with Darla. Cordelia compares the two of them to Bonnie and Clyde if they had 150 years to get it right. Gunn wants to know how bad this can get.
We cut to a Ye Olde Flashback. Angel is sitting in a convent and Darla comes over to talk about what a big mess he made of the nuns. They start making out and we hear Drusilla babbling nuttily. Darla asks what crazypants is doing still alive, and Angel shares that he killed her whole family but has big plans for her. They kiss and roll around as Dru repeats "snake in the woodshed," which, yeah. Angel is probably thinking about putting his snake in a woodshed. Good job with the telling visions, girl.
Angel pushes Darla off of him. He's got her shoulders back and it's bringing her boobs so puffed out of her corset, she's one second away from giving us a peep show. They get back to the making out basically on Drusilla's lap and she laugh-cries about how crazy this all is.
Sweeney: She's really good at that laugh-cry business. A+ for Juliet Landau.
K: YES. And she's clearly ahead of me if I were in the same situation. I'd probably just puke everywhere. 
Lor: Lindsey gives Darla the go ahead, so she picks up the phone and dials 9-1-1, saying that someone is breaking into her house and trying to kill her. The security guard near-by vamps out and smacks Darla around. Angel rushes into the house without an invitation, because this house probably belongs to some dead people. He finds the fake husband on the floor, neck bitten into. Darla cries at Angel and asks what he did, all as Lindsey listens in. He marvels at her acting chops.
The cops rush into the house because their response time is apparently 1.1 seconds. They pull out their guns, as Darla cries that Angel did this. Angel tells Darla she'll pay for this as he runs away from the cops, taking a couple of bullets in the back. Angel Super Mario Jumps into the attic, ends up on the roof and jumps off.
Later, Kate is interviewing Darla, who pretends to be confused at how Angel got away. "PCP Adrenaline," Kate says. Darla says that she recognized Angel and that he started following a few weeks ago, saying he helped the helpless. He kept calling her Darla. She says that she told him to stay out, but he came in and there was something wrong with his face. Kate assures her that that isn't crazy and that she will find Angel and make him pay. If Kate knew anything about anything at all, she would call BS on the story right away thanks to that whole "invitation" thing. Kate isn't really interested in being supernaturally educated, though. She just wants to pretend to know what she's dealing with, and stalk around enforcing her own idea of justice.
Sweeney: THIS. And also just be generally fucking obnoxious. GTFO, Kate. We're over your shit.
K: SO MUCH. She's my least favourite thing about this show.
Lor: I don't feel bad that I called her Quasimodo for so long.
As Kate talks to her fellow police officers, Angel Spider-Man dips down from a tree and pulls Darla up with him. No one notices.
At Brooding Hotel, Kate arrives with a group of officers, mostly to annoy the piss out of me. Seriously, sorry, I know she's touted as "realistic" but I really hate this character. Wes and Cordelia inform her Angel isn't there, but she sends the officers out to search anyways. Wesley asks for a search warrant, and her answer is basically, "but no, because Angel is a murderer." Okay, Kate. Okay.
She asks the Fang Gang if they want to help her out or go down with their boss and Wes and Cordy fold their arms defiantly. She spots Gunn and asks for his name, before running it to see if he has any priors. Wesley starts to defend Angel again, but she mentions Darla's name and shocks Wesley.
Down back in the Water Tank Convent, Angel is dragging Darla. He's figured out that she is what Wolfram & Hart brought back in the box, but they brought her back as human because they think he won't kill one. Darla is doing a good job at acting freaked out. Angel says that W&H don't know him that well.
Darla starts running and he chases after her a bit before she stops. He starts doing an Angelus-like speech about the tank being an old convent and how much he used to love convents. He then vamps out and pins Darla against a pillar before telling her to scream all she wants. He hovers over her neck before she drops the act and says she won't scream. They start kissing.
They make us out to a cut to black.
Kate comes back with a rap sheet for Gunn and warns him that hanging out with Angel won't help his rap sheet. Cordy tells Kate that they want to find Angel and she holier-than-thous about how Angel broke into the house even though "DeEtta" begged him to stay out. Gunn puts together what stupid-ass detective Kate couldn't: Angel couldn't have gotten in without an invitation unless the owners of the house were dead. Wesley also comes by and shows Kate a picture of Darla, who is of course the lady Kate met.
To borrow a phrase from the 90's for Kate: DON'T YOU FEEL CRUNCHY?
Sweeney: I adore you. I still fucking hate her, but I adore you, so I feel all better now.
K: I……have no idea what that means, so I'm still stuck at "STFU KATE, YOU DON'T KNOW ANYTHING AND I HATE YOU".
Lor: I feel sorry for your 90's, K.
Angel breaks off his kiss with Darla and asks what her play is. She claims to just want to have fun (K: If it weren't in the middle of a sentence, I'd totally put a Cyndi Lauper gif in here), but Angel guesses that they are trying to turn him bad. Darla says that it's a trite plan but, you know, it was created by humans. Angel tells her it sucks that she's now one of them, especially because being human comes with that whole pesky soul thing. Soon, she'll be eaten away by her memories.
Darla sexy creepies at Angel that he can escape it all if only he'll let her give him one moment of happiness. He tells her that she took him places and "blew the top off [his] head, but [she] never made [him] happy." Darla stumbles back a few steps, shocked.
"But that cheerleader did?" Darla asks. She says they shared everything over 150 years and she never made him happy? Angel thinks she wouldn't understand. She thinks she does, though. She thinks that in the early years, Angel would've called her the definition of bliss.
Angel chuckles and points out that Darla sure is getting bent out of shape over this. Then he explains that he couldn't feel that with her because he didn't have a soul. Then he got a second chance like she has now.
Darla isn't buying the pro-soul advertisement. She says that just like Angel can smell her, she can smell him, and apparently he smells like evil trying to bust out. We leave that scene with a strange close-up on Angel's face which is supposed to be like… tortured? and tense? His eyebrow twitches a little.
At Brooding HQ, the officers haven't found anything. There is more back and forth between the Fang Gang being all, "Angel didn't actually kill anyone…" and Kate being all, "but bad things happen AND I BLAME ANGEL." Kate asks why Angel would kidnap Darla if he were so good. No one says anything though I seriously wish someone would kick her in her junk. My dislike is bordering on irrational.
Sweeney: NOPE. TOTALLY RATIONALLY. SOMEONE KICK HER IN THE LADY BALLS, PLEASE.
K: Motion carried. Kate is hereby sentenced to be kicked in the lady balls. 
Lor: At the Water Tank Convent, there is still this stand-off between Angel and Darla. He threatens that if she kills another person, he'll kill her. Darla starts talking about all the nasty things Angel said in his dreams but he grabs her by the throat and tells her to stop. She's prepared, though, and holds a wooden cross to his chest. He starts to sizzle as she says that no matter how good he thinks he is, God still doesn't want him.
Angel breaks away as she says that she still wants him. She drops the cross and runs off. Angel watches her go.
Back at Brooding Hotel, Angel is sitting in his apartment portion of it and is, well, brooding. Cordy and Wes knock on his door, checking up on him and mostly trying to figure out if he went bad. He starts to close the door on them before Wesley tells him that with Wolfram & Hart in league with Darla, this is a lot of evil stacked against him. "Bring it on," Angel scowls.
It was cool seeing a little pop of Drusilla! Additionally, I did not call Darla being a human now, which puts an interesting twist on her Big Baddiness. Some one should probably kill Darla, but maybe kill Kate first.
Next time on Angel: Angel finally seeks some help, and Wes steps up to the big leagues. Find out all the details in S02 E06 – Guise Will Be Guise.