Sweeney: WE'RE DONE. VICTORY DANCE, GUYS.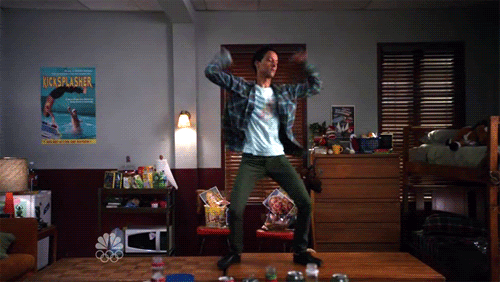 Now that we've got that out of the way, let's get to it.
Although we have discussed our difficulties with ranking in the past, this was probably the easiest list for me to put together. I moved episodes around a lot less than I did in S2 & s3. Aside from the final two episodes, which I have gone back and forth on, I have no reservations about the list. That said, my list basically fell into three groups (1) Good Episodes (2) #MEH Episodes -and- (3) Never Again Episodes. I'm not surprised by how many fell into the last category, but for all of our S4 bitching an moaning, group one is actually almost half the list. The biggest problem with this season is that it's so hit-or-miss. There are several episodes that are just AWFUL, and the Never Again section on this season is definitely longer than previous season for me. The other issue is how badly handled certain season-long elements are. This season asks a lot more of us in terms of suspension of disbelief, because it can't even seem to stick within its own rules and that's frustrating.
All of that being said, now that we're here, on the other side of the season, I can say, "It wasn't that bad." It's a lot easier to say it from this side, though. I think what I'm really saying is, "I'm glad I'm done and my celebratory haze is dulling the pain of the memory of this season."
Lorraine: IDK if I'm ready to quite admit that this season wasn't SO bad. It felt pretty bad. And for that reason, there shall be more dancing:
We've spoken a lot already about the problems with the large arc, but I think what made that almost unbearable is that we had nothing to fall back on– no old standbys. Sunnydale High is gone, Giles as a Watcher is gone, Angel and Buffy's relationship is gone, the Scoobies as best friends are gone, BAMF Buffy moments are reduced as are some of the better and extended fight sequences. Oz leaves early on. Even Joyce's shitty parenting is nowhere to be seen. I know things could not have remained the same forever, but it was this flux coupled with the failure plot arc that made this season a little harder to get through.
The worst part of it all is that the season tried a number of things that would've been excellent had they been pulled off with more skill.
There were highlights, of course, (because a bad season of Buffy is still a decent season of TV) both as far as episodes and elements. Anya and Tara were both great additions to the cast, and Spike even through his contrivance-y extended presence, was often a humorous saving grace.
Here's how I rank 'em:
Kirsti: Honestly, I don't think we've had quite enough gifs to properly celebrate the end of season 4. Because SWEET MOTHER OF JEEBUS, I thought it was never going to end. And yet, here we finally are.
Thanks for joining over this season, Traumateers! Regardless of how we felt about the episodes, spending season 4 with you all has been nothing short of excellent. Truly.
Share your top and bottom episodes in the comments and tell us how our lists stack up against yours.
See you in season five!