Previously: Wolfram & Hart gave Lindsey an evil hand, and it was the push he needed to finally GTFO.
—
Belonging
Sweeney: The episode begins with the gang eating a fancy dinner to celebrate Cordelia getting a job on a national commercial. Angel's being really awkward about all the "being out in public" and also the cost of the food. "I'm not cheap, I'm just old." LOL.
Kirsti: I'm gonna go ahead and start using that excuse when people drag me into stores where a t-shirt costs $100.
Sweeney: Cordelia feels guilty about ditching them mid-case. Wesley and Gunn discuss how they'll have no problems being manly men killing the demon thing to death and they fist bump. Angel jumps in for a repeat fist bump and it's cute. SEE, BECAUSE HE WANTS TO BELONG. *COUGH* BELONGING.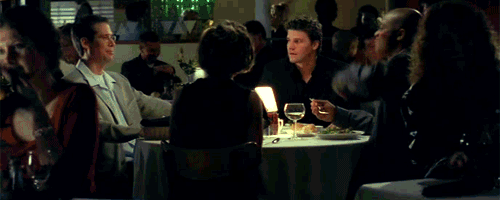 Less cute is when he accosts some rich lady because her shmancy shawl looks like some demon battle shawl "woven from the skin of dead children." That's a horrifying image, and I'm pretty sure I'd burn that $1000 shawl when I got home after being told it looked like it was woven from the skin of dead children.
Lorraine: I'd additionally question anything I'd ever bought, ever.
K: Agreed, Lor. Because urgh.
Sweeney: Cordelia intervenes, and gets Angel back at the table. Shortly thereafter, she appears to get food poisoning and loudly vomits. Thankfully, it's now time for the electric cellos.
We start the episode in Wesley's office where he's on the phone with his parents. Pause because I LEGIT GASPED WITH EXCITEMENT BECAUSE AMY ACKER IS IN THIS EPISODE. Years before I ever watched Buffy I saw one of the final episodes of the 5th season, so I'm spoilered in the weirdest way, because I have no concept whatsover of how we get to that point, but I know, um…a thing. She is also the only thing I remember about the episode that I saw, so I'm pumped because I know we're meeting a BFD character. This is weirdly fun for me, but I'll be really upset if her arc turns out to be super underwhelming. I realize that I'm now moderately spoiling Lor, but I'm not even a little bit sorry because I'm so excited.
Lor: I don't know how I manage to be so unspoiled. I didn't even know Amy Acker was on Angel at all, though I do know and appreciate her from various other Whedon projects. We can clap excitedly and in our varying states of not really knowing what's going on together.
K: Meanwhile, I'll be over in the asshole corner of Snark Squad HQ because I KNOW WHAT HAPPENS AND OMG SO MANY FEELS AND SO MUCH AWESOME AND WHOOPS SPOILERS.
Sweeney: I'm glad I have a confused clapping buddy. I'm glad Nigel Lythgoe is the face of our confused excitement. It's fitting.
Anyway, back in the present that I know nothing about, Wesley's cute chat with his parents includes telling him that he's now running the show. The conversation turns sour when his dad reminds him of that time he got fired and is clearly being an ass about it, even though we only hear Wesley's side of the conversation. The orchestra of feels confirms that even though we don't know what he's saying, his dad's a dick. He plays it off, though, when Gunn enters.
Wesley's "He sends his greetings to everyone in Tinsel Town," segue magics us to a studio lot where Angel is inside a sound stage where Cordelia's commercial is being filmed. He briefly stands on the faux-beach set and basks in the fake sun for a bit. Aw.
The director shows up to make Cordelia lose her robe, which she uncomfortably does, because she doesn't particularly want Angel there for the reveal of her seashell covered bikini. The director is a megadouche, saying Cordelia needs to get back to makeup because of how unfuckable she looks (FFS?) and Angel tells the guy to take it back. I'm cringing from the discomfort of this scene because as inappropriate as the guy was being THIS is not how you handle this, Angel. That's sort of our thing for this episode, though, yeah? Angel's back around people and is incompetent at it. Har har.
Lor: And he's not only bad at it, he's old.
Sweeney: Yup! I should have kept a running tally of the number of times they made socially inept / SUPER OLD Angel jokes this episode. I think it's the show's way of trying to put CrAngel behind us, but it's not really working for me. Those are jokes that the show effectively makes at other times, but they mostly fall flat and feel like tired gags in this episode.
Cordelia pulls Angel back after getting in a bit of trouble with the director. She again tries to make him go, but he says he's there with a question about the demon they're trying to kill. It's a real blood and guts kind of thing, and Cordelia just walks off, lamenting the fact that this is her life.
At the Brooding Hotel, Wesley is giving Gunn the Wikipedia run down of the demon. Gunn lets him go on for a bit before cutting him off with the, "Yeah, I mean, how do we kill it?" This is interrupted by the arrival of some of Gunn's friends who are setting a trap for a bunch of vamps. They want to borrow Gunn's vampire killing truck, and it's clear that he's a little hurt that this is all they want/need from him. Gunn tells them he'll come with, adding to Wesley that they can page him when they get a location on this other demon. That's Angel's cue to arrive with that location, and Gunn's buddies have a very, "Yeah, figures," reaction as they go.
In the office, they get ready to go while Angel vents his feels about Cordelia's dreams of acting because Hollywood people (aka, the one that he just interacted with) are the absolute worst ever. (Oh so meta! Hollywood people playing people who hate Hollywood people.) His little rant is kind of cute, especially when he adds the Cordelia took the guy's crap and when was the last time she took crap from them. "Never. And the day after never," answers Gunn. When Angel comments on the horror of her being forced to wear a bathing suit that covers nothing, they all pause to ponder that mental image because it's Charisma Carpenter and, like, duh.
Lor: Angel starts strangling the wooden handle of whatever weapon he's holding. Boy, you just had a sex-piphany. Get it together.
K: The strangling the wooden handle thing reminded me of all the scenes in Doctor Who since Moffat took over as showrunner when the sonic screwdriver is used in a "the Doctor has a boner" kind of way. Sigh.
Sweeney: After that awkward moment, they get their weapons and game faces and march off.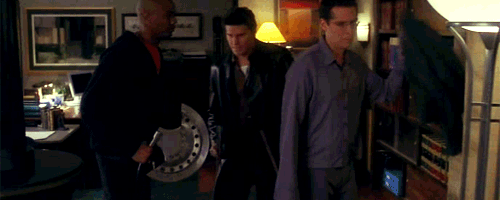 Before we get to the battling, we get another delightful Lorne solo, because he's tearing down the house at his bar, but it's rudely interrupted by a crazy glowy wall thing that reminds me a little of the one Angel was banished into at the end of BtVS S2. Good, ridiculous Terrible Special Effects Team fun.
K: It's possible that I may have screamed "SLIDERS!!!" at my television screen. But maybe that's just me…
Sweeney: Less fun is the giant gnarly looking demon that appears through the glowy wall and then runs off, as terrified patrons scream and Lorne pretends it was part of the show.
Back on the commercial set, Cordelia's delivering her line in this misogyny-filled sunscreen commercial, but that's interrupted by the megadouche director cutting her off to yell at her for being in the useless tan guy's light. She apologizes and says she'll do it again.
We cut to later when she is sitting in the lobby of the Brooding Hotel when Angel and Wesley appear and the orchestra of feels does its thing some more. Angel apologizes for embarrassing her earlier. She says she embarrassed herself, and has some feels about how she just wanted to act. Then she notices Gunn's absence and Wesley says he's off fighting vampires with his buddies. They fill her in on the demon they killed and Angel's confusion over the concept of power walking.
 Lorne bursts through the door and fills the gang in on what happened at his bar earlier, and repeats the serious need to kill this demon about three times. He also tells Wesley not to look it up in their books because it's supposedly from a dimension they've never heard of. (Never trust people telling you the books will be useless!) As he talks about what a horrifying thing this demon is, we cut to it rampaging through the streets getting its murder on.
Apparently Lorne's not giving them enough information and Angel's annoyed. He offers a next course of action, though Cordelia nods her head at Wesley. Angel apologizes and defers to Wesley. Angel pretty well summed up the plan, though — we start looking for it. As they head off, Cordelia is once again not feeling well, it turns out to be migraine vision rather than the food poisoning thing. The vision is blurry and shaky, and all we see is a nerdy looking girl (Amy Acker!) with a necklace grabbing an ominous looking black book off a shelf in a library.
Cordelia clarifies that it's the public library and that she thinks that Amy Acker works there. Lorne is being really weird and a little shady about the fact their focus is shifting, but Cordelia adds that she thinks she saw some sort of portal in the background. They invite Lorne to tag along and he seems anxious about this.
Lor: No one notices though. He's almost twitching with awkwardness and no one notices. Booo.
Sweeney: Gunn arrives to find his vampire hunting gang all very somber. After a slow reveal we see that one of the friends we saw earlier was bitten. The gang isn't yet sure if he was turned, which is why they're all now standing around with stakes. Rough. After what he went through with his sister, going through this all over again with a friend, what with his general, "I've abandoned you all," feels? That's rough. Especially since he's recently been on the other side of being abandoned.
At the library, Lorne is trying to make Angel think/talk about something else. They run into a librarian who assumes Lorne is there a day (night?) early for a children's reading. Even better than PCP as an explanation for all the demonic happenings. IT'S ALL PUPPET THEATER FOR THE CHILDREN!
K: Librarians see a lot of weird, but nothing quite like that. Good grief, show. You're really stretching now.
Sweeney: They ask this librarian about the woman from Cordelia's vision. It takes a bit of questioning, but when Cordelia mentions the locket, she notes that Fred (!) wore one of those, but, um, awkwardness — Fred disappeared five years ago. She was studying to be a physicist and worked in the library. The day she disappeared she was stacking books in the foreign language section and was there one minute and gone the next.
In that room, Cordelia says it's definitely the room from the vision. Lorne is again acting shady and trying to suggest they go somewhere else. Cordelia finds the book she saw in the vision, which was last returned to the library the same day Fred disappeared. Cordelia starts reading the book out loud, which she should know better than to do. (L: And while Lorne makes some more awkward turtle faces, he doesn't actually attempt to stop her. BOOOO.) Portal appears, thundery noises, Lorne screams.
After a Not Commercial Break, a green demon bursts through the portal. Angel fights him and Lorne realizes that he knows the guy. They pause and the demon gives a long-winded backstory to Lorne. It just now occurs to me that we weren't supposed to know Lorne's name because he's now properly introducing himself for the first time. MANNERS, KIDS! How have none of them asked for his name yet! I'm a little ashamed of all you, children.
K: Seriously. Also, I think it's my fault that we started using Lorne's name like an entire season before we were meant to, because I got sick of calling him The Host. SORRY NOT SORRY, Y'ALL.
Sweeney: No, it wasn't. I got his introduction and I mentioned all! the! gifs! I had seen on Tumblr. Don't worry – I introduced him as Lorne straight away.
They make another Angel is old joke, because Lorne Green! Bonanza! I didn't get it either — yes, Angel, you're old. (L: Yep.) The new demon is Lorne's cousin, and goes on at length about how hated Lorne was for some cowardly thing he did. After some more back and forth, we conclude that Lorne's cousin is way on board with killing the demon and also has the ability to read the waves of hostility it leaves behind it, a skill his people have if they submit to training — a detail he pointedly adds for Lorne. The gang head out to show Lorne's cousin the origin point of those hostility footprints, and Lorne's not happy.
In some random shady looking place, Gunn gets angry at his living friend for not waiting for him. He says that they've been waiting on him for months. They are unloading wooden things for what I assume is a giant funeral pyre.
Lorne's cousin spots the murder victims we saw earlier, and starts doing some weird hand movements to follow those hostility foot prints. Lorne tells Angel about how much he hates the land he comes from, because it's all very black and white, good and evil, with heroes roaming the countryside, but there's no music, art, or discussion of feelings. Lorne asks if Angel can imagine living in a place like that and Angel says mouth says no, but his face says, that it sounds like an awesome place to be.
Lor: Pfft. Angel/art OTP.
K: Lack of feels discussions trumps everything ever, Lor.
Sweeney: As anti-talking-about-our-feelings as Angel is, I'm on the side of disliking anything that gets in the way of the Angel/art OTP.
Meanwhile, Cordelia's flipping through the book some more and says that they're missing something. Wesley offers to help with translation back at the office, but she says that's not it. They're chasing the demon, which, great, but there's something bigger. She just doesn't know what it is yet. It's a supremely vague hunch, but the kind of thing that you should probably trust when it's coming from Vision Girl.
Lorne and his cousin bicker some more, with the cousin issuing more charges of cowardice. Lorne insists that he's not a coward, but rather, again, someone who sees the world in less black and white terms.
All of this good/evil stuff with Lorne is very heavy-handed, but I love it all the same. This is interrupted when the cousin realizes that the demon took a snack for the road. "More food. Oh, you mean people. Oh! You mean people!" I love Cordelia.
They drive off and conveniently spot the demon right after they park. The cousin gets out and goes after the demon. Angel follows, but Wesley doesn't like this, since they don't have a plan.
Lor: They really are also playing up this Wesley tripping over his new leadership role thing. I'll admit, though, that it's weird for me too. I'm used to Angel calling the shots.
Sweeney: Yeah, it's also in the category of "things I don't mind," because it's odd for the viewer too. I like that they're making it clear that this is a role shift for everyone.
The demon bites the cousin and Angel steps in to fight. Lorne finds his wounded cousin and informs Wesley (and the audience!) that the bite is poisonous to their people and the antidote only exists in their world. During this, the demon gets away from Angel and runs off with his victim.
Lorne and the cousin sit and have out their feelings while Angel and Wesley go off in search of the demon and the woman. Wesley finds her and she screams just as he turns around and gets tackled by the demon.
After a Not Commercial Break, she runs off and Wesley buys himself enough time for Angel to arrive when sticks a flare in its mouth. (K: Going after a big beastie with nothing but a flare? How very Jurassic Park!) Angel throws the cousin's sword through the demon's throat.
They go back out to the car where Cordelia is flipping through the book some more and she's concluded that the portal works both ways and she's confident that they can send him back if they do the chant somewhere that a portal was opened. They ask how she can be sure and she says she can't but she just knows anyway. Lorne's cousin wants him to perform some sort of funeral rituals if he dies, and Lorne says he won't do it because nobody's dying.
That's our cue to segue magic over to Gunn, looking pensive as they light his friend's funeral pyre. The orchestra of feels plays as we pan around to the group who stands around, while Gunn watches from a distance.
K: I'd watch from a distance too. But mostly because I'm guessing burning corpse doesn't smell too good.
Sweeney: Back in Lorne's bar, the cousin says his goodbyes to the gang and reads the vowel-free text. Portal appears and he is sucked away. Lorne wants to forget this ever happened and Angel and Wesley agree, but there is no response from Cordelia. We pan out to see that she is gone.
After a Not Commercial Break, she is waking up in the woods somewhere weird and demony and obviously not Earth. She looks around and quickly realizes what happened. "Oh, crap." Roll credits.
Welp. That was a way to end an episode. I was confused, prior to that point, because, WHERE'S FRED THO? but  all right, show, I'll be patient. Anyway, as I said before, I didn't really mind how heavy handed they were with Lorne's good/evil/shades-of-gray stuff because that speech in particular was quite lovely and poetic. Plus, backstory!
Other than that, I'm not quite sure what there is to say about this episode – a lot is happening. I think that's basically true of both of the episodes I got today. It's episode 19 so there's a lot of big movement as we head into the finale. Here, though, that movement seems to be coming from so many different places that it's a little much to take in. I could have done without most of the first half of the episode — I like Cordelia getting more story time, but I wasn't a fan of this particular story. The Gunn plot is decent, but I don't think they did enough with it for me to be as invested as I should be. I appreciated the whole Lorne plot though. I'm not a fan of all the Fang Gang obliviousness to Lorne's twitchy behavior, but the confusion over what it all meant was interesting (as some questions remain unresolved). The whole episode picked up in the second half when Cordelia moved into that storyline. The end was super weird, but I think it was good weird?
Lor: This season is clearly built weird. The whole Darla thing was finished off and now, here, they are starting up some other mini-arc with just a handful of episodes left in the season. I feel like judgement has to be reserved until it's all played out.
Fine, show. Fine.
K: Meanwhile, over in the asshole corner, I KNOW SOMETHING YOU DON'T KNOW TRA LA LA LA LA LA LA.
Next time on Angel: The rest of the Gang travel to Lorne's home to find Cordelia in S02 E20 – Over the Rainbow.