Previously: Joyce's funeral caused more feels, especially when Angel turned up. Also, Dawn tried to raise Joyce from the dead with magic and Spike's help. Also also, Ben let slip that the Key is human.
—

Intervention
Kirsti: We open in the Summers' kitchen. Buffy's washing dishes while Giles and Dawn dry and put things away. Apparently the Best Surrogate Parent of Ever made dinner for the girls. Dawn goes to check her room for additional dishes, and Giles takes advantage of her absence to ask how they're both doing. "Some minutes are harder than others," Buffy replies.
Lorraine: Subtle but brilliant line. Grief happens minute by minute.
Sweeney: Agreed. I think that applies to most turbulent life times. Emotional stuff doesn't just hit you all at once and then go away. It ebbs and flows and I can't stop congratulating this show for how wonderfully it's portraying all of this.
K: Seriously. It's so freaking brilliant. She follows up by saying that she's trying to get into a routine, and he suggests maybe they should start training again. Buffy hesitates, because apparently she needs a break from slaying. She doesn't like what it's doing to her – making her hard and emotionally withdrawn. She worries that it's affecting her ability to love.
He tells her that there's a quest in the Watchers Diaries that past Slayers have found helpful in regaining their focus, but that it will involve a trip to the desert for a few days. (L: RESTLESS!) She frets about leaving Dawn alone, but Dawn tells her that if she has to go and do her job, she should. There's some sisterly bonding, which ends with Buffy saying, "Weird love's better than no love."
Lor: I feel like our comments section just gained a motto.
Sweeney: LOL YES. BEST. Accurate.
K: Motion carried.
That's our cue to segue magic over to Spike talking to UGH WARREN WHY DO I KEEP GETTING STUCK WITH THE WARREN EPISODES??? Ahem. Anyway, Warren's finished Spike's request – the camera pans up to reveal the Buffybot. We can tell it's not actual!Buffy because she's wearing a pink pleated skirt. (L: Season 1 Buffy would've rocked that.) (K: Only if it was about a foot shorter. Remember the days of #hosuspensions? We've come so far!) Warren's all twitchy and wanting to leave, but Spike's not sure he's a satisfied customer yet. Then the Buffybot opens its eyes and kisses him. "She'll do," he says. Roll credits.
After the credits, Glory's moping to her Flattery Demons about how she's losing control of Ben. She then postulates that Buffy and the Key will be in regular contact, and tells her Flattery Demons to follow Buffy and her friends and work out who's new in the group. There's some mild toadying before we cut across to Giles' car pulling up in the desert. Giles pulls a book, a gourd and a bundle of twigs out of the boot, and tells Buffy that he has to do a ritual to summon a guide because he's not allowed to know how to get to the sacred Slayer reset button location. The next bit is spectacularly hilarious, mostly due to Giles' facial expressions:
He awkwardly starts the ritual as Buffy smirks in the background.
Cut over to the TARDIS crypt, where Spike is putting the Buffybot through her paces. Said paces rapidly go from a sad attempt at fighting to some "I'm helpless against you," and then some face nomming.
 Lor: I am disturbed. 
K: Fair. Back to Giles sitting in his magic circle with his gourd. He reads from the book in Swahili while Buffy wanders off into the desert. She comes across a mountain lion. Apparently it's her guide. She follows it into the desert to the place where she fought the First Slayer in Restless. "I know this place," she says. Whoops. Maybe we weren't meant to realise where it was yet?? OH WELL.
Over at Xander's Gift Apartment, Tara's informing them that she's put a protective spell on the place. The camera, however, is busy focusing on Dawn, who's stealing a pair of Anya's earrings. (L: She stole an egg, got a thrill out of it, and is now a klepto? WTF?) One of the Flattery Demons lurks outside the window, watching. Back at the TARDIS crypt, Spike and the Buffybot are curled up in a post-coital ball on the floor, and OH MY GOD HIS MUSSED UP HAIR IS FREAKING ADORABLE.
Lor: Guys, Buffybot and Spike still have more sexual chemistry than real!Buffy and Riley. True facts.
K: A+ for accuracy, Lor. Things head rapidly from post to pre again, but the Buffybot ruins the mood by asking if she should start the program over. Spike's a little taken aback, and tells her to just be Buffy.
Cut to Contrivance U. Willow's getting out of class, and is lending her notes to some random dude. She geeks out because PLEASE DON'T SPILL COFFEE ON THEM OR DOG EAR THE PAGES, and we see a Flattery Demon following her as she walks off. Back to the TARDIS crypt again. Spike sleeps as the Buffybot gets dressed, then announces that it's time for some slaying. "Vampires of the world, beware," she says as she leaves the crypt. Fade to black.
Sweeney: Buffybot is still majorly creepy, but, you know, at least she was programmed to be useful.
K: True. After the Not Commercial Break, Giles drinks coffee from a thermos while staring up at the stars. Elsewhere in the desert, Buffy struggles to stay awake. We head back to Sunnydale with a small moment in which I turn into a Giant Squid of Anger over how many insanely short scenes this episode involves. The Buffybot is wandering through the cemetery, twirling her stake, when she bumps into Anya and Xander. Her programming includes knowing who they are and a few pertinent details about them. As a result, she asks Anya how her money is, and Anya giggles with happiness as she replies "Fine. Thank you for asking!" Bless.
Sweeney: This was delightful.
K: Anya's giggle was just my favourite thing.You could just hear her brain going "SOMEONE FINALLY CARES!!!"
Just as Xander twigs that something's weird, Spike comes running up in a panic. This, in fact, makes things worse, because the Buffybot gets all Touch All The Spike (fair call, really), and fangirls a little over his coat. Spike comes up with a contrivance-y story that the cemetery is full of vampires, and that they should split up. Of course, Sunnydale being Sunnydale, that's the cue for a group of vampires to appear. The Buffybot takes on one, Anya and Xander take another, and Spike takes the third. From the shadows, some Flattery Demons watch the Buffybot get anxious about Spike's safety. Three stakings later, Spike and the Buffybot tell Anya and Xander that they can handle the rest of patrolling. They're slightly confused but leave anyway. The Buffybot informs Spike that she feels weird because the slaying wasn't suitably satisfying and now her skin is all hot. This obviously leads to face nomming.
Outside the cemetery, Xander thinks it's weird that Giles didn't contact them to say that he and Buffy were back from the desert. Anya's all "whatevs," but then Xander realises that "Buffy" never asked about Dawn, and decides that something must be wrong. Just then, they hear a noise coming from the cemetery. Some peering through bushes reveals that it's Spike and the Buffybot going at it again. "Oh, Spike. You're the big bad!" the Buffybot moans. I cackle hysterically as Xander and Anya stare in horror.
Lor: Again, I am disturbed.
Sweeney: Y-yeah. Buffybot's sexy time lines are all pretty disturbing.
K: I was going to add something here, but SPOILERS SWEETIE so I won't.
Cut across to Xander's Gift Apartment where Willow and Tara are watching TV. Xander and Anya burst in and announce that Buffy's gone crazy. Tara points out that a death in the family can make people do weird things, and Anya interrupts to say that Buffy's boinking Spike. Willow tries to be supporto-girl and back up what Tara said about grief, but Tara says "What, are you kidding? She's nuts!" They wonder what they can do to help, and Xander says that he's going to go and try to talk some sense into her.
Back in the desert, Buffy awakes to see a big fire burning. The First Slayer is on the other side of the fire.
TARDIS crypt. (L: These ARE insanely short scenes!) Spike's leaning against a pole, smoking a cigarette. There's a noise from the door. The Buffybot pops up from the bottom of the frame and he tells her to hide as he fastens his trousers. The noise at the door turns out to be Xander. He tells Spike not to take advantage of Buffy, and Spike's all "Hey, if the girl comes to me for comfort, I ain't gonna stop her." Xander grabs him by the shirt and says that Buffy's friends will do whatever it takes to protect her, even if it means killing Spike. Just then, the Flattery Demons burst in. There's a brief fight that culminates in them knocking Xander out and kidnapping Spike. The Flattery Demon in charge says that they can't beat Spike up too much, because Glory will want the Key intact. Spike's all "Say what?" and they stuff a gag in his mouth as they drag him away. Fade to black.
After the Not Commercial Break, we're back in the desert. Buffy tells the First Slayer that she has questions about being the Slayer, such as this whole pesky love thing.
First Slayer: You're afraid that being the Slayer means losing your humanity.
Buffy: Does it?
First Slayer: You are full of love. You love with all of your soul. It's brighter than the fire … blinding. That's why you pull away from it.
Buffy: I'm full of love? I'm not losing it?
First Slayer: Only if you reject it. Love is pain, and the Slayer forges strength from pain. Love … give … forgive. Risk the pain. It is your nature. Love will bring you to your gift.
Buffy: …What?
Back at the TARDIS crypt, the Buffybot emerges to find Spike gone. She heads over to Xander's apartment (Xander, incidentally, is still out cold on the floor of the crypt), and informs Willow that Spike is missing and that she needs to find him.
Willow cringes a little and asks if the sleeping with Spike part is true. The Buffybot says no, because there was no sleeping, just lots of sex. She could draw diagrams of all the different ways, if Willow wants. Willow's grossed out, and points out that this is different to sleeping with Angel, because Angel has a soul (SHOTS!!). "Angel's lame. His hair grows straight up and he's bloody stupid," the Buffybot replies, and the fact that Spike insisted that her programming include an "insult Angel" section never fails to amuse me.
Anyway, just as Willow's getting super antsy about things, Xander turns up and informs them that the Flattery Demons – or, "hobbits with leprosy", as he calls them – have taken Spike to Glory. The gang freak out on account of Spike knows about Dawn, and they all look to "Buffy" for a plan. "I fight with weapons!" the Buffybot says cheerfully. Xander takes this to mean that they should stop by the Summers' place on the way to wherever because he doesn't have any weapons. Tara stays to look after Dawn while the others head out.
Cut back to the desert. Buffy's all "Okay, what the hell is this gift thing?" "Death is your gift," replies the First Slayer, and Buffy's none too pleased, because death is a really shitty gift. (L: No returns or exchanges.) The First Slayer informs Buffy that her question has been answered, and disappears, taking the fire with her. Buffy looks confused and a little pissed. I don't blame her. The First Slayer could have at least left the fire behind.
Glory's apartment. The Flattery Demons burst in with Spike. Glory's reaction is fabulous: "What the hell is that, and why is its hair that colour?" The Flattery Demons inform her that Spike's the Key, and she shuts them down because the Key has to be pure and Spike's all dirty and stuff (TWSS??). She says that Spike's useless because vampires can't be brain-sucked, and the Flattery Demons try to cover their mistake by saying that the Slayer protected Spike and treated him as precious. Glory inspects him a little more, and Spike tells her to sod off. She doesn't appreciate his sass, and punches him across the room. She drags him up by his lip, then throws him onto the bed and straddles him. She decides that maybe there's something on the inside, and shoves a finger into his chest. Spike screams.
Lor: Add another to the disturbed count.
Sweeney: Glory is so. fucking. creepy. Again, a new twist on a similar shtick to The Mayor. Less awesome, but still pretty disturbing.
K: Yup. Over at Chez Summers, Xander is handing out weapons. He asks "Buffy" where they're going to find Spike, and she says that she has no idea and why is everyone looking to her for a plan? Willow suggests that "Buffy" go upstairs to look for more weapons and possibly change out of her pink frilly skirt. She bounces her way out of the room, and the gang are all "WHAT ARE WE GOING TO DO, SHE THINKS WE'RE GOING TO SAVE SPIKE." They decide that they have to do whatever it takes to keep him from talking. And that also, they need a Sane Buffy, so they should hold an intervention.
Sweeney: Willow, specifically, says this. An important detail because it earns her the episode's gold star!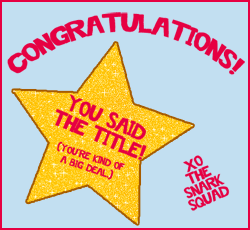 K: That, obviously, is the cue for the Real Buffy to get back from her quest. They get all intervention-y on her, and she's understandably confused about why. Anya fills in the gaps on the sleeping with Spike part, and Buffy's reply is "Who whatting how with huh???" which is sheer perfection. She denies it, and Xander says that it's understandable because "Spike is strong and mysterious and sort of compact but well-muscled." Buffy denies it again, and then suggests that maybe Xander's the one having sex with Spike. And that is a ship I want to know NOTHING about.
Anyway, Xander says that he and Anya saw everything, and that's when the Buffybot walks in again. Buffy's horrified, and the gang are confused. Xander suggests that maybe it's a personality split thing like in The Episode With Two Xanders, and Buffy's pissed: "No, she's a robot. She acts just like that girlfriend-bot that Warren guy made. You guys couldn't tell me apart from a robot?". They then all join the dots on why Spike would want a Buffybot, and there's some communal dry retching. The Buffybot points out that Glory still has Spike, and Buffy immediately gets into business mode, saying that she has to kill him. She also has an idea about where to start looking on account of that one time she chased down a giant phallic symbol snake demon.
Cut back to Glory's where she's getting serious with the torture. She pulls out a dagger, cuts his chest, and wonders if she can skin him in one long strip. "Enough," he says. "I'll tell you who the sodding key is." Fade to black.
After the Not Commercial Break, the Scoobies and the Buffybot are in the park where Buffy killed the snake demon. Giles gets pissed because the Buffybot pronounces his name "Guy-les". LOL.
Buffy informs the bot that they're going to kill Spike because he will have spilled the beans to Glory, and the Buffybot replies "You're right. He's evil. But you should see him naked." The Scoobies all grimace. Buffy tells them to split up and check the expensive places first.
Back to Glory's. Spike's been stalling for time by demanding time and water. Glory gives him a drink, then smashes the glass against his face. She demands information, and he tells her that Bob Barker is the Key. (L: LOL.) Flattery Demons get all gaspy and say that they'll bring Bob Barker to Glory immediately. She tells them not to be so stupid and that Spike's clearly lying. He tells her that he'll never give her the Key, and that she's an idiot. She yells that she's a god, and the following conversation is fantastic:
Spike: The god of what, bad home perms? 
Glory: Shut up! I command you, shut up! 
Spike: Yeah, okay, sorry, but I just had no idea that gods were such prancing lightweights. Mark my words, the Slayer…is going to kick your skanky, lopsided ass back to whatever place would take a cheap, whorish, fashion victim ex-god like you.
Sweeney: Excellent trash talk, Spike.
K: SO MUCH. She roundhouse kicks Spike across the room and through the apartment door. He immediately tries to escape. But the lift doors close before he gets there. The Flattery Demons close in, so he pries the doors open and throws himself down the lift shaft. The Flattery Demons stare after him. He pulls himself into the lift and lies helpless on the floor. The doors open to reveal the Flattery Demons. But just then, Buffy and Xander burst into the building. They flight the Flattery Demons, and I stop to note that Nicholas Brendon's stunt double's hair is a couple of inches longer.
Lor: Xander's been getting better at the fighting, though!
K: True! Just as the Flattery Demons are getting the upper hand, Giles and the Buffybot turn up. The bot immediately heads towards Spike while Giles throws himself into the fray. A Flattery Demon grabs him and he yells out for Buffy. The bot tries to help, but gets thrown into the lift controls on the wall. Blue sparks flash across her body, and she slumps to the floor. The Flattery Demons run for it. Upstairs, they try to explain things to Glory. We get a shot of the broken apartment door accompanied by their screams.
Over at the Magic Box, Willow is tinkering with the Buffybot's insides. Buffy is still freaked out by it, but says that at least it isn't a very good copy. The others are like "…….yeah. Sure."
Giles and Xander walk in and inform the others that they dumped Spike back in his crypt because contrivance dictates that they not kill him? IDK, I seriously have nothing. Buffy says that she needs to know if Spike told Glory about Dawn, and Anya says that he'd probably lie to them if he had. Willow announces that it's an easy fix to get the Buffybot up and running again, and Buffy's all "Dude, seriously? EW." Xander announces that he feels bad for Spike on account of he got the crap beaten out of him AND his favourite sex toy taken away. Buffy looks reflective.
Cut to the TARDIS crypt. Spike's face is all puffy and gross. The Buffybot walks in, and marvels over his sexy wounds. He hauls himself upright and asks where she's been. She replies that she got damaged, but Willow fixed her. She then asks what Glory wanted, and when he mentions the Key, she says that she'll go and tell Glory. He yells at her to stop, and that Glory can never find out, because "Buffy…the other, not so pleasant Buffy…anything happened to Dawn, it'd destroy her. I couldn't live, her bein' in that much pain. Let Glory kill me first. Nearly bloody did." She leans forward and kisses him gently. He starts to kiss her back, but then pulls away and stares at her in shock.
Buffy turns and walks away, and Spike asks about the Buffybot. She says that it's gone because it was gross. Also, it wasn't real. She goes on to say "What you did for me and Dawn – that was real. I won't forget it." She walks out, closing the door behind her. Spike stares after her. Fade to black.
I love the development of Spike's character in this episode. While the Buffybot side to the episode is kind of ridiculous, the fact that Spike's character has grown so much in the past few episodes – from kidnapping Buffy to declare his love to being willing to die to protect her and Dawn – is phenomenal for me. If Spike's character development was the highlight of this episode, the oblivious Scoobies were the lowlight. After them all being firmly on the "Oh, April's definitely a robot. No question about it" train, it's more than a little bizarre to have them all unable to tell the difference between Buffy and a robot here. In short, good but not great.
Lor: Agreed on all those points. The tender little kiss at the end and the look of confusion on Spike's face were incredibly well played. GIF STARING EVEN THOUGH HIS FACE IS GROSS. Also, what the First Slayer said to Buffy is interesting. "Love is pain and the Slayer forges strength from pain." Love has caused her a great deal of pain, from that one time her vagina lost a man his soul, to now when she lost her mother. But Buffy is absolutely a stronger person for it. No wonder she confuses this for and fears that strength choking out her ability to love, when really it came from love.
Sweeney: A+ for all of this. (You too, Kirsti.)
Lor: Other things: SMG did a great job as BuffyBot. When someone passes, that feeling of, "did they know how much I loved them," can haunt you, and that is yet another thing this show gets right. The Buffybot also revealed a lot about Spike. Here is a guy who gets off on fear and inspiring fear and danger. Pretty interesting over all.
Next time on Buffy the Vampire Slayer: Buffy tries to get parental, and Glory attacks a member of the Scoobies. Find out all the details in S05 E19 – Tough Love.