Previously: Warren made Spike a Buffy sexy times robot, which led to mass confusion when Buffy went on a quest. Also, Glory beat the living shit out of Spike because he wouldn't tell her who the Key was.
—
Tough Love
Sweeney: We begin the episode with an additional journey through Buffy's grief and Slayer struggles as she is dropping a poetry class. She explains to the professor (and the audience) that she's dropping all of her classes because she just can't be in school right now. This scene with an uninitiated person in Buffy's life obviously emphasizes that Joyce's death is probably reason #1 for this decision (a second cousin of mine lost her mother at Buffy's age and she dropped out of school too). That said, I like that this happens immediately after the trip to the desert because it makes it clear that Slayer stuff is a part of it. As Buffy pushes the Slayer expiration date, these are the kinds of hard choices she's going to have to start making.
Kirsti: As incredibly true as all of this is, I mostly spend the duration of the scene wondering why the hell a poetry professor is using a slide projector in class.
Lorraine: Team Heartless Cow's party trick is finding ways to suck the feels out of any and all things.
Sweeney: Elsewhere, we get a teeny snippet of additional information on the Ben/Glory weirdness when Ben shows up at the hospital to discover that he's been fired for not showing up for two weeks. Ben is visibly confused that it has been that long. He's having a temper tantrum as he empties out his locker  about how Glory's always fucking his shit up when he magics into her. Womp. Roll credits.
Glory's in a bubble bath bratting to her Flattery Demons about their failures as they feed her chocolates and mimosas. A good gig if you can get it. She orders them to tell her everything they observed while spying on Buffy so that she can figure out who the key is.
At Dawn's school, Buffy and Dawn are in the principal's office talking about Dawn's non-attendance. This was all news to Buffy and at first she's upset, but then she calms down and tries to explain to the principal how hard this was on Dawn. The principal basically says that Dawn's great and also should probably leave the room so that she can properly blame this all on Buffy. Something like that.
At The Magic Box, Anya's giving a speech about how she's recently decided that she's an American and has been reading up on how capitalism is totes the best forever. It's a line that I can't hear the same ever since you lot told me that they wrote shit like that deliberately for Emma Caulfield. It's weird.
K: I'm pretty sure I found this funny the first few times through. But knowing that they wrote shit like that specifically for her makes it grate rather dramatically. That said, I do very much enjoy it that Anya refers to it as "the good old us of A." Bless. 
Sweeney: Anya goes off to make some old people buy things when Buffy and Dawn enter. Xander awkwardly tries to fill the supportive friend role.
K: I had to laugh when he stopped mid-analogy because the only supportive thing he could think of was a bra. He should have kept going. We all know Buffy desperately needs more of those in her life!
Buffy goes into the training room with Giles to discuss the Dawn situation. Giles says she should put her foot down and she wants him to do it, because he's way more a grown-up. Giles sits down, glasses off, and gets his A+ Substitute Parent game face on, telling Buffy that she's Dawn's family and Dawn needs her to do this now.
Lor: This is great because Buffy never seemingly had a problem being tough on Dawn before. That was a big sister thing, though. This is different. She can't just be mean to her and watch her run off to Joyce. It's just Dawn and Buffy.
Sweeney: Absolutely. Buffy is under infinitely more pressure in this new role and, more importantly, she's still not sure how to handle it.
Buffy emerges to find Xander, Willow, and Anya lying on the ground as a triangle around Dawn. Buffy immediately goes on the attack, telling Dawn to do her homework and not lie to her. Willow adorably tries to explain that they were trying to help Dawn learn, but Buffy is not having it and orders Dawn off to do her homework at home.
Willow tries to calm Buffy down as Dawn gets her stuff, insisting that nobody is more pro-school than Willow. Buffy says that she's not just stressed, but totally freaked out. Willow suggests going to a world culture fair with her and Tara to de-stress. Buffy says she can't do that but Willow shouldn't worry because she's got a life — she "got Dawn's life." Poor Dawny is standing right there through this.
K: While this scene does give me Dawny feels, it also gives me Buffy feels. I've seen a friend go through the transition from big sister to surrogate parent, and the inevitable disciplinary debacles that follow. That shit ain't easy.
Lor: Meanwhile, I wonder at Willow. Between this and the time she pretty much gave Dawn instruction on how to resurrect her mother, she's been showing some questionable judgement and immaturity. It was not the time nor the place to present a disunited front.
Sweeney: YES. THIS.
Glory is telling her Flattery Demons how impressed she is that the monks added all these great quirks and passions and convincingly human details to the key that has been hiding right under their noses. They march off to collect the still-unnamed-by-her key together as we go to a Not Commercial Break. NGL, I don't know how anyone could have assumed she guessed right, particularly since she emphasized the "new to the group" theory in the previous episode, and this scene made a clear point of referring to the key only as "her."
Lor: At this point, I was immediately scared for Anya, mostly because she had that whole pointless American speech, which I thought was meant to highlight how new she was. Le sigh. Being new is hard.
Sweeney: After that Not Commercial Break, we're in that crazy many-doored dorm room and Willow and Tara are discussing the Buffy/Dawn dramz. Willow wants Buffy to chillax and Tara tries to sympathize with Buffy as a fellow member of the Dead Moms Club. This gets Willow annoyed because she's sick of the "you can't know what it's like," line. After Tara sweetly urges her to use her words, Willow whines about feeling like a junior partner to Tara, who has been doing all the things longer — magic, being out…having a dead mom. Tara's surprised Willow feels that way, what with Tara generally being portrayed as the junior partner. My words, not hers. Tara's actual words are that it sometimes frightens her how powerful Willow has become. Willow is very offended, so Tara has to explain that she worries about how much and how fast Willow is changing. Tara says that she trusts Willow, but she's worried. Willow insists that this isn't about the witch thing but the newly-out-lesbian thing, and storms out. I get a few of Willow's feels, and I want to take her side (particularly because she was totes right about Buffy/Dawn) but Willow was a bit tough to take in this scene.
K: I'm torn on this. I feel like Willow's "she think I'm going to decide I like boys again" panicky reaction is pretty realistic, especially seeing as the show has spent so much time using magic as a metaphor for lesbianism. But it DID feel a little over-the-top melodramatic. So IDK.
Lor: I didn't get melodramatic at all. I think they've been building to this so subtly now, for many episodes. Tara's always had these worries, and Willow has been very weird (and like I said, immature) about this loss. Though Tara has come off as a lesser Scooby, she has always seemed more mature to me, especially lately, and that comes across here, and it makes sense that it would cause friction.
Sweeney: I agree entirely that Tara's the more mature one, which is part of what made this painful because Willow was essentially pouting and saying, "I AM TOO MATURE!" Really, any time that I find it hard to support Willow is painful for me to watch.
We see the Flattery Demons lurking outside the Summers home. Inside, Buffy is continuing to lecture Dawn and lay down overbearing rules. Dawn's irritated and openly discusses her key-ness as part of her "I DON'T WANNA" argument. I'd milk that shit too if I were 14/old as dirt. Buffy snaps and admits that the principal told her that if Dawn doesn't go to school, Buffy will be found unfit as a guardian, though she has no idea where Dawn would go. Dawn says that Buffy could have told her (I KNOW, GIRL. THAT'S WHAT I'VE BEEN SHOUTING TO BUFFY FOR LIKE THE WHOLE EFFING SEASON.) and Buffy's all, "I just did." This shit kills me. I think that Buffy kept that a secret in part because she felt like shielding Dawn was her way of playing the grown-up, and that shutting people out emotionally is a problem she's currently trying to grapple with. That said, it's also like she's learned nothing. However she came to be there, Dawn is now Buffy's sister and each time Buffy fails to open up and trust Dawn, their relationship suffers.
K: Again, I'm torn. Buffy's apparent lack of emotion over this drove me nuts, especially after their sisterly cry-fest bonding session a couple of episodes ago. But at the same time, being the Slayer means having to remove your emotions from the situation, because being too emotional is what gets you killed. So Buffy bottling up her emotions when the shit hits the fan is par for the course. Again, IDK.
Lor: The reason I find Dawn such a great character so far is that she's so incredibly difficult to watch. The problem between these two isn't just that Buffy has difficulty communicating, but that everything needs to be spelled out for Dawn. There is such a big gap between them. I feel like at 14, you should be aware that your guardianship is in jeopardy if your mother has died. She can be such a brat, and it's amazing.
Sweeney: The tinkly orchestra of sadness swells as we get a montage of the cultural fair, where Tara is sitting alone on the bench. It continues as we cut to Willow sitting sadly at The Magic Box. Tara feels a hand grab hers and looks up to see Glory asking if that seat is taken and the orchestra of feels takes a dramatic, suspenseful turn.
At The Magic Box, Willow is trying to talk to Giles about their feels and Giles continues to Substitute Parent like a boss, assuring Willow that since they fight so rarely, once this one is over, they'll be better for it. Then he continues to be an all around boss as he opens a door (still speaking) causing a Flattery Demon to fall through and get smashed in the head again by that same door, because Giles is a badass.
K: Can we award all the Sandy Cohen Eyebrows to Giles for this episode? Because he totally needs them. 
Sweeney: They set to the task of interrogating him, but he refuses to talk. Giles sends Willow and Anya for some twine and when their backs are turned we hear a cracking noise and the Flattery Demon yelps that he'll talk. Willow and Anya turn around and ask what happened but Giles merely says the FD changed his mind.
K: RIPPER HAPPENED. Boo yah, bitches.
Lor: I just love him so much.
Sweeney: Flattery Demon says that he's just trying to keep watch while Glory goes for the key, and when they say to call Buffy, he says it's too late as Glory will have found the witch by now. With that, Willow runs out the door, headed for the fair, and tells Giles to call Buffy and check Tara's room.
Meanwhile, Glory is crushing Tara's hand and I can't watch. Have I mentioned how much I hate stuff like this? Crunching noises and blood? NOPE NOPE NOPE NOPE. Glory eventually licks Tara's blood after she straight up crushes her hand, for bonus NOPE. She spits it out, though, and yells at Tara for lying because apparently Glory can taste in the blood that she is not the key. She tries to get Tara to tell her who the real key is, but Tara won't speak, so Glory resolves to get with the brain sucking.
After a Not Commercial Break Willow is calling out for Tara and trying to remember a spell. She spots Tara just as Glory is doing the fingers-in-brain thing. People get in Willow's way and by the time she gets to Tara, Glory is gone and Tara's getting her crazy mumbling on.
Lor:
Sweeney: At the hospital, Tara's hand is all bandaged up and Willow wants to take her home, but the doctor who fired Ben earlier insists that she spend the night in the psych ward for observation. Buffy arrives, mentioning that Dawn is with Spike. She hugs Willow and observes the crazy. No, those aren't tears you see on my face. You shut your mouth. (L: +1)
Off in some random cave, Dawn is understandably terrified and not buying the, "You're going to be fine," mantra, seeing as Spike's face is still visibly smashed up, even with his super vamp healing. Dawn confesses that what she's really scared of is herself. Anything that happens to Tara, Spike's bruises — "that's all me. I'm like a lightning rod for pain and hurt, and everyone around me suffers and dies. I must be something so horrible to cause so much pain and evil." LOVE. You are the most heartless of cows ever ever if that didn't give you some Dawn feels.
K: SRSLY. The leader of Team Heartless Cow has spoken. 
Sweeney: What I especially love about this is that this is happening in a season where Buffy has serious concerns about the potential darkness of what being the Slayer means. Dawn, on the other hand, is something even more mysterious and she's even more powerless. She has no idea what she is, but sees suffering around her that appears to be happening solely because she exists. Unlike Buffy, her weird mythical status doesn't even give her a place to channel all of that. Pile on her recently deceased mother and 14-year-old hormones? I just want to hug her.
Lor: Great to note that she spills all of this to Spike, and not to Buffy. Those two have issues sharing with each other.
Sweeney: Spike/Dawn excellence ensues when he tells her that as a vampire, he knows evil, and she isn't it. When she insists that if she's not evil she certainly can't be good, he matter of factly sums up his whole character right now in a lovely little way, "Well, I'm not good, and I'm OK."
K: I also had a dose of Spike feels over the moment when he reaches out a hand towards her, as if to comfort her, then stops himself when she looks up at him. Poor Spike really can't stand to see the Summers women hurting. 
Sweeney: At the hospital, Tara is being wheeled off to the psych ward and Willow is having all the feels. Willow is concerned that she won't be able to sleep without her. Anya adorably offers to let Willow sleep with her. I appreciated this after all the weird political crap she got this episode. Willow storms off, ready to go to battle with Glory, and Buffy manages to stop her, and talk some sense into her. Willow mopes off, wanting to be alone.
Lor: This scene highlighted how underestimated Willow has felt, to me. Buffy tells her she can't take on Glory because not even she (Buffy) can. Well, here's news for everyone: Willow has quietly been getting powerful in her own right.
Sweeney: Because of rage and feels and grief, not so much sense was actually taken in. We cut to The Magic Box where Willow is doing a way more intense raid that anything Dawn got up to. She finds a book called "Darkest Magick" which she smashes open with a large weapon that's also conveniently handy in the restricted section. The pages make with the ominous fluttering.
Back at Glory's Clueless Mansion, she's super excited about how tasty Tara's brain was and how not worried she is because all she has to do is rip through Buffy's friends until she finds the key. Just then, the place starts shaking and a door bursts open and we see a levitating, black eyed Willow. It reminds me of The Craft. There are loads of special effects that are a long way from S1, culminating in Willow telling Glory that she owes her pain and electrocuting her.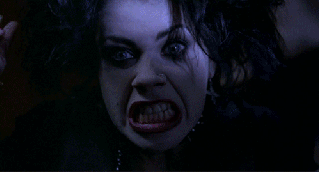 Back in the random cave, Buffy is assuring Dawn that it's not her fault. When Dawn asks how Willow is doing, Buffy mentions the rage but insists that she explained that it's no good. Spike, ever the intuitive one, is all, "LOL, you 'explained' that she should do nothing? Cute." When Buffy says it would be like suicide, Spike says that he'd do it. When Dawn says, "
Think, Buffy, if Glory had done that to me,
" Buffy is off and running.
Elsewhere, Willow's magic is getting less effective and so are the special effects. Eventually Willow spits on Glory (K: EW), which makes Glory get real murdery, saying that's what they used to do to witches. Buffy appears just in time to say that they used to bow down to gods. They fight and Buffy and Willow eventually manage to flee, with the help of Willow's create-a-weird-goo-defense-wall spell.
In Tara's dorm room, Dawn and Buffy have brought Tara and Willow a picnic of sorts. Tara's still majorly crazy, but pretty trusting of Willow, who is spoon feeding her.
K: Can we stop and appreciate Amber Benson's acting for a minute? Because she's pretty great at selling the crazy.
Sweeney: So, so true.
Dawn takes over so that Willow and Buffy can chat about Willow's struggle and how she'll do what she has to do. Buffy says she understands as she strokes Dawn's hair.
Lor: What was that? Forced into a certain maturity because you have to watch over someone else? Brilliant.
Sweeney: The scene is interrupted by Glory ripping the wall open, saying she told them this wasn't over. We get another Restless callback as Tara cries that it's cracking. Then she looks up at Dawn at marvels at the beautiful green light (DAISY!) and a series of close up reaction shots assures us that Glory is up to speed and now knows that Dawn is the key. It's the end of E19, so, like, it's about that time.
I always love these later episodes. Just when you question how much more heart-stomping the show can do to you, Whedon goes and sucks Tara's brain out and gives Dawn another round of existential crisis feels. So many lovely, lovely moments in this episode. I will say that Glory is starting to wear on me a little. I like her shtick but it's not as well-rounded as The Mayor's. There are so many other huge things happening this season, that Glory has ended up a bit more hollow as a character. I enjoyed this episode a lot, though. This is my last episode before the finale, so we're in the season 5 home stretch now.
K: This episode, for me, is the point where a lot of growing up happens for the characters. There are real responsibilities, and acknowledgement that life goes on after a tragedy, and it's really freaking hard to return to normality. And yeah. I'm kind of ready to be done with Glory now. 
Lor: This was a fantastic, heart wrenching episode for a first time, unspoiled viewer. TARA! I had no idea, and I didn't see it coming, and she will get her brain back right, guys?
There was a lot of great character development here, as Willow's situation mirrors Buffy's, and is really used to further the whole, "maturity through tragedy" theme this season has developed. Plus, Willow shows off just what her capacity for the darkest of magicks is. I'm with Tara– it's frightening. At the same time, Willow's leaving behind the role of junior partner, and putting herself on equal footing with Buffy herself.
Sweeney: I'd also note that the power is clouding her judgment. This episode it was primarily the grief clouding her judgment, but this isn't the first time we've seen Willow make questionable decisions where magic is concerned. It was the dramatic confirmation that Willow has, indeed, developed frightening power, but certainly not the first questionable decision.
Next time on Buffy the Vampire Slayer: Buffy decides to leave Sunnydale, with Spike and Dawn in a Winnebago. True story in S05 E20 – Spiral.