Previously: SINGING AND DANCING! Singing and dancing about really depressing stuff. Singing and dancing and then Buffy and Spike kiss.
—
Tabula Rasa
Lorraine: Cemetery, night, and I'm a little sad this won't lead to a big number. Buffy turns around suddenly to find that Spike is right behind her. He wants to talk bout the fact that they totally kissed, but Buffy's taking the, "I don't want to talk about it" approach to this all. That's disappointing. I mean, not because I want them to kiss again per se, but because I hate back and forth in relationships. It killed Bangel for me right at the end. JUST KISS HIM, BUFFY. YOU KNOW YOU WANT TO.
K: I'm sorry, but on behalf of those of us who fangirl, I'm gonna go ahead and add in Spike's line here: "We…we kissed, you and me. All Gone With The Wind, with the rising music, and the rising…music, and what was that, Buffy?" Hehehehehehehehe.
Lor: Fair enough. Fangirls do what they must.
Spike pretty much says that Buffy should just kiss him, in a more gross way ("I know what kind of girl you are.") (ew. Shut up.), but Buffy insists she's never, ever going to touch him again. One second later, she launches herself at him, to push him out of the way of an incoming stake. Behind him, some sort of shark-headed-demon is calling off his lackeys, saying there is no reason to get physical. This demon reminds me of a cheap version of Victor Krum during the Triwizard Tournament. Probably because there are only so many shark head references in pop culture.
Sweeney: A+ & WE'RE TAKING EVERYONE TO HOGWARTS!
K: I'm gonna go ahead and award a 1430 to Victor Krum for at least knowing that SHARKS DON'T HAVE A DORSEL FIN ON THE TOP OF THEIR HEADS, something this demon clearly doesn't know.
Lor: Don't be racist. He was born with his fin that way!
Spike asks Sharky the Demon what he wants, and he smarms a bit before he revealing that Spike owes him a large number of kittens. You know. 'Cause of kitten poker. Buffy snarks at them for their preferred currency. Spike wants more time to pay, but Sharky the Demon says time turns kittens into cats. #deep
Anyways, this all gives way to a little scuffle, in which Buffy easily knocks out the Lackey Vampires. Sharky the Demon wonders if Buffy has ever thought about dabbling in debt collection, see 'cause he's a loan shark. GETIT? (K: Given her current state of brokeness, she should maybe take him up on that offer…) Spike takes this opportunity to clear out of there. When Sharky notices that Spike's gone, he takes his leave as well. Buffy notes that if she'd just stop saving Spike's life, things would be simpler. Girl. The time for that realization was seasons ago.
A-WOOOOOO. That was my wolf howl, FYI.
Sweeney: Beautifully done. I expect a reenactment the next time I see you. (Don't worry everyone, I'll bring my camera.)
Lor: I'll think about it.
After the credits, Anya, Xander, Willow and Tara are at the Gift Apartment, discussing Buffy's stint in heaven. Anya is having some of her mouth diarrhea and the other Scoobies glare at her, though she thinks she's just voicing what everyone is thinking. Tara speaks up and says that Buffy could have been in any one of many heaven dimensions, but she was happy there. Willow admits that she was too selfish to even consider the possibility of heaven.
Xander  can't wrap his mind around being sad – his friend is alive, so he's simplified and decided to be happy she's there. That's… still selfish. Tara thinks they need to stop obsessing about what they did, and start focusing on ways they can make things better for Buffy. Anya agrees. Xander's suggestion is to spend more time with Buffy. Willow jumps in to suggest a spell, but Tara slaps that down quickly. Willow insists that she knows a spell that will make Buffy forget heaven, and that sends Tara over the edge. "What is wrong with you," she asks, while slamming her cup down. Xander and Anya have enough tact to clear the room and let the witches talk.
As soon as they are out of the room, Tara asks Willow, "do you think I'm stupid?" She knows about the forgetting spell. Willow starts an apology, but Tara doesn't want to hear any of it. She can't believe Willow would violate her mind in that way, especially after what Glory did to her. Willow is surprised that Tara said "violate," as she didn't mean it that way. I believe she probably didn't mean it that way, but realizing that Willow didn't see mind rape as mind rape only makes it worse for me.
Willow says she didn't want to fight any more. Tara: If you don't want to fight, you don't fight. You don't use magic to make a fight disappear. Tara goes on to say that Willow doesn't get to decide what is best for them. Will says she realizes she did it wrong, and Tara points out this is her modus operandi– she uses magic to fix things to her own liking. She may have started wanting to help people, but now there is just this. Willow controlling the outcome of all things.
Sweeney: Reiterating what you said, the fact that Willow doesn't even get that what she did was wrong makes it so much worse. She just wanted them to stop fighting and be closer. Sorry not sorry for getting all real and serious and shit, but: rapists are usually someone the victim knows and it's generally about one party wanting something the other doesn't. The fact that someone (a (mind)rapist) can't see that making that call for the other person (a victim of (mind)rape) is violating them, and that they've done something wrong? Yes. That is even more awful.
K: Exactly. Add in a dose of an apology that smacks of "I'm sorry you feel that way" (read: I'm not sorry at all), and we're on the train to Hulk Smash town.
Lor: Tara lowers her head for a few seconds before looking at Willow again and saying she doesn't think this, their relationship, is going to work. This scene has been shot very tightly, so that we are right in Tara and Willow's space. It truly feels like we are butting into a private conversation. I can barely look at Tara as Willow says she needs her, but not magic. Will offers to go a month without magic. Tara sighs slightly and nods her head knowingly as she tells Willow to go a week. She knows, she knows, she knows this is about more than magic. Tara knows here Willow won't make it. "Go a week and then we'll see." Tara says they need space and Willow asks if this means she's going to leave.
Sweeney: My heart breaks so much for Tara right now.
Lor: We Segue Magic over to Giles who says, "I have to."
K: This was a perfect transition for me, especially following on from Tara and Giles' duet in OMWF.
Lor: Buffy is distraught. Giles tells her to be strong, but all she sees is that Giles is abandoning her in a time of need. Buffy begs him not to leave, because she can't do it without him. Giles says she can, and explains that as long as he sticks around, Buffy will always use him as a crutch. He'll always step in because he can't see her suffer. Buffy points out that she's pretty much all maxed out on suffering anyway, but Giles has made up his mind. He's taught her everything about being a Slayer, and Joyce taught her about life (LOL. YEAH RIGHT. I mean, RIP Joyce). She needs to trust that and do things on her own.
Buffy then asks the question that I've been asking myself about Giles's decision: why now? He's brought the issue to her attention, and she says she won't give up. She'll be strong, but he can still be there for her. Giles says leaving is the right thing to do. Buffy tells him he's wrong and storms out.
Summers' Home. Tara and Dawn are waiting downstairs for Willow. She comes down in a towel and tells them she isn't ready, and that they should go ahead. Tara is noticeably short and heads off with Dawn. Alone, Willow magics her clothes on and promptly does more magic: a spell for Tara and Buffy to forget their grim memories. She repeats "tabula rasa" three times and I DON'T WANT TO GIVE THE GLITTERY STAR TO HER FOR MAGIC ABUSE.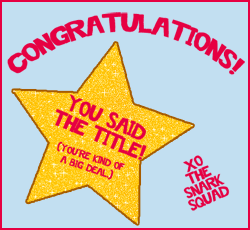 Sweeney: I HATE WHEN PEOPLE TAINT THE STAR.
K: Not only did she taint the star, but she broke her promise to Tara within, like, twelve hours.
Lor: WHATEVER, WILLOW. I'M MAD BUT TAKE YOUR STAR. She sticks a crystal in her pocket, and once it goes completely black, the spell will be complete.
At the Magic Box, Dawn is excitedly asking what monster of the week they are facing. Giles says no monsters, just as Willow and Xander walk in, her thanking him for lending her his jacket. Giles starts to stumble through his "I'm leaving speech," but Buffy butts in with a, "cut to the chase!" That is interrupted with Spike running in, sizzling, AND FOR FUCK'S SAKE. HIS PROTECTION FROM THE SUN IS A HAT. He's also wearing a suit as a disguise.
Sweeney: Whedon, you are using sunlight to confuse me. Sorry, I'll stop making all of my comments tags. Maybe.
K: Never stop, Sweeney. Because Snark Squad tags are made of magic, and should be shared with as many people as possible.
Lor: Agreed.
Spike starts blabbing about the Sharky Demon for a bit, and Willow uses the time to pull out the crystal from her pocket. It's turned black.
Giles resumes his speech. He's leaving, back to England, indefinitely. Xander is shocked, and Anya starts being hopeful about having this shop to herself again. I kind of want to slap her. Buffy can't take it and starts to storm out, but Willow calls out to her. She apologizes, but Buffy doesn't want to hear her apologies either. Everyone is sorry but no one knows how she feels. She says she feels like she's dying, and then she passes out. The camera goes around the room showing us that all of the Scoobies have passed out. Dramatic music caries us to the Summers' home, where we see Willow's spell ingredients are all consumed by fire.
After a Not Break, we join back at the Magic Box where it's communal nap time. It looks fucking fantastic. Sorry. I need a nap.
Sweeney: Naps save the day. SORRY, I CAN'T HELP MYSELF.
Lor: Buffy wakes first and she's very confused. She turns on the lights which stirs everyone else. Willow and Xander gasp awake before Xander gives her a, "hey" and an eyebrow waggle. The confusion is universal.
K: I'm going to stop right here to discuss the fact that I love that they all basically go through their entire character arc in the space of about 25 minutes. Willow's reaction to waking up next to a guy she (thinks she) doesn't know is pure season 1 geek Willow. 
Lor: Dawn is the first to truly speak and she asks, "who are you people?" Ruh-roh! Memory loss hijinks! Buffy approaches Dawn cautiously and says she doesn't know anyone there either. She can't answer Dawn's, "who are you?" though.
Xander is the next to ask who the heck everyone is, and Willow is shocked that he doesn't know her, on account of his earlier eyebrow waggle. Xander admits that he just thought she was a girl. Willow does a quick boob-check to confirm that she is indeed a girl, but not a girl who remembers who she is exactly.
Giles stands up and asks if anyone remembers anything, and no one does. His first explanation is that they all got drunk and blacked out. GILES, DON'T LEAVE ME. Dawn says she doesn't think she drinks, and Anya says she doesn't see booze, feel head bumps, or see Allen Funt.
Xander's panicking a bit, but Buffy says that no one looks particularly axe-murdery so they are probably safe. Willow points out all the weird stuff in the shop, and Tara says they are in a magic shop. Buffy thinks maybe something magic happened to them and Giles laughs. MAGIC IS FAKE. He has managed to deduce that he's British, a man and wears glasses. A+ Giles.
K: Except that the "British" thing pisses me off. GILES, YOU ARE CLEARLY ENGLISH. Great Britain = England + Scotland + Wales + Northern Ireland. I think you should be able to narrow things down a *little* more than that, dude.
Lor: It's the stress.
Dawn whines that she doesn't like this, and Buffy tells her that they will take care of each other. She does the Sisterly Hair Stroke that immediately tickles my feels. It's been too long.
Sweeney: Fictional sisters who give me actual sister feelings. It's too easy.
Lor: Giles tells everyone they will get their memory back and be right as rain. Spike starts to make fun of "Mary Poppins," with his stiff upper lip and nancy-boy accent, up until he realizes.
K: I adore this moment so much.

Lor: Spike wonders if maybe he's related to Giles, and Anya says they do share a certain amount of ruggedly handsome. Giles beams at her before saying he does feel a certain amount of familiarity and disappointment toward Spike. He asks maybe if he's the older brother, but Spike is all, "NOPE. FATHER." He must've seen Restless. (S: MEMORY HIGH FIVE FOR YOU. YOU GIVE GOOD TV.) (K: I also feel the need to mention that the suit Spike's wearing is the same one he wore in Restless when he and Giles were playing on the swings.) Spike assumes he must hate Papa Giles, because isn't that always the way? Besides, he saw Giles sleeping with Anya, whom he calls a trollop. Giles says they were merely resting together, but Anya spots the ring on her finger and assumes they are engaged. Giles smiles at her real nice. Spike is now upset he's got a "tarty" step mother half Papa Giles's age. Giles is insulted. He's still young enough to get carded.
Sweeney: LOL. I love you dearly Giles, but LOL.
Lor: While that's laughable, it does inspire Willow to tell everyone to look at their driver's licenses, and quick, before this becomes the Giles and Spike show. Xander identifies himself as Alexander Harris. Willow is up next and she giggles over being, "Willow," which she thinks is weird. Tara says she thinks it's pretty. Wait 'til you get your memory back, girl. Tara says she's a student at U.C. Sunnydale, and Willow wonders if they are study buddies. Sure. The sexual kind.
Dawn tells Buffy she doesn't have a wallet, but it's okay because she's wearing a name necklace. I used to have one of those. Buffy tells her she's Dawn, and she jokes, "or Umad."
Giles says he's Rupert Giles and Spike has a good laugh over "Rupert," though Giles mumbles something about being able to put Spike across his knee. It's like this episode is trying to launch fan fics. Giles asks what he named Spike, and Spike looks at the inside of his jacket that is labeled, "Made with care for Randy." Randy-Spike is pissed at having to be Randy. "Why not just call me 'Horny Giles'…?"
K: The first time I saw this episode, I laughed until I cried over that line. Sorry not sorry.
Lor: Willow notices that she's wearing a jacket with Xander's last name on it, so they assume that they are boyfriend and girlfriend. Anya, now over by the cash register, proudly proclaims that she's Anya, but will less "ahn" and more "an." She's figured out that the magic shop belongs to both her and Rupert.
Since Buffy can't remember her name, Dawn offers to name her. Buffy thinks that's sweet, but decides she wants to name herself. She picks Joan. Dawn thinks this is a bad pick, and they argue a bit until they start talking over each other. It's then that they deduce that they are sisters. They hug.
Sweeney: I already did this tag, but I love the Summers sisters so very much.
Lor: Randy-Spike is watching all this and yells at Giles for never showing him affection like that. Joan-Buffy says they need to get going, and Randy-Spike says Joan-Buffy thinks she's the boss. J-Buff just wants to watch out for the teenager in the room and get to a hospital. Everyone seems to agree. Xander offers Willow his arm and she takes it. J-Buff asks for suggestions on how to get to the hospital, and Randy-Spike says Papa Giles can drive. "He's bound to have some classic midlife-crisis transport. Something red, shiny, shaped like a penis."
K: There's that new network again – two references to penises, and we're only half way through the episode!
Lor: Buffy opens the front door, and they find the two Lackey Vampires from the beginning of the episode.
THIS MOMENT: BROUGHT TO YOU BY TUMBLR.
Sweeney: LOOK AT YOU, GIRL! And you didn't even know we were playing this game!
K: FAVOURITE MOMENT EVER.
Lor: After the screaming, they all head back inside and crouch down on the floor. Randy-Spike identifies them as vampires, and after ruling out the possibility of Halloween and costumes, everyone starts to freak out. Willow takes Xander with her to barricade the doors. Buffy wonders if they already knew that monsters were real, and Tara, her stutter making a come back, says that they need to get to a hospital STAT. Forgive her; she doesn't remember how crazy Sunnydale's hospital is. She'll probably suggest calling the police soon.
Papa Giles says that maybe they should use the stuff in the magic shop to fight them and Joan-Buffy is hilarious shaking her head. The Lackey Vampires, meanwhile, are still banging on the doors and windows.
Joan-Buffy fiddles with a stake and things only get more confusing when they think the vampires are shouting, "slay her" instead of "slayer."
Willow and Xander return, and they've found the trap door in the basement that leads to the sewers. Just as they are heading that way, the vampires break into the store. One vampire grabs J-Buff, Xander drops to his knees and tries a few prayers (K: Which reminds me FAR too much of Beni in The Mummy), and another vampire pins Spike against a bookshelf. He demands his kittens. Buffy breaks free of the vampire that has her, kneeing him in his junk and kicking him. She runs over to help Randy-Spike. She stakes the Lackey Vamp, though is surprised by the resulting dust. The remaining vampire skedaddles.
The Scoobies are impressed by J-Buff's skills. She doesn't know how she did it, but she smiles as she proclaims it, "cool." SHE SMILES. She tells the others that she thinks Joan is in charge because she's a super hero. Xander faints.
K: Does J-Buff referring to herself as a superhero count as Avengers shots?
Lor: …no. But have a shot anyways!
Outside, Sharky the Demon is saying that there is no need for fighting. The humans will turn on Spike soon.
Inside, Joan-Buffy has a plan: since she's strong and the demons want Randy, they will give them a run for the money while the others get to the hospital. Anya says she isn't leaving the money, and Giles says they can probably help with something magic-y. J-Buff asks Randy-Spike if he's ready and he is, but before they leave, Giles calls him over.
Beautiful.
Sweeney: That was one of my favorite things, and I know I can find a million uses for that second gif.
Lor: Joan-Buffy and Randy-Spike run out of the shop and one of the Lackeys quickly grabs Randy-Spike. He vamps out and super-punches the vampire away. J-Buff calls out for him, and he turns around, really happy about being a super hero too. J-Buffy is shocked by his vamp-grill and takes off running. Randy-Spike is punched in the face by a lackey.
After a Not Break, Randy-Spike fights off the whole group of vampires and takes off after Joan-Buffy.
In the sewers, Xander is helping the girls down, and Tara and Willow let a touch linger. Not for too long, though, because there is a vampire in the sewer and they must run
At the Magic Box, Giles finds his ticket to London. He pockets it quickly and asks Anya if she has the book they need. She brings one over and says her intuition tells her it's the right one. They aren't listening to Giles's intuition because he appears to be more of a paperwork guy. I think Giles is thinking, "and maybe this is why I'm leaving her."
Anya opens up the magic book and chants the first spell she finds.
BUNNIES. ROCK SIDEBAR? NO? NO? NO? NO? Okay.
Sweeney: Snark Squad Recommends: Taking this opportunity to pause this episode for 20 seconds to listen to Anya's rock sidebar before continuing on.
K: A+, 10/10 would recommend.
Lor: Randy-Spike catches up to Joan-Buffy and she quickly pins him down. She realizes he doesn't even know he's a vampire and gives him a chance to feel his face bumpies and check out his fangs.
I was cackling by "help the helpless." I mean, that's about as much crossover magic as we'll get now-a-days. (S: But there's some old crossover magic if anyone cares. Because tags.)
K: I love it when they have Spike make "Angel is lame" jokes. You were not alone in cackling, Lor.
Lor: I give most of that joke credit to Buffy. Spike was seemingly sincere. BUT CACKLES NONETHELESS.
Magic Box. Anya has made a lot bunnies.
In the sewers, the gang is still running from the vampire and in hiding, Tara and Willow are forced very close together. We spend a lot of seconds just watching them breathe each other's air. Sexually.
Anya is still refusing to put down the book that's making all the bunnies. She's even got a nefarious looking green cloud all conjured up. Giles yells at her.
Joan-Buffy and Randy-Spike fight off a group of vampires while Sharky the Demon watches. J-Buffy Buffy Breaks! a mailbox into a perfectly fashioned stake and I squee a bit.
Magic Box. Giles is sword fighting with an animated skeleton, still yelling on Anya to put the freaking book down.
Sewers. Willow asks Dawn how she's doing, and Dawn admits that it's scary but familiar. Willow says she's confused, between the hiding from the vampire thing, and also thinking she's "kind of gay."
K: DOPPELGANGLAND REFERENCE!!!!
Lor: Magic Box. There is now some growling coming from somewhere in the shop. Anya and Giles are hiding behind the counter. He calls Anya a lunatic and she releases a string of insults before saying she feels compelled to take some vengeance. She hits him on the head with a book. Giles says it's no wonder he's leaving her, and she angrily removes and throws her ring.
Sewers. The vampire finds Xander and punches him a few times, though Xander gets a few hits in himself.
Magic Box. Giles whispers a spell and we hear a thunderclap and then silence. He's undone all the bunnies and monsters. Anya runs toward her discarded ring and Giles apologizes to her. She reciprocates, saying she picked the wrong book. Anya calls him, "Rupy." She tells him not to leave and this leads to a kiss and THIS IS SO WEIRD. But funny. But, like, weird.
Sweeney: I think I might be laughing because I'm uncomfortable, as discomfort usually makes me giggle.
Lor: Sewers. The Lackey Vamp pushes Willow into Tara so they land on top of each other. Sexually. The crystal goes flying from her pocket. Sexually. Wait, no, whoops. Sorry. Got carried away. Xander fights the vampire while Dawn locates a conveniently placed pointy piece of wood. She shouts for "Alex" and tosses him the stake. Xander stakes the vampire. Willow and Tara are still on top of each other and it leads to a kiss.
Xander gets up and accidentally steps on the black crystal, smashing it. The spell is broken, and Tara pushes Willow off of her. At the Magic Box, Giles and Anya are still kissing, but they stop and their eyes widen. Buffy and Spike are still fighting and Buffy happily says you shouldn't mess with Joan, when her memories come slamming into her. She freezes and a vampire punches her in the face.
After a cut to black, Buffy is still on the ground, being kicked repeatedly. She doesn't make a move to fight and I think the memories are hurting worse than the kicks. Spike calls out to her.
In the sewers, Tara is glaring at Willow, disgust written over her face. Willow feels her pocket and finds it empty. Dawn notices the smashed crystal and it seems everyone is realizing what happened. Xander says they should get back and walks away with Dawn. Willow stands, but Tara can't even look her in the eyes. Willow follows after Xander and Tara after that.
K: I honestly think it was Dawn's face that hurt the most. Tara looks almost resigned, like she knew Willow wouldn't be able to go a whole week without using magic. But Dawn looks betrayed.
Lor: Spike is still fighting and Buffy is still on the ground. Spike finishes with the last of the vampires. Sharky the Demon nervously approaches Spike, but Spike's good for the damn kittens. Sharky will get paid.
Spike asks Buffy if she's alright, and offers his hand to help her up. She doesn't take it, stands, scowls and walks away.
We're at The Bronze and Michelle Branch is on stage. Huh. Thanks to Michelle Branch being on stage, we get an extended musical montage: Buffy is sitting alone at the bar, staring at nothing. Tara is at the Summers' home, packing up her things. Willow sits alone in the bathroom. Michelle Branch sings her relevant song about good-byes. Giles is on an airplane because he was serious about leaving in the middle of all this shit. He's sad though, so there's that. Willow's lip quivers. Buffy is still vacant when Spike finds her at the bar. She won't look at him so he leaves. Michelle Branch sings. Tara leaves and Dawn is a brat about it. Willow is sad. Giles is sad. Buffy and Spike are making out now.
Once again, I am not super impressed by this episode ending kiss. MEH.
K: Obligatory SPUFFY!!!!!! squeeing from Team Heartless Cow.
Lor: I know, I know. And I like the both of them, but this entire, "EW. NEVER GONNA KISS YOU!" "Okay gonna kiss you now." thing is already old.
Despite that, though, what a fun episode. I mean, about as fun as season 6 Buffy can be, and only because no one really remembered they were in season 6. I love that there was plenty of follow-up from Once More With Feeling. Giles and Tara both followed through with their decisions to leave, for better or worse, right or wrong. However you feel about Giles leaving, he truly believes he's doing what's right, and he's sticking by his guns.
Sweeney: I wasn't a fan of his decision to leave so abruptly the first time, but this time it feels right. Painful, but right. (Tara too, obviously.)
Lor: Some people mentioned that this is a favorite all time episode and although I can see it ranking very high in the season for me, I can't imagine it ranking high overall at the end of everything. I'm going to be honest and say that'll probably be because my top five will be FEELSY EPISODE, MUSICAL, FEELSY EPISODE, FEELSY EPISODE, FEELSY EPISODE. Who knows though.
Sweeney: LOLOLOL. +1 At least we know ourselves? #teamfeelsforever (But ZOMG this episode is fun.)
K: Meanwhile, over on Team Heartless Cow, this is my second favourite episode ever. Because I base my favourites on rewatchability, which automatically discounts the feelsy episodes. Plus, I have no fucks to give about Bangel, which gets rid of a bunch of feelsy episodes.
I think the reason that I love this episode so much is that it's the breaking point of everything that's been building up over the course of the season so far. And it's done in a way that's feelsy AND funny. The Scoobies, as I mentioned before, go through their full character arcs in the space of 25 minutes. And I love that there's no big "Please don't leave me" scene at the end between Willow and Tara. Willow KNOWS that she fucked up and broke her promise. I can't even hate Dawn for having a brat moment when Tara leaves. Because Tara was the closest thing Dawn had to a parent while Buffy was gone (Giles may be Buffy's surrogate father, but he's always been more uncle-esque towards Dawn, and Willow's more like a sister), and now Tara's leaving her too? A little 15 year old girl angst is totally understandable. In short (ha), Team Heartless Cow loves ALL THE THINGS.
Lor: I can totally see why it's a favorite. I must say, though, that while rewatchability might be a factor, a list based on rewatchability is a list of, "these are the episodes I like to watch a lot." That doesn't necessarily speak to quality overall. And plus, my list will have 0 rewatchability factored in because, um, I haven't rewatched anything.
I think Xander was the person who truly had a full arc in an episode. Sort of a pansy, joking along, but down in the sewers when it was time to fight, he jumps right into the fray does so. Dawn gets nothing except for a heaping of whining. Buffy is fantastic to see, because it reminds us that stripped of past experience, she's so much a Slayer that she even enjoys what she does. Spike is great because he feels noble.
Lots of highlights, and yes a fantastic episode, that I'm sure you all will have different ideas on just how fantastic.
Next time: RAT AMY! in Buffy the Vampire Slayer S06 E09 – Smashed.