Previously: Willow de-ratted Amy and had a fun new Bad Magic buddy. Spike realized he could punch Buffy without chip interference, so they had sex.
—

Wrecked
Sweeney: Tara and Dawn wake up on the couch, having fallen asleep watching TV. Tara quickly realizes that it's weird that nobody (neither Buffy nor Willow) came home and woke them up. They check the bedrooms (K: And I laugh forever because 20 year olds who make their beds that perfectly? OH, PLEASE.) and Dawn's worried when she realizes that neither one is home. Tara says they probably just lost track of time. Segue over to Buffy waking up naked in the trashed building with Spike. She panics and asks Spike when the building fell down. He's not really sure, because of all the sex.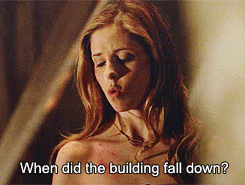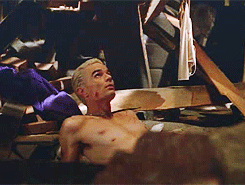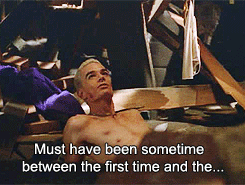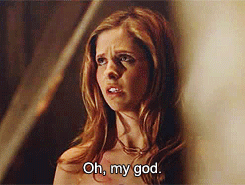 Wolf howl. (FUCK, I FORGOT TO ASK LORRAINE TO DO THE WOLF HOWL IN DALLAS.)
Lorraine: That's incredible too considering that we talked about Buffy a lot. There were entire rant sessions and all out giggle fests and pretty much everything in between. But no wolf howl. Next time.

Sweeney: After the credits, Buffy is freaking out about leaving Dawn. When she tries to leave, Spike pulls her to the ground. As she's telling him how this is not gonna happen, he sticks his hand up her skirt. Then he kisses her and she says, "No," a few times but he doesn't stop so she gives in, until he makes a smarmy comment about how much better fucking slayers is than killing them. She finally pushes him off and gets up. They banter a bit more, and after she calls him, "convenient," it gets a little angrier. Given that he just responded to all of her, "Nope!" by ignoring it, I'm not really boarding his, "You only come around when you need something!" pity party. Neither is Buffy, who punches him in the face and leaves.
Lor: I am not okay with so much of this, but I guess we will talk about this later. I barely noticed Spike was naked because this scene is disturbing and disgusting. I'd rather he put some clothes on and listen to a "no." That's sexier.

Kirsti: I have SO MANY ISSUES with the way consent is portrayed between Buffy and Spike. It's something that continues throughout their relationship, and they're both guilty of it. I really hate that the writers took things there, because IT'S THE ACTUAL WORST. That said, while I'm not in any way defending Spike's actions, the look of betrayal and hurt on his face when she says that he was just convenient really hurts.
Sweeney: I suppose we will talk about this some more at the end, but non-consent followed with, "Yeah, but" and, "His poor feels," is a bucket of nope for me.
Chez Summers, Dawn is freaking out about people ending up in ditches. Tara tries to calm her down and offers to make pancakes. Willow returns with Amy and things are super awkward for poor Tara. For Willow too, I guess, but all my feels are for Tara right now because this shit is Willow's fault. Anyway, Willow clarifies that this is Rat!Amy and not a hookup named Amy. Tara is confused and Amy jumps in to say that it just happened and stuff's crazy because Willow is the best witch EVAR. (Amy's, "No, it's cool," response to being called rat!Amy is hilarious.) Willow tries to tell Amy to STFU about her magic skillz as she and Tara exchange meaningful looks but Amy just keeps going until the awkwardness in the room becomes palpable. Tara hurriedly sees herself out.
Buffy returns and Dawn is worried for her, because she's all sore and limpy. Buffy assures her that it's not a Big Bad that they should concern themselves with and changes the subject to Tara. Willow awkwardly confesses to being out all night with Amy. Buffy and Willow have an awkward, "I wouldn't have stayed out if I had known…" exchange. Amy sees herself out. Meanwhile, Dawn keeps insisting that she's fine, except for the fact that pancakes are burnt. Willow heads upstairs to rest and Buffy and Dawn have a brief moment, but it's just another in a long chain of, "Buffy's depression and inability to deal having tragic consequences for Dawn."
Upstairs, Willow goes into Joyce's old room, with its masks on the wall and it gives me a nostalgic flashback to 3×02: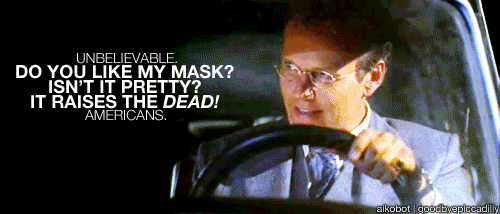 Lor: GILES. SIMPLER TIMES. Sigh.
K: SWEENEY, I HAD THE EXACT SAME "JOYCE'S MASKS!!!!" FLAIL MOMENT.
Sweeney: WE SHOULD ALL JUST STAY RIGHT HERE AND FLAIL AND NOT GO TO THE MORE DIFFICULT TIMES AHEAD, RIGHT That's not how it works? Oh. OK.
Willow is in bed and the light offends her eyes because DRANK! (girl needs some Sprite!) and she tries to use magic to close the blinds, but it doesn't work, so she gets up and closes them. She doesn't look too happy about it because hungover and full of ex-girlfriend feels is not really the best headspace for working on reforming your power-obsessed ways, you know?
At The Magic Box Xander and Anya are getting their research on, trying to solve the demonic force behind Trio's diamond heist. (Answer: A terrible writing choice. Will also accept: The Great Contrivance Spirit.) Xander asks Anya to hand him a book and discovers that she's been secretly reading bridal magazines. Xander quips that Anya thinks Martha Stewart has the answer and she hilariously responds, "Don't be ridiculous, Martha Stewart isn't a demon. She's a witch." She adds, "Nobody could do that much decoupage without calling on the powers of darkness."
They have a weird little spat about Anya's wish to work demon rituals into the wedding. Buffy calls their attention back to the research and rejects any notions that they hit the streets and enlist Spike's help. Willow's also out, because she's sleeping. Xander makes a comment about how anxious Willow was to have a magic playmate, and Buffy gets defensive about how Willow is a grown-up who doesn't need to be monitored. "Maybe she has reasons for acting this way. And so what if she crossed a line. You know, we all do stuff. Stupid stuff, but then we learn. We learn and we don't do it again, so who are we to be all judgey?" Xander and Anya are all, "Simmer. Concerned, not judgey."
K: All of which made me nostalgic again, because it reminded me very much of that time that Buffy was ranting about Ted and Giles' reply was "Buffy, I-I-I believe the subtext here is rapidly becoming, uh, text."
Sweeney: The talk of Willow's concern-worthy behavior takes us to the streets of Sunnydale where Amy's telling Willow about this guy she knows who can do mind-blowing stuff and it has a very obvious, "We're talking about magic, but with major DRUG subtext" vibe.
Lor: This episode is one jump away from being an after school special. But with like magic, and not awesome super 80's magic, but magic magic.
Sweeney: MAGIC. They go down an alley and Amy alerts Willow to an invisible door to magic somewhere, detectable by the heat of the space.
K: And here I thought Willow would know that a good rule of thumb in Sunnydale is "If you have to go down an alley to get there, it's probably a place that will lead to pain and death, and you should walk away right now." FOOLISH KIRSTI.
Sweeney: I think she definitely does know that rule of thumb, but she's choosing to give no fucks right now.
They enter and inside the show makes really sure that anyone who was slow on the DRUGS! uptake join the rest of us. It looks like every television depiction of a drug house, and the two people in the "waiting area" are tweaking out of their fucking minds. A weird-eyed, drug dealer looking guy emerges, and he is the warlock Rack who owns this charming establishment. A sidebar on all of this: Amy says the place is cloaked and changes locations often. She's been a rat for years. The fact that she's so quickly back in the know on this seems a little odd and contrived. Not wholly impossible, but it seems like this should have taken another episode or two to happen.
Anyway, Rack tells the tweakers to wait their turn, because fresh blood has entered the building. They go into his room and he quickly deduces that Amy's been away because she was a rat. He says he hopes it taught her not to mess with spells she can't handle. He does some weird lighting up stuff with his hands as he skeezy eyes Willow, and talks about the waves of power coming off of her.
Willow is anxious as Rack asks her if Amy told her what she had to do for him. This whole bit in his room adds a lot of the old standby MAGIC SEX subtext to the DRUGS! thing. Amy says it's over fast and he says he's just going to take a quick tour as he puts his hand just over her chest. More glowy stuff happens that looks like life is being sucked out of Willow. He leans in and whispers that she tastes like strawberries. Just, you know, so we can add a rapey vibe to the addiction thing.
Lor: The show has been going for clear Buffy/Willow parallels, so the fact that they give Willow her own turn with fuzzy consent makes that opening scene even more gross to me. I don't think Willow and Buffy's situation are exactly parallel, but the show wants to make us think that, so they throw in this rape-y stuff in here for good measure. Just, you know, to go along with the drugs. Cool.
Sweeney: Back to drugs now, k? Willow's eyes flutter and Amy spins around the room. Willow ends up writhing on the ceiling. Stuff in the room changes to plant life, the camera movements are weirdly fadey, and DRUGS! dance music plays. Willow falls off the ceiling when a demon interrupts her forest trip. Then she appears in a bunch of places, with her eyes all scary and black. She wakes up on her bedroom floor.
She takes a shower to wash off the shame and when she cries in the shower I take a break from being angry with her and have a whole lot of FEELS because homegirl is a hot fucking mess right now. I want to go watch some high school Willow. I'm so, so sad for her. Then she pulls a dress of Tara's out of a box and magics it so that it can hold her. That's fucking creepy, but also sad. (L: +1 to all of this.)
In the kitchen, Dawn is making peanut butter and banana quesadillas. It sounds gross, but she swears its delish. Willow doesn't want any because she has too many feelings for food. That's backwards. You're supposed to want all the food. All the sugar. Anyway, Dawn says Buffy's out but she's called to check in a thousand times. Willow apologizes for the other night too, and Dawn says it's fine before adorably confirming that Willow will be around that night. Dawn! I love you. This whole season gives me so many feels for both Dawn and Tara. Dawn, especially, who not only recently lost her mother, but is also in no way responsible for all of the terrible shit happening around her.
K: And this is why I will never understand it when people hate on Dawn. She goes through a LOT this season (some of it, admittedly, is of her own creation), and while at times she's still all bratty-little-kid-esque, I can't help but have all the feels for her.
Sweeney: Same! I've said this before, but to repeat, watching without any knowledge of the fandom is such a different thing. Each time I type her name I'm thinking, "HOW ARE THERE PEOPLE WHO HATE HER?" and I get sad and defensive. I have so many feels for her.
Anyway, Willow says that she's feeling all right enough to go watch a movie and also buy Dawn dinner. Dawn happily throws away her gross dinner.
Lor: My parents used to work late and they'd leave my not-that-much-older older sister in charge of us. Questionable food creations are the hallmark of an under-watched child. More feels for Dawnie.
Sweeney: Ooh, me too, girl. The best/worst is when you all know it's such a questionable food creation that you have to sit around daring each other to eat it.
Buffy returns home and hears a shattering noise upstairs. She goes to investigate and finds Willow's room torn apart. She stops Amy on her way out the door with some sage that she clearly stole, though she insists Willow said she could have it. Amy is also starting to get weirdly twitchy like the magic meth addicts. She stole a bunch of other stuff from Willow and adds that Willow is a hot mess too, and probably at Rack's right now. Buffy shakes Amy down for information on the location of the place, because if Willow is there now then Dawn is too. Amy says she just has to find it and then voms, because addict without her fix.
Lor: I don't know guys. Maybe there's a drug parallel in here. Just guessing!
K: Really? I couldn't quite see it, myself. Maybe they were too subtle, you know? LOL, JK. Is anyone else sick of being beaten over the head with an anvil yet?
Sweeney: Are you sure you're done? Because there's more! Out on the streets, Willow is kind of jittery as she chats with Dawn. Willow awkwardly asks Dawn about how her day was with Tara. Dawn says it was good but she could tell that Tara is feeling pretty sad. Dawn can tell that something is off with Willow and then notices that they're not going the right way and Willow says she just needs to make a quick stop and then they enter Rack's latest magic door. Inside, Willow swears it'll only be a minute and it's NBD if they miss the trailers. As Willow disappears into Rack's room, Dawn sighs that she likes the trailers. Me too, Dawn. I hate when people say that. If I'm spending $9 on a movie ticket, I want to watch all the fun trailers on a big screen, damn it! (L: Again, +1.)
K: Right there with you. Especially seeing as a movie ticket in Australia will set you back $19.50…
Sweeney: After a Not Commercial Break, Dawn is sitting on the Magic Meth Den couch. A Magic Meth Addict sits down next to her and she decides it's time to stand. Inside Rack's room he's asking "Strawberry" if she can handle some more, while she floats in space. Her fun times are again interrupted by the Red Buzzkill Demon.
Spike's TARDIS Crypt. Buffy wakes him up and tells him to get dressed because Dawn is missing with Willow. He insists that she's there for sex, and she's all SRSLY, something to do with a dude named Rack. Spike's quick to catch up to the severity because he knows who Rack is. Buffy turns around while he gets dressed.
Rack's Magic Meth Den. Willow comes out and Dawn yells at her because she's been out there so long that there's no more movie time. She cuts her yelling when she sees that Willow has the bad news black eyes. Out in the alley, Dawn's creeped out and eager to just get home. Willow's now chilled out and wants to go party and have fun, even taunting Dawn about wanting to hang with the grown-ups. I feel for what a mess she is, but I also hate her for that.
As Spike tries to find Rack's location, Buffy accuses him of dragging it out on purpose. Then they banter some more about what last night meant. (L: GUYS. INAPPROPRIATE TIME. SHUT UP.) She says that the only thing that's changed is that she's now disgusted with herself and that it was degrading.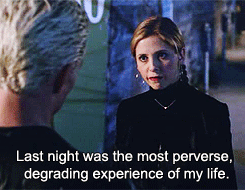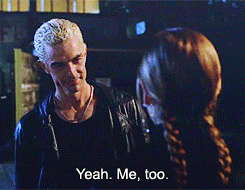 Lor: Woohoo. Degradation high five, am I right?
Sweeney: Spike insists that she felt something and will totally be in love with him soon. I'm sorry everyone, since I know most of you love them, but this is grossing me out. Buffy then insists that she wants him out of her life and he says it's a little late for that. She says she'll find Dawn herself and he (rightly) asks if she's really going to endanger Dawn to spite him. Fair.
Speaking of, Dawn says she wants to go home and Willow says she can just go ahead and go even though she thought they were going to hang out. I hate watching her manipulate Dawn like this. Just as Dawn is getting mad at Willow for suggesting using magic to get her home, a demon appears and says something about how Willow summoned him. He attacks Dawn, and they run. Willow steals a car and then tries to run the demon over instead of focusing on the fleeing. She runs into a post.
K: Let this be a lesson to you all – never use magic to steer a car.
Sweeney: After a Not Commercial Break, Dawn gets out of the smoking car, visibly injured. Willow appears to have been knocked out in the crash. Just as Dawn notices this, the demon appears. Dawn screams as she puts up a halfway decent fight defending herself. (L: I rooted for her gumption every step of the way.) Cut to Buffy and Spike hearing her scream. They arrive just in time and Buffy fights with the demon while Spike checks on Dawn. Suddenly, though, the demon stops fighting and starts shaking before bursting into flames. Cut to Willow, black eyed with electricity shooting out of her hands.
Buffy goes to Dawn who is bleeding and in obvious need of medical attention. Willow asks how she's doing and Buffy tells her to GTFO. Willow stands in front of them pleading with Dawn and apologizing. Dawn looks at her with serious rage face and hesitates for a moment before slapping her. I have this vague recollection of being mad at Dawn for this the first time around. Now, though, I don't even understand how that could be a thing. I've spent so much time pointing out all the ways Willow has been building up to this. In the last few scenes of this episode in particular, she's just been so awful to Dawn. Now that Dawn is about to be hospitalized because of Willow's selfish recklessness, I can't say I blame her any for taking that slap.
Lor: Agreed. She should've never brought Dawn along and at that point, an apology would seem so incredibly cheap. I'd feel slappy too.
K: +1. Dawn's look of disgust is pretty phenomenal, too.
Sweeney: So true! Michelle Trachtenberg doesn't get a lot of love, because she's consistently outshone by literally everyone around her, but we've seen her grow quite a bit as an actress since the beginning of S5! She still has a ways to go, but this was well done.
That being said, I obviously still have a world of feels for Willow as she falls to the ground sobbing while they go. Buffy hesitates for a minute while Spike and Dawn go on ahead. She yells at Willow to get up, as she's saying she's ruined everything, including Tara. Willow sobs into Buffy's arms and Alyson Hannigan is just such a powerhouse. Willow says she can't stop and she begs for help. Buffy looks stoic. Not only has Willow just endangered her sister, but Willow is also doing a thing she can't: admitting to how broken she is and asking for help. There's a lot happening there.
Lor: So much. At this point, too, Buffy probably feels superior? Doesn't she control her brokenness so much better? Hasn't she pledged to never do that thing with Spike again? The harm Buffy does she feels she only does to herself. And on top of all that, we go back to Buffy's actual and original problem of depression and not being able to feel any of the feels. This was one of the best scenes in this ham-fisted, uncomfortable making episode.
K: I'm not sure I agree with the idea of Buffy feeling superior during this scene. I mean, I find it hard to watch this scene and feel anything other than that Willow is at rock bottom and kind of insanely pathetic. If anything, I see Buffy's stoic reaction as her acknowledgement that she thinks everyone sees her as the strong one, and so that's the attitude she feels she has to portray at all times.
Sweeney: Yeah, I'm definitely falling down on the side of superior, and I felt reaffirmed in that by the stern, parental way she starts out in this next scene:
Chez Summers. Willow sits in bed, post-shower, wrapped in a blanket. She opens her eyes when Buffy enters the room to say that the doctor gave Dawn something for the pain so she's sleeping. Buffy adds that it's a fracture that'll take time to heal. She adds that she doesn't get why Willow went to Rack. Willow says that it's partially the Tara thing, and adds that it's pretty obvious who you'd be if you could choose between Super!Willow and regular Willow. When Buffy tries to say that magic isn't what makes her special, Willow responds, "Buffy, who was I? Just some girl. Tara didn't even know what girl." It took her away from herself and made her free. Buffy starts to say that gets that, but stops short of actually opening up, which  makes my heart sad.
Willow goes on to say that she was out of her mind and that it won't happen again. "It's not worth it if it messes with the people I love." Buffy affirms that it's over several times. Later, we see Willow lying in bed shaking. Buffy is also sitting in bed, on top of the covers, fully clothed.
Lor: Surrounded by garlic and holding a wooden cross. You need weapons when things like, "no" won't work!
Sweeney: Womp. I have genuine anxiety about what covering S6 is going to do to our blog, because you all have told us tales of epic flame wars. I know relatively little of the fandom, beyond occasionally following source links in our analytics and the gifs I see on Tumblr. I only remember having a general, "That's creepy," vibe about about Spuffy on first watch. Sitting here and typing out the play by play of that opening scene made me super uncomfortable. It made me dislike Spike a lot. I feel like that sentence is blasphemy 'round these parts and I'll be tarred and feathered shortly, but such is life. I STILL LOVE YOU GUYS. As Lor put it in an email to me last night, blogging things has a way of ruining everything you love. She was only half joking.
Lor: …and half telling the truth. I dislike Spike a lot at this point as well, and no one needs to point out the role that Buffy is playing in this entire destructive relationship because I'm well aware of it all. I waffled on whether or not I would make this point, because it's such a harsh line– you'll either agree with me or not– and ANXIETY! as Sweeney explained above.
But, I can't not make this point. I AM COMPELLED TO MAKE THIS POINT BECAUSE RAPE CULTURE EXISTS BECAUSE PEOPLE REFUSE TO MAKE THIS POINT: In that opening scene Buffy said NO. She said stop and Spike's response was, "make me," which is 100% always the wrong response and I hate him for it. Him being a soulless, evil vampire only makes me think, "I expected that. And I hate him for it."

Now, I'm sure there are people who would say, "But Buffy didn't stop him! And she's ~*strong enough*~ to stop him." Fuck that noise. She said no, so this should not even be an argument. Let me tell you what follows no: ABSO-FUCKING-LUTELY NOTHING. I cannot stand by anything that shows anything to the contrary. Buffy shouldn't have to strong arm herself out of this situation just because she can. I'm not calling Buffy blameless in other areas of this shit show relationship, but that opening scene? Disgusting. 
And I think it's supposed to be disgusting. Both of the participants in this relationship basically called it a black hole of self-respect. I'm slightly confused by all of the other feelings that I'm sure many people have (and are entitled to have!) about that scene and their relationship in general. I get it but, like… not really. And, again, just because of my own strong reactions to the scene. 
K: As I said at the start, I have serious issues with the way consent is depicted between these two, but my reaction to this scene wasn't nearly as strong. While I agree that no most definitely means no and Spike should get his face punched in for saying "make me," I can't really see Buffy as an unwilling participant. She's the one who initiates the kiss, shortly after telling him to stop. After all these months of not feeling ANYTHING, it's overwhelming to her. She may be disgusted with herself and ultimately come to the realisation that"…it's right to give it up. No matter now good it feels," but in that moment? She gives in to THE FEELING, not to Spike. And I'm going to stop talking now, because I'm pretty sure that I'm starting to come across sounding like a pro-Blurred Lines arsehole when it couldn't be further from the truth… 
Sweeney: I'm 100% with Lor on this one. I was feeling that rant in full, but didn't say it myself because anxiety! and I'm a coward. Again, I'm not really seeing any Buffy initiation in that scene. More than that, though, I'm frustrated by that we're in agreement on the fact that consent was disregarded, but immediately turning it into, "But they both have issues." I'm sorry, but that is making excuses, given that this particular scene was a one-sided display of shitty representation of consent.
Lor: Usually we don't come back in for comments on comments, but because (have we mentioned) this is genuinely causing us anxiety to post about, I want to clarify a few things: (1) a kiss and access to my vagina are two different things. So saying, "she initiated the kiss so clearly she wanted it!" is misleading. (2) everyone can have their opinions on the scene! We aren't drawing a line in the Traumaland sand, but I just wouldn't have felt true to my own opinions if I hadn't expressed how strongly I feel about what I saw. Kirsti, you aren't an asshole, and neither is anyone who would like to disagree with me!
Sweeney: It's true! Everyone can have their opinions on all the scenes! That's why there is a space for you guys to discuss and chime in, and hopefully it can stay a civil space.
As for Willow. My heart sank when Amy mentioned going to "a guy" because I suddenly remembered where we were. I love her and have so many feels for her, even as I want to shake/slap her. I mentioned all of my Dawn/Tara feels quite a bit throughout, but I'm so torn on Willow. Someone mentioned feeling nothing but disgust for her this season and while I can sympathize with that feeling and found my head going there a few times during this episode, addiction does carry a certain helplessness with it. She's responsible for her actions and I hate watching her hurt people around her, but I still just keep wanting her to be OK because I love her. I'm torn, but I think that's exactly how I'm supposed to feel, so it's a solid arc in that respect.

Lor: Both Willow's and Buffy's situations reek of self harm. Buffy's issue is not rough sex, or whether she should have sex with Spike, or whether she really wants it, etc, etc, etc. SHE'S DEPRESSED. All this uncomfortable sex stuff is just a product of depression, and a way for her to feel something.
Same with Willow. Her problem is not really an addiction to meth– I MEAN MAGIC. She's got power issues that stem from her fear of being the same inconsequential person she saw herself as back in high school. All this druggie magic stuff is a story telling slight of hand, but it doesn't address the issue. This is why I know she'll magic again, just like I know Buffy and Spike will have sex again. Fingers crossed for expressed consent, yeah?
K: Um. 2001 era television wasn't really big with expressed consent, Lor… But my fingers are firmly crossed just the same! 
Lor: Yeah, yeah. I won't hold my breath.
Sweeney: This was a struggletastic episode and I'm just glad I'm done watching it.
Next time: Buffy's grasp on things gets even more tenuous when a social worker checks in on Dawn. There's also more stuff with The Trio, much as we wish it were't so in Buffy the Vampire Slayer S06 E11 – Gone.