Previously: Willow dabbled in druggy magic and Buffy was determined to quit Spike. Many comments followed.
—
Gone
Lorraine: Here's a confession: Buffy is currently super depressing and weird so I haven't exactly been looking forward to spending 2-3 hours with an episode. Alas. The only way to get on the other side of season 6 is to do the damn thing, so here we go. But first, here, an adorable puppy gif. Have warm feelings:
Sweeney: That's so amazing and precious and I hope you have plans to do this again at the end because that's when I tend to feel most in need of a cute animal gif.
K: A+ and 1430, Lor. Puppies make everything better.
Lor: You both have no idea what you're in for in this post. You'll thank me later.
Buffy and Dawn are clearing out Willow's room of everything magic related. Dawn brats about how they can't even have candles around and Buffy tells her they are like bongs to witches.
Willow points out a peacock figurine on a bedside table that has two crystals in it. Tara left them behind. Buffy says she'll make sure Tara gets them again, and Willow has sad, ex-girlfriend feeeelings face.
Downstairs, Buffy mentions a fertility god statue that they need to put away, and Dawn protests because she likes it, and it belonged to their mom. This is another place where I can see people hating on Dawn for being difficult and bratty. From Willow and Buffy's POV, she is acting that way. Willow has a serious problem, and they are doing their best to help her. In context, though, this is just another way Dawn's life is being disassembled with nary a thought for how hard this is on her.
K: YES. THIS. It's hard to watch Dawn being super whiny about packing up all the stuff that Willow needs out of her life. But poor Dawn has spent a pretty decent chunk of time being at the bottom of everyone's priorities list this season, so she's kind of entitled to it.
Lor: Buffy is on the couch, searching in between the cushions, saying that any magic related item could tempt Willow to fall back into her bad ways. And, of course, Buffy finds one of Spike's lighters that sends her into a Smashed flashback. She proclaims giving into temptation bad, and dumps the lighter with the rest of the magic items.
Sweeney: The flashback was weird and felt almost condescending. As if to say, "Hey, audience — we're not sure you understand the significance of the lighter. LET'S MAKE SURE."
K: SO MUCH.
Lor: Cut to Warren loading the big ass diamond he stole into a gun of some sort. He says it's all done, and Andrew and Jonathan come over to criticize, saying they thought the gun would look cooler. Warren's all, "OH YEAH? CHECK THIS OUT," and he proceeds to blast a chair with his gun. The chair disappears. Andrew and Jonathan are impressed, and even more so when they confirm that the chair is still there, but now invisible. Jonathan takes a seat, and Warren aims the gun at him for part two of the test. He makes the chair appears again. Jonathan whines, Warren gloats and a pretty long teaser done, we cue the wolf howl.
After the credits, Buffy calls Dawn down for breakfast. Willow is at the stove, cooking an omelet. Buffy asks her how she's doing, and she says she's not going back to class and facing the world better, but the shakes have eased up. Dawn finally makes it downstairs, and claims not to have heard Buffy calling. Willow cheerily offers Dawn some omelet, but she curtly says she isn't hungry. Buffy insists, and Dawn replies, "thanks for your concern," slamming down her cup of orange juice and walking out. Willow wonders why Dawn is taking her anger out on Buffy as well. B thinks it's because she let that bad thing happen to Dawn. Buffy also realizes she failed to notice that Willow was drowning, as she was too wrapped up in her own life.
Spike comes tripping into Chez Summers, and the sizzling sound effects are out in full force. He drops the blanket and is okay in the totally bright kitchen that has all the blinds open. I'm nitpicking because I remember the days when walking in sunlight was the biggest problem I had with Spike. HA.
Please hold while I distract myself with this adorable cat gif:
Sweeney: Blogging: you're doing it right.
K: I'm definitely going to be taking a leaf from this cat's book in the next few weeks and hugging a stuffed animal while watching Buffy. Because of reasons.
Lor: Anyway, Willow takes off to change, leaving Buffy alone with Spike. Buffy calls him lame for making up excuses to see her, but he sticks to his, "looking for my lighter" story. Buffy also tells him not to call her love, so he invades her space and offers a few other alternatives like, "sweetheart," and "my little Goldilocks." He says he loves her hair (which, now that I'm noticing looks weirdly thick and in her face this episode) and the way it bounces around when she… Buffy cuts him off and tries to swat him with a spatula but he catches her hand. His hand then drops out of the frame, and Buffy sighs with pleasure, but then whispers for him to stop that.
Because her body is saying yes, but her mind is saying no.
What's that? Some adorable pandas? WHY YES THEY ARE.
Sweeney: IGNORING CONSENT IS MY LEAST FAVORITE BUT PANDAS ARE MY MOST FAVORITE. I'M SO CONFUSED RIGHT NOW.
Lor: I'm sorry I did that to you.
Before we can get any more of this no/yes/stop/make me action, DEAR SWEET XANDER interrupts. Thank you, dear sweet Xander.
Xander tells Spike to quit trying to hit on Buffy because it's never going to happen. I know I just thanked him for his appearance, but his dialogue here is all super clunky and meant to make Buffy even! more! uncomfortable! as he claims only simpletons (Harmony) and nut sacks (Drusilla) would hook up with Spike. Buffy shoos Xander out of the kitchen and tells Spike to see himself out.
Sweeney: This was also annoyingly heavy-handed.
K: I mostly spent this moment yelling "XANDER, ARE YOU FUCKING BLIND????" at the television.
Lor: The reason I felt this was clunky and I don't blame Xander for having blinders on is because of Buffy's enthusiastic EW SPIKE!! insistence. Plus, when he walked in Buffy was mid-swat. IDK. THIS WAS DUMB.
Dawn comes downstairs and Buffy tells her to come straight home after school. Dawn snits that maybe then Buffy will find some time to get her into another car accident. Okay, that line fell on the side of bratty to me. If she had said something like, "I'll be here. Will you?" that would've been brat I could get behind. (S: A totally fair distinction. Agreed.)
At the door is a social services worker who was of course on hand to hear Dawn's car accident comment. Buffy semi-forgot she had an appointment with her today. Dawn heads off, and Social Services Lady lets herself in. Buffy is flustered. It doesn't help that Spike's lounging around her living room, decidedly not seeing himself out. Buffy tries to hint, hint that he should leave, but doesn't move until she introduces Social Services Lady as a lady from social services. Spike stands and says that Buffy takes good care of her sister, but his example makes things worse. Buffy finally shoos him off with a glare.
Things keep getting worse as Social Services Lady assumes Spike is sleeping there (he had a blanket), then assumes Buffy is living with a woman, then finds some druggy looking substance in the box of magic things. Buffy says that it's magic weed, which doesn't actually make that better. Social Services Lady has seen enough.
K: DUDE. I would have just been like "It's rosemary. I'm planning to spitroast a lamb for Christmas." The word "weed" should never be mentioned around Social Services.
Lor: Right. This was again, pretty dumb.
Buffy chases after Social Services Lady as she starts to leave and says it's just been a hard time for her. SSL says it's been a bad time for a long time now, considering Dawn's grades have slipped and she's often late or absent to school. Social Services Lady is recommending an immediate probation, meaning she's going to be watching them very closely. She emphasizes that she's looking out for Dawn's interests and Buffy should as well. She leaves.
BUT GUESS WHO STILL HAS NOT ACTUALLY LEFT YET? SPIKE.
Buffy asks why he won't leave, and he starts to reply but she sternly tells him to get out. Spike-y no like-y, so he growls, and invades her space again, slamming his hand on the wall behind her head. He reaches down out of the frame, and we then zoom in on his hand, moving around in Buffy's pocket. He pulls out his lighter and tells Buffy he was just getting what he came for. He calls her Goldilocks again and leaves.
Buffy huffs and puffs up to her room and then chops off her hair.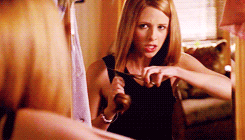 Sweeney: I'd chop up that stupid wig too, B.
Lor:  That explains that.
We cut to Buffy in a salon, telling the hair dresser to take off that wig and reveal her new hair cut.
Warren, Andrew and Jonathan are going to use their invisi-ray to enter a waxing shop. Wow. I was so busy hating other people, I forgot how much I hated these three. THANKS FOR THE REMINDER, SHOW. (K: A tanning salon I could understand. But a WAXING PLACE?? Gross.) Anyways, Andrew gets spooked, because of course, Buffy comes strolling by at that exact moment, sporting a new, much shorter hairstyle. Andrew and Jonathan start fighting over the invisi-ray and they end up setting it off, and hitting Buffy and a few other inanimate objects.
After a Not Commercial Break, Xander says Buffy's gone, but he's looking at seating arrangements for his wedding. He banters with Anya about it for a bit, and about whether D'Hoffryn is invited to their wedding or not. Invisi-Buffy enters the shop, and after a bit of confusion, she tells Anya and Xander she's invisible. Xander asks if she's been feeling ignored lately, and SEASON 1! YOU ARE ALSO LIKE A CUTE ANIMAL GIF, IN THAT YOU MAKE ME FEEL BETTER.
K: We also get an unfortunate season 1 flashback, in that Xander reaches out in front of him to try and work out where Buffy is, and apparently gropes her boobs. Sigh.
Lor: Buffy explains that she was walking along post-haircut when she went invisible. She doesn't know what happened and I find it hard to believe she didn't see the Trio standing right freakin' there, holding a big gun, and looking stupid and guilty. Anya is more excited about the haircut she can't see, but Xander steers the girls back on topic. They start talking through this problem, and Buffy plays with a few things around the shop. Xander says he's going to look for clues where she got zapped. Buffy just says she's going to take a walk.
Sweeney: IIIIII TOOK A WALK. (TOOK A WALK, TOOK A WALK.)
Lor: A+. Walking is an amazing thing to do in the face of legit problems.
Anya guesses that the invisibility was either a spell or a mistake. Xander wonders out loud who would mess with such power, and realization dawns on him as we Segue Magic over to Willow, doing some research. She spots a book on the other end of the table and tries to magic it over to her. It shakes a little and she stops, just before Xander walks in. She tells him she's found out some stuff about the stolen diamond. Xander is more concerned with what he thinks Willow's done. She has no idea about Buffy going invisible, and gets really upset that Xander suspected her. She storms off.
K:  Um, understandably. There's a reason that Willow was in charge of the interventions back in the day – Xander charges right in with the assumption that Willow's to blame, whereas Willow was all "So, Buffy. Have you been hanging around with Angel recently? If yes, we're a little concerned, and here's why." Xander just went straight to the dick approach.
Lor: He did try his best to be gentle and understanding (falling off the wagon is okay!). I'm defending Xander a lot in this recap. OH, SEASON SIX.
At the Trio Basement, Warren is trying to fix the invisi-ray, while Andrew worries about Invisi-Buffy, because it means she could be anywhere. We Segue Magic to Buffy at the park, ridding a woman of her studded cap, in the name of fashion. Buffy then steals a meter maid's golf cart and rides it all the way social services to mess with Social Services Lady. There, Buffy keeps picking up SSL's coffee mug and placing it on different spots on the desk. Buffy whispers at her to kill everyone, and Social Services Lady freaks the hell out. She steps away from her desk, giving Buffy time to locate Dawn's file.
Social Services Lady steps out of the bathroom a bit later, and a Work Bro stops her to discuss Dawn's file. She hands it to him, but it's been messed with, plus she starts talking about voices and her coffee dancing. Work Bro tells her to take the rest of the day off, and that they'll just send someone else to do the Summers interview. Buffy invisi-strides away, whistling the whistle of triumph.
K: This scene pissed me off. Because it's portrayed as funny, but it's really not. Considering Buffy's having mental health problems at the moment, they really went ahead and decided to have her play around with someone else's mental health?? NOT COOL, SHOW. On the more positive side, she whistles "Going Through the Motions" as she invisi-strides off. So…there's that.
Lor: Xander arrives at the place Buffy was made invisible, and Willow is already there. They apologize to each other for their earlier scene. Willow's spray painting the dumpster that was also made invisible, and she points out a tread mark she thinks means someone left that alley in a hurry. She also scraped some paint off an invisible fire hydrant the van hit on its way out. Xander guesses this black van is the same van that was stalking Buffy at the beginning of the season. Willow tells Xander to take an invisi-traffic cone back to The Magic Box, to see if it will help him and Anya identify the spell that was used, and Willow says she's going to try to locate the black van. Willow asks where Buffy is and we Segue Magic to Spike's TARDIS crypt.
He's lounging around, watching TV when Buffy lets herself in. She grabs Spike, throws him up against a wall, tears his shirt open and does something that makes him huff. For a second before he guesses who has him pinned, his face is straight horrified. AS IT SHOULD BE. THEY KEEP MAKING THESE TWO MORE GROSS. WHY.
Oh, look. A sleepy duckling.
K: I'm not sure if the fact that there is dubious consent in both directions makes things better – well, not BETTER but less…something – or worse.
Lor: WORSE. WORSE FOREVER. Worse for the characters and my personal least favorite, worse for the entire message that this shit show is conveying. So, like, worse.

At The Magic Box, there is research being conducted, but Anya is more focused on wedding stuff as she hasn't found anything on the actual research front, or at least anything that explains why things around Buffy also went invisible. She grabs the traffic cone and it goes smushy in her hand, like pudding. Anya is grossed out by the squishiness and Xander is worried that this means Buffy will go all pudding soon.
Warren explains that Buffy got hit with radiation when the gun went on the fritz, meaning something about loss of integrity that basically means going pudding soon. Jonathan is freaked because killing people was never part of the plan. Andrew agrees and uses Lex Luthor never killing Superman but always trying to take over Metropolis as an example. Johnathan demands that Warren fix the gun so they can fix Buffy ASAP.
Sweeney: Not enough, Jonathan. I still have annoyance-by-association, because The Trio continues to be terrible.
Lor: Xander lets himself into Spike's crypt and finds it looking pretty trashed. We cut to him walking into the bedroom portion of the crypt and Spike's grinding against air, though we hear Buffy's groans. I dry heave.
Xander asks WTF Spike is even doing, and he says he's exercising naked in bed. Xander's all, "riiiiight," but he's here looking for Buffy. As Xander and Spike talk, we see Spike's ear lobe moving and he starts squirming around in pleasure and swatting at an invisible Buffy. Xander finally leaves with a, "you should get a girlfriend."
Buffy thinks that went okay, because Xander couldn't see her, which is perfect for her. Spike doesn't it see it the same way. Buffy is confused, as she thought this was what Spike wanted. He knows, though, that the only reason she's there is because she isn't really there. Being invisible is liberating and for the first time in a long time, Buffy feels free. Spike says it's all fun and games now, until her friends figure out how to un-invisible her. Spike tells her to get her clothes and leave, and Buffy's all, "LEAVE? YOU MUST MEAN LET'S DO MORE SEXY THINGS AS THAT IS WHAT THIS ENTIRE FREAKING RELATIONSHIP IS ALL ABOUT." This is confirmed when Spike looks down at his waist and says that the implied BJ is cheating.
K: NOPE NOPE NOPE NOPE NOPE NOPE NOPE. Also, how the hell does one find one's invisible clothes?? 
Lor: I find it mildly amusing that after all we've seen up to this point, an invisible, implied BJ is what you protest the loudest about. Heh.
At a shop somewhere, a twitchy Willow, who has been drinking lots of water all episode, is trying to hack into DMV records. She considers using a little magic to help her search, but her hack works and she doesn't need to.
Invisi-Buffy is walking down the street, monologuing about Spike being the one to throw her out. She asks if this is Bizarro World, and a strong feeling we've heard someone say that before led me on an Internet search. Cordy used the phrase twice, once in Reptile Boy and once in The Wish.
Buffy gets back home, calling out for Willow and Dawn but no one answers. A second later, Dawn sneaks into the house. Buffy jokes about her invisibility, which Dawn does not appreciate. Buffy says she didn't mean to freak her out, but Dawn's all, "HELLO? INVISIBLE." She also calls Buffy out on not helping the others with trying to find a solution and then storms off.
Sweeney: I think we've been pretty clear that we, as re-cappers, are fully on board with the Buffy-centric viewing of the show — that is, that we all tend to feel her feels first and foremost. Dawn, however, is the most glaring example of how her depression and suicidal feelings (which this episode addresses rather directly) impact the people around her. Dawn's bratting maybe hasn't been the best way to treat Buffy but she's also not entirely wrong. It's painful and miserable to watch someone you love — and in Dawn's case, someone you need — check out on life.
K: A+.
Lor: Buffy notices that there is a message on the answering machine. Xander tells her about the going pudding side effect and Buffy responds with a small, "wow."
Willow walks the mean streets of Sunny-D and soon finds a badly covered black van parked in front of a house. Later, she climbs down into the Trio's basement and finds their plans for the invisi-ray, but Invisi-Warren grabs her, calls her their first hostage, and ties her up.
Buffy is about to leave her house when the phone rings. Jonathan doing a poor job of disguising his voice is on the other line, and tells her to meet him if she doesn't want anything bad to happen to Willow.
We cut to an arcade, which is the Trio's chosen hostage exchange location. Invisi-Buffy shows up and asks Willow where the bad guys are, but they are all invisible as well. They try to play big and bad, but Andrew and Jonathan are playing video games and not really paying attention. Warren calls them over, then leads them all (by way of dragging Willow) to a less crowded area. Will explains that these guys are the guys from her mystery van. Warren says they are going to make her visible again and save her life, except Willow notices that Warren's got the dial on his invisi-ray set to kill, not save. Andrew and Jonathan are shocked, and an invisible brawl ensues. I'd tell you what happens but I can't, so. I mean, there are punching sounds and lots of the Trio saying stuff like, "who's biting my leg?" and "watch my chest hair." That's a fair recap.
Willow locates the discarded invisi-ray and uses it un-invisible Buffy and the Trio. Buffy recognizes Jonathan and Warren, but not Andrew, who has to be identified as "Tucker's brother." Buffy asks if they have banded together to be pains in her ass, but Warren declares them her arch nemeses. (S: This moment is subtly referenced later — nobody actually pluralizes the word correctly.) Jonathan lays down some of his POTASSIUM MAGIC, and there is a flash bang and some smoke. A second later, though, we see the Trio still at the door because it was locked. A security guard finally comes over to see WTF is going on, and the distraction allows the Trio to get away. Willow exclaims, but only because she's finally seen Buffy's new haircut.
Outside the arcade, Willow tells Buffy that she found the mystery van the hard way, and that she can't believe she's survived the day. Willow asks how Buffy is doing post-invisibility, and she admits that she has some damage control to do now that she's back. Her break from herself didn't turn out as planned, but she does confess that when she found out she was fading away, she got scared. Willow asks who wouldn't and Buffy replies, "me. I wouldn't. Not too long ago I probably would have welcomed it." Buffy says she isn't doing back flips about her life, but she also doesn't want to die.
Willow deadpans a "yay for us," and Buffy answers back with an equally dry, "yay."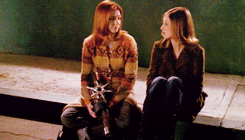 It's pretty funny that I started the episode ready all wound up and on my guard, when what I actually got was a comedic episode. The change in tone was jarring, which isn't always a bad thing. This series is known to inject humor in to the most unlikely of places, but I just didn't find a lot of this particularly funny.
K: It was the same kind of funny that they handed us after Buffy and Riley broke up, and she ugly-sobbed on Tara's shoulder about Xander and Anya having a miraculous love. Which is to say, not even remotely funny and just sort of gross.
Lor: Great comparison and true.
The scene at the end with Willow and Buffy was nice. I also liked how Willow struggled throughout the episode, because to me, it highlighted the fact that Willow isn't struggling with a magic addiction really, but with a power addiction. At the end of the day, she's tired and feeling helpless, even though she was useful. And at the end of Buffy's day, she has damage control to run, but it's her depression that takes a step toward recovery– she doesn't want to die.
Sweeney: Agreed on the lack of funny, but the big revelation moment was well done. Or, the discussion of it, since we couldn't see the actual moment. That fact also served this episode well, I think, however underwhelmed I was by most of the invisibility stuff. I'm glad that played out in a conversation with Willow. Both of those two things amount to significant steps for her — realizing that she doesn't want to die and being able to talk about it.
Lor: The realization that she doesn't want to die also makes all of Spike's, "'CAUSE YOU WANNA DIE, GIRL," comments very different now. We'll see where that goes from here.
So, that was that. I'm all set on invisibility puns for a while.
Next time: Buffy's new fast food restaurant job has a mystery to solve on Buffy the Vampire Slayer S06 E12 – Doublemeat Palace.