Previously: Xander called his wedding to Anya off and there were tears. Some of them even belonged to the characters!
—
Normal Again
Lorraine: Buffy is walking alone at night, but today we find her not in a graveyard, but on a sidewalk, looking over some information on rental properties. From Buffy we transition to a computer screen that has her image. Video surveillance. Jonathan is asleep in front of the computer until Warren squirts him with a water gun and berates him for sleeping on the job again.
Kirsti: Having recently destroyed a laptop by spilling water on the keyboard, I strongly recommend that Warren NOT use that method again in the future. Course, he's a fucking sociopath and probably has no fucks to give about his computers, so whatevs.
Lor: Jonathan complains that he hasn't gotten decent sleep since he became an accessory to murder. He doesn't say that, but I'm assuming that's what he means. I don't feel bad for him for one second. HAVE FUN NOT SLEEPING.
Sweeney: We take sleep very seriously around here, so this is a major insult. ENJOY YOUR LACK OF PROPER SLEEP.
Lor: What he actually complains about is the fact that they've rented out a whole house and are only hanging out in the basement, on account of being on the lam. Andrew finally notices that their video feed features a certain Slayer, who is peeking into their darkened house. Warren panics a bit and tells Andrew to release his friend. Andrew promptly picks up a didgeridoo and plays a single note.
Outside, a waxy looking demon drops down behind Buffy. She snarkily asks if the Candle Demon happened across any nerds, and a fight ensues that uses a nearby car as a prop. There is a pretty cool sweeping kick she uses that reminds me of seasons in which actual vampire slayerage was more of an actual thing!
K: Oh, early seasons. How we miss you.
Lor: Buffy slams the Candle Demon's head into the driver's side window, and the Zoomy Cameraman shows us that the demon deploys a mid-knuckle spine from one hand. Candle Demon elbows Buffy, who is still behind him, and holds her down while he sticks her with his spine in the arm. She screams and that transitions us to Buffy in a medical gown, screaming as two orderlies try to hold her down. One of them is trying to administer a shot, but he says they'll have to strap Buffy down. In case we aren't sure where we are exactly, we pan out of the room and see the white walls, medical uniforms and lethargic patients indicative of TV psych wards.
Wolf howl.
After the credits, Buffy wakes up in the alley where she was just fighting the Candle Demon but she's alone. She takes a few steps before we cut to morning at Contrivance University. Willow is practicing a few lines she wants to use on Tara, including asking her out for coffee, food, kisses or gay love.
K: Bless.
Lor: Willow spots Tara, but then soon sees another girl approach and greet her warmly. Willow's face falls and she storms off in the opposite direction. Tara only sees her retreating figure.
Doublemeat Palace. Apparently running off mid-shift with a commando does not in fact get you fired! TV Life Lessons. Buffy is absentmindedly going through the motions, when Lorraine (STILL WEIRD) calls out to her. Buffy turns to her and we flash! bang! to the mental institution, where a nurse is telling her it's time for her medicine. Flash! Bang! back to the DP where Lorraine is saying that if she didn't know any better, she would think Buffy was on drugs. B's all, "um, okay." and heads back to the deep fryer. She's burned all the fries.
Sweeney: More wonderfully unappealing fast food imagery!
Lor: Later, at Chez Summers, Willow is looking for signs of life from Xander on the Internet. I'd never be able to run away and hide from anyone because I'd be Tweeting about it. "PROBS SHOULD'VE BROKEN UP BEFORE THE WEDDING. THIS MOTEL IS SKANK NASTY." Stuff like that, you know?
K: Like when we were in Orlando in January and I spent like half our trip to Disney abusing the free wifi. Good times…
Sweeney: I have this thought whenever I see people do stuff like that on TV. I have pretty adaptable standards so I could give up most major quality of life things…except access to the internet and social media. I'd tweet the shit out of my running away.
Lor: Glad I'm not alone.
Buffy asks why Willow is home in the first place, when she is supposed to be seeing Tara. Willow relates the whole seeing some girl give Tara a kiss on the cheek thing. She admits that she didn't witness enough to draw conclusions but that she wasn't willing to stick around either. Willow says that it might've made her angry enough to fall back into magic. Buffy best friends accordingly: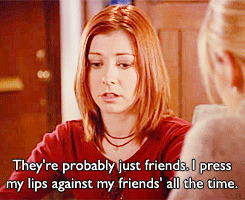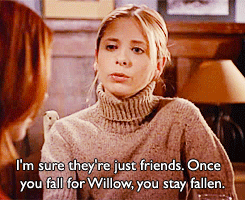 The doorbell rings and Xander lets himself into the house. He's about to have a bucket full of feels so it's probably not the best time to mention his hideous shirt, camel colored leather jacket combination, but you know. (K: It does nothing but emphasise how heavy he's gotten in the past year or so…) Willow and Buffy greet him with hugs and assurances that he doesn't need to explain anything. Xander's looking for Anya, as her suitcase and things are gone, and there is a closed sign on the Magic Box. Anya left town a few days ago, and according to the girls, was in pretty bad shape when she left.
Xander says things got very messed up, and that leaving Anya was never about leaving Anya, just being unsure about marriage, his family, her demons, and the whole "forever" thing. He misses her. Now, there is a big hole inside of him that he dug out himself. He concludes that he screwed up and Buffy says they all screw up.
Cut to Spike walking in the graveyard. This super! significant! cut! is either because Buffy screwed up by being with him or screwed up by breaking up with him or because he's a screw up. I'm keeping my vote to myself. Spike is carrying a grocery bag, 'cause he's normal, see? but he's also lighting a cigarette because he's evil, see? He spots Buffy and asks her if she's looking for him. She isn't and doesn't even turn around to address him, until he asks if she cried at the wedding. She fills him in on Xander calling the wedding off.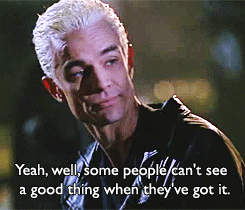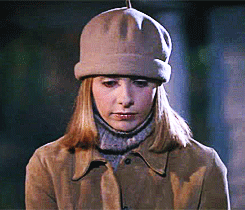 Yeah, yeah. And some people stay in abusive relationships. To-may-to, to-mah-to.
Sweeney: Up until that line I was all, "Oh, hey, this is the comfortable chatting thing that they once did. I have a vague memory of finding that nice before they made me hate everything."
K: Meanwhile, that hat makes Buffy look like an acorn. A really pretty acorn, but an acorn nonetheless.
Lor: Accurate.

Xander and Willow arrive now as well. Xander says he should've guessed Spike would tag along. Buffy nervously blabbers some overdone excuse about what she was doing with Spike. It's the kind of excuse that makes you think, "well, I wasn't suspicious before…" Spike says he'll just get out of her way, and Xander cannot resist adding in his, "run along now!" Spike gets riled up, and says Xander would know all about running away. They exchange a few more verbal jabs before Xander decks Spike IN THE FACE.
While all this is happening, in the background, Buffy is unwell. She sits on a nearby bench and holds her head as we flash! bang! back to the mental institution, where she is crouched down in a similar position. She's approached by a doctor who gently asks her if she knows where she is. Buffy answers, "Sunnydale," and he replies that that's all in her head. She's in a mental institution and she has been for six years. We cut back to reveal the medical bed, restraints and all.
Flash! Bang! back to the graveyard, where Spike is still falling to the ground and rolling over his groceries. Xander and Willow ignore him and rush over to ask Buffy if she's okay. She lifts her head slowly but we flash! bang! back to the institution. The doctor reaches out for her and she flinches in a bit of nice physical acting. He tries to brightly tell her it's okay, and says someone is here to see her.
AND IT'S JOYCE. HOLY POOP. JOYCE IS ON MY TV SCREEN.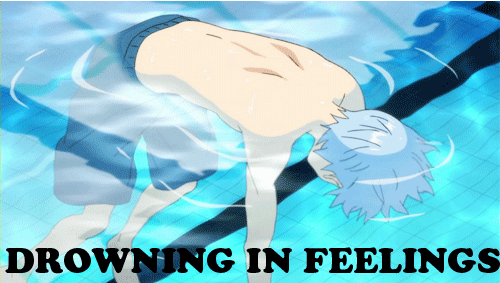 I guess that's Hank Summers behind her too.
K: FEEEEEEEEEEEEEEEEEEEEEEEEEEEEEEEEEEEEEEEEEEEEEELS.
Sweeney: BRB, TAKING A TIME OUT FOR EMOTIONAL PROCESSING.
Lor: After a Not Commercial Break, Buffy recognizes her mom and dad. They are happy to have her lucid, and try to engage her in conversation, but she soon flash! bangs! right back to the graveyard. Spike says they can bring Buffy back to his crypt, but Xander is still testy and says they have dibs on being Buffy's friend and Spike can't sit with them and also neener neener. Spike watches them walk away and he's all alone and sad.
Back at Chez Summers , Buffy is giving her own recap of the first 15 minutes of this episode, from the Candle Demon all the way to the hallucinations she's had so far, to Xander, Willow, and Dawn. Xander is sacrificed to the script gods as he gets the obvious har! har! har! Sunnydale IS crazy! line. Everyone just sort of ignores him as Buffy tells them about her parents being there. Willow jumps up and nervously says that it sounds like research o'clock. She's assigning duties as Buffy starts to flash! bang!
This time, we're in the doctor's office. He's telling Joyce and Hank that Buffy's condition is complicated. She's created a whole world- the world we know- in her own head, complete with friends, monsters to fight and grand adventures. Buffy says Warren and Jonathan did this to her (Andrew. So forgotten and he's the one who called the demon) and the doctor psychologies her about how her delusions are coming apart. Her friends aren't so comforting any more and the Big Bads have been downgraded to three pathetic guys she went to high school with.
K: Buffy's face when she realises that she's abandoned Dawn again kills me. Because, of course, Dawn doesn't exist in Mental Institution World.
Sweeney: Joss Whedon talks about this episode as being something of a metaphor for the act of writing the show and the way he talks about Dawn is a really striking example of that – something about reconstructing the rules of her internal universe for the sake of having a familial bond. It's such a brilliant metaphor and while it's easy to say, "Yeah she imagines demons, obvs crazy!" these little bits where they deconstruct the storytelling are the place where they really sell the idea that she's crazy.
Lor: Cut to the Three Pathetic Guys She Went to High School With. Jonathan is being very jittery about where Warren and Andrew have been without him. My wish that he loses sleep for forever appears to be working. The other two douches seem perfectly okay, though, so I'll wish harder. Jonathan wants to get out of the basement but Warren stops him from leaving.
At home, Buffy examines a picture of Joyce, Hank and Baby Buffy sadly. I think we've seen it before. Willow comes in with good news; she's identified the Candle Demon and there's an antidote for the poison he stuck her with. Buffy doesn't react to the news because she's really busy looking at this picture sadly. She's been lost, and it started way before the Candle Demon and his crazy juice. She's been detached and every day she tries to snap out of it, but depression isn't a decision you make. Willow firmly tells her friend that she isn't in, and has never been in an institution. Buffy confesses that she has been, back before Sunnydale, when she saw her first vampires.
Wow.
K: FEELS OMG SO MANY FEELS.
Lor: B told her parents about the vampires and they freaked out on her and sent her to a clinic, where she stayed a couple of weeks. She quit talking about it and they released her. "Eventually, my parents just forgot." It's so sad that I have to muddle my JOYCE FEELS by remembering what a shitty parent she was for so long. This only confirms for me much of that early season hate, though. HOW DO YOU FORGET SOMETHING LIKE THAT?
Sweeney: YES. I typed something else along these lines up there, before reading this bit, but yeah – this whole Buffy-was-institutionalized-in-LA adds a lot of retroactive layers to their early season relationship.
Lor: Buffy cries as she wonders if she never left that clinic and she's still there.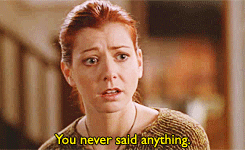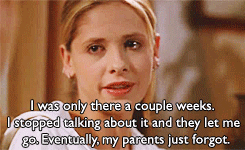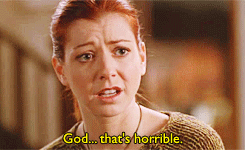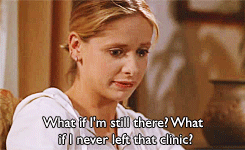 K: Sarah Michelle Gellar is knocking it out of the park right now.
Sweeney: Agreed! She was like 19 when they shot the pilot and it's been really cool to watch her grow as an actress across these many seasons.
Lor: Willow tries to assure her that she isn't. Xander is hunting the demon to get the antidote. Buffy worries about him, but Willow says they got some help.
Cut to Spike and Xander walking together because they use him. Spike is all, "oh, is Lorraine trying to feel a little bit bad for me? Let me say something incredibly stupid!" And he does: So, she's having the wiggins, is she? Thinks none of us are real? Bloody self-centered, if you ask me. He babbles on about how this would all totally make sense if she made it up, because in her head she chipped him and made him a sex slave. Xander misses most of that babble. Just as they are about to get into another fight, the Candle Demon appears. So they fight with him instead, and take him down.
Chez Summers. Dawn brings Buffy some tea, and tenderly touches her face to check her temperature. Buffy is burning up. Buffy talks to Dawn in a disjointed way:
Buffy: I should be taller than you.
Dawn: Maybe you're not done growing.
Buffy: Coming apart.
Dawn: What's coming apart?
Buffy: We have to try harder, make things better.
Dawn: I'm trying.
Buffy: Your grades… stealing. Willow's been doing your chores, hasn't she?
Dawn denies it.
Buffy suddenly leans forward and startles Dawn, as she tells her that they have to deal with these things. Flash! bang! we go back to the institution, where Joyce is telling Buffy that she doesn't have a sister. She wants her to repeat it, and she does, but she tacks on the story about the monks making her a sister. Her parents basically tell her she's crazy, and Joyce reaches out and strokes her daughter's face, kind of like Dawn just did. Flash! bang! (I really wouldn't have started that if I knew it was gonna be so many. Phew.) back to Chez Summers.
Dawn is crying because she isn't in Buffy's delusions. According to Dawn, "It's your ideal reality, and I'm not even a part of it." Sometimes her brat is strong. Seriously, she sat there and heard the Scoobies all talk about how Buffy got injected by a demon. This kind of reminds me when Christian Grey yelled at Ana for leaving him, after she said IN A DREAM that she wouldn't leave him ever. You just really can't be held responsible for things you say while sleeping or in an alternate reality, you know? Anyway, Dawn leaves.
K: It *is* pretty bratty, but it's still enough to give me a dose of the Dawn feels. Although I'm not sure I'd say that being in a mental institution is Buffy's ideal reality…
Sweeney: I definitely got some Dawn feels; it hadn't occurred to her that she didn't exist in that other reality and it was painful to find out like that. I get that this caused her feelings. That said, Buffy is legit going crazy right now. So, like, yeah, that quoted line coupled with the angry storming out? Definitely in brat territory. Being angry with a crazy person for being crazy is a dick move.
Lor: I'm usually on the Dawn Feels train, but this is pushing it. They kept her involved and informed and she still seems too oblivious to what's going on.
In the basement, Xander and Spike are restraining the Candle Demon while Willow breaks off his spine and puts it in a jar. Willow sends Xander to the Magic Box for some herbs and Spike stays in the basement to keep the demon contained.
An establishing shot shows us we're still at the Summers' home, but it is now daytime. Willow, still wearing the same clothes, comes into Buffy's room and hands her the antidote in a mug. It took her a while to get it right without magic. Sounds like something Tara could've helped with, on account of that whole Buffy being poisoned and delusional thing. (K: I was just thinking the exact same thing.) Buffy tells Willow that she never stops coming through. Spike shows up at the door. Willow tells Spike to make sure Buffy drinks her antidote, as she's going to check on Dawn.
Left alone, Buffy tells Spike to leave her alone, as he isn't a part of her life. For a second it looks like he might actually just leave but, LOL. Nope. He starts to get closer to B, but it's like he hits an invisible wall and backs off. It took me a rewind/rewatch to realize it's because of a beam of sunlight. Properly chastised by the sun, Spike starts his speech again, and a bit calmer this time.
"I hope you don't think this antidote's gonna rid you of that nasty martyrdom. See, I figured it out, luv. You can't help yourself. You're not drawn to the dark like I thought. You're addicted to the misery. It's why you won't tell your pals about us. Might actually have to be happy if you did. They'd either understand and help you, god forbid, or drive you out, where you can finally be at peace, in the dark. With me. Either way, you'd be better off for it, but you're too twisted for that. Let yourself live, already. And stop with the bloody hero trip for a sec. We'd all be the better for it. You either tell your friends about us or I will."
I was trying so hard not to rile everyone up too. SORRY. HAVE TO BE HONEST: EW.
(1) – How is this at all better than Riley's speech OMG I DON'T GET IT.
(2) – Again, as with Dawn, IS THIS THE PROPER TIME, SPIKE? ALTERNATE REALITY. DELUSIONS. GOING CRAZY.
(3) – "So, I was totally wrong about what I was working SO HARD to convince you of, that you were drawn to the dark. OOPS. No worries, though, 'cause I gots a new theory."
(4) – Considering what Buffy was telling Willow about how she's been trying to snap out of it, about how stuck she's felt, can you imagine how it would feel to hear someone say that this is something of her own choosing? You want to be miserable! Ouch.
Damage all done, Spike leaves, and we watch Buffy pour out her antidote, because delusions gotta be better than that, right?
K: Truth. The only part of that speech I'm on board with is "Let yourself live, already." She's spent so much of this season going through the motions (as she said herself in The Greatest Episode Ever), and she was just starting to get back on track. Living is what she's been trying to do since she broke up with him. It's also a nice reminder of what she said to Dawn at the end of season 5 – "The hardest thing in this world is to live in it." Course, I'm not on board with the "Let yourself live by sleeping with me some more" subtext part. So…yeah.
Sweeney: Yeah, see, that's why I can't abide that either. He's mentioned nearly every episode but the last one (including in this speech!) that letting herself live is being IN THE DARKNESS with him. That line is still part of his whole manipulation train where he alternates between put-downs and BE LIKE ME 'CAUSE I GET YOU.
Lor: Flash! Bang! back to the hospital. She tells her doctor, Joyce and Hank that she doesn't want to go back to Sunnydale. She wants to be healthy again.
After a cut to black, Buffy says she wants to go home with her parents, but Joyce tells her she needs to get better first. The Doctor says the way to do that is to rid her mind of hallucinations, and break down the things that keep her going back, namely her friends.
K: There's an added dose of OMG WTF FEELS because the doctor mentions that Buffy became lucid for a while the previous summer. In other words, when she died in Sunnydale.
Sweeney: Added feels because with regards to the heavenly dimension she said that she didn't know where she was but that she was happy there.
Lor: Buffy looks like she understands and we flash! bang! back to Sunnydale, where she finds Willow in the living room. Will asks if she's okay and if the antidote worked. Buffy confirms that it did, though her face is blank and she isn't very convincing. Willow is hopeful nonetheless and offers to make B some food.
Later, Xander is again letting himself into the house. When he gets to the kitchen, Buffy is standing at the sink, with a pan in her hand. There is no music or background noise of any sort as Xander says that now that she's better they can take care of the Candle Demon in the basement. He hopes she's up for it because he doesn't want to deal with Spike again, even though he does feel a little bit bad for Buffy-obsessed Spike. Buffy ends his thoughts by hitting him with a pan in the face. A frying pan like what he saw in his vision with Anya.
He resists Buffy a bit, but she overpowers him and then drags him down into the basement. He sees Willow bound and gagged right before he passes out. The camera pans up, so that we see Buffy looking over her two friends before looking over to the bound Candle Demon.
Buffy heads upstairs and locks the the basement as the horror movie music kicks into overdrive. Next, B calls out to Dawn and heads upstairs to her room. Dawn is packing up a bag as she's going over to Janice's where they actually want her there. Buffy says she's going downstairs with the rest of everyone. Dawn starts to get suspicious, and when Buffy lunges at her, she's able to avoid her and run away. She locks herself in the bathroom as she yells through the door that the delusions aren't real. Real enough for her to get pissy about them, though, huh?
Buffy breaks down the door, but by then, Dawn has already run around to Willow's room. She tells Buffy to look at her. "You're my sister. I need you and love you. Somewhere inside you must know that's real." Michelle Trachtenberg starts speaking out of her nose when she's trying to convey emotion. It's weird.
K: It really is. But it's better than the screaming?
Lor: Different than.
Buffy deadpans that sure this world is real– a place where she is a supergirl chosen to fight demons and save the world. It's ridiculous. Dawn closes the door, but Buffy immediately kicks it down. Buffy: A girl who sleeps with the vampire she hates? Yeah, that makes sense. Dawn tries to run but Buffy rolls over the bed, grabs her and wrestles her to the floor.
We cut to the basement, where Buffy has tied Dawn up as well. Flash! Bang! to the mental institution where the doctor tells her to take her time and make it easy. Flash! Bang! back to Sunnydale where Buffy releases the Candle Demon.
Xander begs her for help, begs her to release him because he needs his hands to fight. Xander kicks the Candle Demon, and his binds are broke when the demon grabs him roughly and throws him across the room. Tara gets to Chez Summers and calls out for her friends. No answer.
In the basement, Buffy is hiding under the stairs and she flash! bangs! back to the mental institution where she is also cowering in a corner. Joyce tells her to keep concentrating. In the basement, Xander keeps yelling for help as the demon hits him again. Tara comes down the stairs, calling for Willow. She acts quickly, and magics Dawn and Willow's binds away, before magic-ing a bookshelf onto the Candle Demon. Tara moves down the stairs again, but Buffy grabs her foot from beneath them, and sends Tara falling down.
Mental Institute. Joyce is telling Buffy she's a survivor.
Basement. Xander attacks the demon and gets thrown aside again. The demon throws Dawn as well. Willow grabs a baseball bat and gets a couple good whacks in, but he quickly gets rid of her, like the others. Buffy calls Willow's name.
Mental Institute. Buffy is extremely agitated. She bangs her head against the wall.
Joyce: Buffy, fight it. You're too good to give in, you can beat this thing. Be strong, baby, okay? I know you're afraid. I know the world feels like a hard place sometimes, but you've got people who love you. Your dad and I, we have all the faith in the world in you. We'll always be with you. You've got a world of strength in your heart. I know you do. You just have to find it again. Believe in yourself.
Buffy has stopped crying as Joyce strokes he head. She looks into her mother's face and says, "You're right. Thank you." Her mom smiles, but we then watch her face fall as Buffy says goodbye. We flash! bang! back to the basement. Buffy stands slowly and immediately gets to fighting the Candle Demon. She punches through his stomach and kills him.
Buffy looks around as her friends stand. She whispers that she's sorry. She wobbles a bit and Willow tells her to sit. She says can't until she has the antidote. Willow says they will make more for her and that everything will be okay.
Flash! Bang! back to the hospital where the doctor is flashing a light into Buffy's eyes.
Joyce sobs and we pan out of the shot.
K: FEEEEEEEEEEEEEEEEEEEEEEEEEEEEELS.
Lor: Okay, from the top: I can't help but feel so much for Buffy in this episode in which an alternate reality where she has been living in an asylum for six years is preferable to her Sunnydale existence. I have never given any thought to Buffy's first encounter with vampires. Even at the beginning of the series, when she first got to Sunnydale, she didn't want to fight vampires, but their existence was a given. This nod to when they weren't, to having to face that "reality" for the first time was fantastic. The only thing I didn't like was that the "my parents forgot about it," line. Out of story, it seems like a cheap, "oh yeah! Didn't mention this before!" device. In story, it gives us more reasons to rid Joyce Summers of Sandy Cohen Eyebrows.
There was a point there that I expected her to find Spike next and bring him down. She never went after him or Tara. Again, the out of story explanation is possibly, "time restraints" or "sloppiness." I think the story felt full enough that I'll go with A. In-story explanations are all over the place. What do Spike and Tara share that Willow, Xander and Dawn lack? I think they stand apart from the trauma of being torn out of heaven and what's expected of her now that she's here.
Also, we were talking about Giles's absence last post, so we can make that link here again. Giles– the mind– is missing in action. Willow the spirit and Xander the heart are locked away in the basement, and hasn't that just been the picture of Buffy all season long? What about Dawn? She wasn't quite so literally defined, but I think you could make a good argument about Dawn representing life, the fullness and innocence of early life, Buffy's reason to live, or conversely, her reason to die.
I think this episode was also subtly great at showing us how, yes, they've all been kind of "slumming" it this season. Willow mentions that something could make her angry enough to relapse back into magic. This season is so much about the dark places we go when we are at extremes. Spike would have Buffy believe that she has some great attraction to the dark, or to misery, but my line of thinking is more along Riley's: the wheel keeps turning. Buffy is depressed enough to sleep with the thing she hated. Dawn is alone enough to steal. Was Anya hurt enough to take up vengeance? They've all got demons chained up in the basement, and this doesn't excuse any actions, but again, this season focuses on those harmful decisions.
Seeing Joyce again was pretty rough. Part of the appeal of the alternate reality was her mom and dad, alive, together, and so willing to take care of her. I love that in the end, it was her mother's words that gave her the push to face her life. Buffy found her mother dead. There was no time for final goodbyes, for kisses or hugs or parting words. Even if it was in a place deep inside herself, B got some final encouragement from her mom. Buffy, in turn, gets to say thank you, tell Joyce she was right, and say goodbye.
And finally, the end. I love that ultimately, Buffy was able to power her way through the delusions. She's been wanting to fight her emotional problems all season, but again, depression isn't something you decide yourself out of. Here we see a different circumstance, in which even at a weak point and with so many cards stacked against her, she beats it before she has the antidote. My first impression was that that was the point of the final flash! bang! She was still poisoned, so she vetnured back into that head space, although her decision was made.
K: This, for me, is what's so important about this episode – she makes a choice. She chooses to be the Slayer, to live in Sunnydale, to face her demons. She's spent so long just letting life carry her along without making active decisions. The last big decision she really made was to jump, to save the world. Here, she's saving herself. 
Sweeney: I think Lor's point about it being a thing you can't just decide yourself out of is also pretty important, but yes, she made a choice. A series of things occurred to enable her to make a choice and that in and of itself is a big step for her.
Lor: Of course, the ending is open ended. I think it's perfectly clear that her shitty Sunnydale existence isn't exactly the stuff delusions are made of. Plus, a demon was summoned to make all that stuff in her head possible. That's just my take on it, though, and I like that that bit can suggest that somewhere in LA, Buffy is lost to her delusions. Again, as much as that isn't my view of things, I LOVE that it's a view of things.
Sweeney: Somewhere in LA a crazy person was just dreaming up slayers and demons and shit. And we love him for it.
Lor: In the end, I think we can all agree that you have to be a little crazy to exist in Sunnydale, and that includes all of us.
Next time: Anya returns to Sunnydale and understandably has a mind for vengeance in Buffy the Vampire Slayer S06 E18 – Entropy.