Previously: Buffy's secret is out, Anya (who is a vengeance demon again) slept with Spike, and Tara and Willow got back together.
—

Seeing Red
Sweeney: I grew anxious about recapping this episode months ago. I hadn't even anticipated how much drama would ensue in Traumaland before we reached this point. I was a little blindsided by that, to be honest. The bright side is that it actually makes this recap a little less scary for me. The stage has been well set, and many an argument has already been had much earlier than I expected. This, of course, isn't going to make this episode any more enjoyable to watch. But that's what we're going to do, so let's get to it.
Kirsti: I'm pretty sure that back in January when Sweeney and I hung out in LA for like four hours, one of the first things I said (besides "OMG, In n Out needs to come to Australia because this shake is magical") was "I'm scared of Seeing Red." So yeah. The dread was strong with this one.
Lorraine: Dude, I'm the Snow and I knew I should dread Seeing Red. But enough of that. Episode:
Sweeney: Oh! Wait, before we start: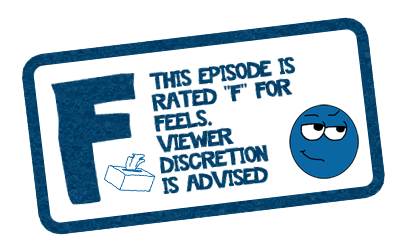 We begin on a this-can't-end-well happy note. Tara and Willow are in bed, the room a mess of torn-off clothing. Willow wonders when morning happened, and adds that she forgot how could she could feel without magic, though Tara assures her that there was plenty of magic. Willow confides that she's worried about Buffy, and that she thinks something is going on between her and Spike based on B's reaction to the Magic Shop livestream sex. Tara  confesses that yes, they have been sleeping together and she knows because Buffy reluctantly told her and begged her to keep it a secret. Tara says that Buffy kept it because she was afraid of seeing the look Willow is currently getting. Tara's the best.
K: SO MUCH OMG. She really was the perfect person for Buffy to confide in.
Sweeney: Willow gets up to check on Buffy, though her room is empty. Dawn pops out of her room to ask if she's back yet (adding that she put two and two together on the Spuffy situation) and then wonderfully sums up the assorted feels in play for the different relationship dynamics. I love mature, intuitive Dawn. Moments like this one – and the scene with Buffy in the last episode – are a big part of Dawn's (somewhat limited) growth over the series. She doesn't get much in the way of an arc, but I think the writers finally realized that as a feelsy character, she can be put to better use by making her more observant.
But then! It gets even better when Tara appears and Dawn realizes that she spent the night and then goes into total fangirl mode, because feelsy Dawn is also a perfect character to voice audience feelings. She promises to go hide in the basement where she can't hear, popping her head back around the corner to squeal, "I love you guys!" like the perfect fangirl she is.
K: Squealy fangirl Dawn is one of my favourite Dawns.
Sweeney: Our missing slayer is busting open the Trio's new lair, demanding that they have a chat. She pokes through their stuff (K: I call bullshit, because they would NEVER leave their action figures behind) and grabs a bunch of papers she finds lying around. At the back of the room she tilts down a whiteboard that says, "TOO LATE!" Just as she says that can't be good, a giant circular buzz saw activates and slices through the board, towards Buffy. They start appearing all over the heavily booby-trapped room and she gets to use her innate slayer skillz to super jump her way out of this. Outside, she notices that they successfully sliced her (not as cute as she thinks it is) red jacket, and says that's going to cost them. Wolf howl, now featuring Amber Benson. (L: Joss Whedon is the trolliest troll who ever trolled in the whole history of trolldom.) (S: YUP.)
Chez Summers. Tara and Willow come downstairs, and are super touchy, but promise they're ready to take a break from sexytimes action for some bad-guy-hunting action. Buffy updates them on the abandoned lair, noting that while they had time to booby-trap it, she thinks they left in a hurry. The papers left lying around should probably not be trusted, but if it turns out that they are legit, I call bullshit on them having the time to set up that elaborate system of saws but not remember to grab stuff sitting out in very obvious places.
K: See, I was working on the assumption that the system of saws had been set up ages ago, and they just needed to flip the switch to make it operational…
Sweeney: The others all awkwardly try to suggest calling in the missing Scoobies and Buffy one-by-one explains why they aren't an option. Xander's not in the Scooby-space, Spike's not part of the team right now, and Anya's also probably not in a major researchy mode. Major duh to all of that information, but I'll give the girls a pass because they had to ask this shit for the audience's benefit.
The mention of Anya segue magics us to Anya sitting in a bar with a blonde who is sobbing about her boyfriend cheating on her with her fat sister. Anya then goes on a long rambly rant about her relationship with Xander. Sobbing Blonde tries to interrupt a few times with wishes about her boyfriend, but Anya dosn't hear because she's too busy raging.
As she gets to Xander's apologies we magic over to Andrew cowering on the ground of a cave, apologizing to a giant demon. He's promptly taken down by a giant taser-prod Warren has. Andrew takes it and gets in a few more for good measure, but Warren says they need him fresh. The next step of their diabolical plan falls to Jonathan, who looks anxious when Warren tosses him a switchblade that looks like a smaller version of Faith's famous murder knife. (L: It's a weird day when you feel nostalgic for a murder knife.) (S: BUT I DO.)
TARDIS Crypt. Spike is mixing booze into his blood and Dawn arrives to ask if that helps. She's going to sleep over with her BFF Janice, but stopped by to see him though she seems a little unsure of why. She says everyone is pretty mad at him and she's sick of everyone telling her it's complicated. Her presence helpfully clues Spike in on the camera thing so he now knows what happened. Dawn asks how he could do that if he really loved her, because if he wanted to hurt Buffy then he succeeded. With that, she leaves.
Underground, we see another demon like the one The Trio captured go through a squiggly force field thing. Once he goes, The Trio emerges from around a corner. Warren informs the others/us than only special demons can go through it. Jonathan walks up, wearing the skin of the demon they just captured. Ew, ew, ew. Once they push him through, Andrew asks Warren if he thinks Jonathan knows, but Warren says he wouldn't still be there if he didn't. Plus, they still need Jonathan for stuff like acting as the guinea-pig for the dead demon suit. They wind down their conversation about getting rid of Jonathan just in time for him to return with the magical box they sent him in their for. Warren lasers it open. Inside are two little red balls which he conveniently monologues are meant to provide strength and invincibility. Just as Jonathan asks if they still work, a magical blue glowy thing happens to Warren.
K: I stop to have a "JFC, Jonathan and Andrew are morons" moment, because they're both risking their lives for the sake of this venture – Andrew as the bait and Jonathan as the excuse-me-while-I-throw-up demon skin wearing guinea pig – but Warren's the one who sits back, does nothing, and still gets all the power. And continuing with the Warren-is-king-of-the-misogynists theme, his power comes from a pair of balls.
Sweeney: Agreed. Andrew is extra stupid. Jonathan seems to know enough to be concerned, but he's afraid of Warren. I do wish he'd had the smarts to arrange a way to open the damn box himself when he was still on the other side, though.
After a Not Break, a demon appears and Warren tests the Magic Red Balls by fighting it. He makes quick work of the demon. Andrew fanboys about how hot that was and Jonathan says he wants to try but is swatted away by Warren. Warren, in the squickiest voice he can muster, promises to let them each have a whirl once he's done playing with it. Pretty much the same line he used when describing his ex-girlfriend turned rape toy. (You know, just in case you needed to be reassured that he's the most universally loathed character in the Buffyverse with good reason.)
Xander's Gift Apartment. Buffy arrives and the place is decked out in full bachelor fashion. Buffy is there to assure him that Anya loves him and just did a stupid thing because she was hurting. Xander says he gets that, but doesn't understand why Buffy slept with Spike, partially because he feels stupid for all the times he told Spike he didn't have a chance. Buffy somewhat angrily admits that he has no idea how hard it has been for her to be alive again, and adds that she couldn't go to him because he didn't want to hear it. Fair and true. Buffy goes on to say that what she does with her personal life is none of his business, to which he notes that it used to be. The conversation quickly gets super hostile, with Buffy calling bullshit on his right to judge anyone's questionable decision making.
K: A+ and 1430 to you, Buff. Also, I'm pretty sure that Xander lost his right to butt into her personal life when he kinda-sorta forgot to mention the whole "Hey, we can re-ensoul Angel" plan way back at the end of season 2. 
Sweeney: UGH. Yes. I'd almost forgotten about that. "Hey, just to make sure you're totally fucking blindsided if/when, let's just keep this detail to myself."
Xander storms out of his own apartment and we get a moody montage of him and Anya going about their respective lives. He walks the streets of Sunnydale and winds up outside the Magic Box where she's cleaning up.
"It's all a mess," Willow laments to Tara, back in Tara's dorm room. They continue to be adorable and naked because they're having ALL THE MAKEUP SEX. Willow thinks she's finally got something but it'll require more work and she'd rather get back to the sex. Understandable.
Xander is drinking his sorrows away at The Bronze. A pretty brunette talks to him and he makes a weird fish analogy. (Xander + fish = references the show should avoid.) It's a call back to Anya's bar scene because he gets carried away talking about his love life struggles a makes Pretty Brunette super uncomfortable. The Trio arrives because Warren wants to play with his new toy.
Buffy is getting her vampire fighting and slaying and punning on. She makes the kill but gets wounded in action. We cut to her in a bathrobe, limping about as she starts a bath and forget everything I said in the beginning about being totes ready for this because it's like my months of anxiety just flared back up all at once. I'm astonished that I didn't just give myself a heart attack.
Anyway, we hear Spike's voice, noting that she appears injured. He comes into the bathroom and closes the door. His all black ensemble looks particularly strange in this very light, airy bathroom. He continues his creepy barging in on her bath to demand that she talk to him because he feels like it. (FUCKING WEIRD. You don't enter the home and bathroom of someone who has just dumped you to force them to talk to you.)
K: SERIOUSLY. I can maybe understand walking in the front door and standing in the foyer. MAYBE. But going upstairs and into the bathroom while she's preparing to take a bath? NO. NOT EVEN REMOTELY ACCEPTABLE. GTFO.
Sweeney: He insists that he cares about her and only went to The Magic Box to get a spell to make the feelings stop. He smarmily insists that she loves him, and she's all, "Fuck, I can't keep saying this." She periodically holds her back throughout the scene, to remind us all of her recent injury – of which Spike was definitely aware. He then decides that she's going to make her feel "it" again, because she felt it when he was inside her. He forces himself on her, even as she says, "No," and "Please stop," more times than I care to count. She slips on the shower curtain at some point, further injuring her. I forgot how long this scene is, but Buffy continues to plead with him to stop, nearly on the verge of tears. She finally manages to get enough leverage to shove him off her and into a wall. He gets up and realizes what just happened. Buffy stands up, crying, and says, "Ask me again why I could never love you." Spike starts to say something and she shouts, "Because I stopped you – something I should have done a long time ago."
So let's chat, friends and people-who-secretly-hate-me: back when I first became anxious about this scene I trolled the depths of the Buffy fandom and pretty quickly discovered the underbelly I'd like to unsee, especially because the good thing we had going here kept me blissfully unaware. This is my way of saying that the following rant is not necessarily directed at anyone in our comments section (or, where it is, it's tying back to these other points to say, "This is why I said – and stand by – certain things.")
(1) People like to talk about the various scenes in which Buffy says, "No," and then relents (see: every episode I covered that featured Spuffy sexytimes) as some sort of justification. So yeah, I stand by calling bullshit on Spike each and every one of those times and my concurrent rage with the countless people telling me that it wasn't fair for me to call that non-consent because she relented. If one person says stop and the other continues, consent was violated. The fact that she ultimately gave in doesn't change that, and it's become clear to me that this scene was necessary to drive the point home.
(2) People seem to love to talk about Spikeywikey's poor hurt face after he realizes that he almost raped her. FUCK THAT SHIT FOREVER. Rape is a unique bit of violence in that it's one of the few crimes with vast cultural systems propping it up, undermining victims, and protecting perpetrators. It's the rare crime in which coverage near-universally laments the tragic lost future of convicts. Rapists already get an unwarranted share of public sympathy for all the ways we encourage them to believe that it's not rape. I might be willing to talk about the fallout of an accidental homicide in a different way because we don't have a vast cultural system telling murderers that they aren't murderers. Anyone who wants to fixate on how sad the rapist was when he realized he was a rapist is participating in that system.
(3) Arguments that focus on Buffy's strength are also significant contributors to rape culture. While I understand their reasons, it's a tad frustrating that Buffy had to be injured here because it plays to notions that victims are inherently weak. The accepted portrayal of rape – the way that we can all say, "Oh yes, that's definitely rape!" ("LEGITIMATE RAPE") focuses on violence. It's absurd (and yet so common!) to suggest that a victim who doesn't go down kicking and screaming has been any less raped. Forcing your body into someone else's unwilling body is an act of violence. You have every right to feel however you feel about this scene. You can't control feelings, I suppose. Still, pushing certain interpretations of this scene is dangerous. The show doesn't exist in a vacuum. The larger cultural context from which we approach and discuss it is still there and I'm not going to apologize for pointing that out.
So that's that.
K: A+ to all of that, Sweeney. To further what you said in (1), this is a completely different "no" to all the previous Spuffy "no"s. Then, her lack of consent was swept past/under the carpet because she relented almost immediately. Here? She's in tears, she's screaming in pain, she's yelling "no" at the top of her lungs repeatedly. There is LITERALLY no way that he didn't know what he was doing. 
Sweeney: To be clear, you're saying that anyone who uses the, "WELL LOOK AT ALL THE FUZZY CONSENT?" argument to defend the attempted rape is ridiculous because this couldn't have been any less fuzzy, correct? I get you on that, because I fucking hate that argument, though I'm not really sure how productive it is to sit here and dissect someone else's "No"s.
Lor: Of course, I agree with all of Sweeney's points and I just want to emphasize something: we are watching this attempted rape with the "privilege" of seasons worth of narration. We know of their mutually abusive relationship and shady past dealings with consent. We know how Spike reacts (once Buffy stops him) and you all know where his arc leads him next. It's easy to bury the attempted rape in all of this context, but just to emphasize what Sweeney pointed out, this is dangerous. Adding context to rape is the very essence of rape culture: It was a mistake. He was a good boy. She would never. She was asking for it. He was drunk. She was drunk She was a slut.
Every rape has it's before and after pieces of the story, but when we privilege the aggressor and (in this case) his story over the victim and the action… well, this was never going to end well for me.
Sweeney: Agreed times infinity.
If you're still with us, let's move on: Jonathan and Andrew are chatting at The Bronze and Jonathan starts to suggest to Andrew that they split off or get some Warren-insurance, but Andrew cuts him off, insisting that Warren is the boss. Elsewhere, Warren is being a giant skeezebucket, hitting on some girl. The girl's maybe-boyfriend struts up and he's kind of a possessive smarmadouche himself. We quickly learn that he was a former tormentor of Warren's back in elementary school. So Smarmadouche contributed to the making of this sick little fuck? Thanks, bro. Smarmadouche tries to fight Warren, but he's got MAGIC BALLS now, a glorious contribution to the dick-measuring contest that essentially defines his whole power hungry psychosis. A bar fight quickly ensues and ends, with Warren telling the girls at the bar that the tab is on "Daddy." (K: *vomits repeatedly*)
Xander appears and quips that the daddy thing is undermining his game because incest is not that attractive. (I'm still annoyed with you, Xander, but THANK YOU for this. Not that we don't have plenty of alarming examples to the contrary, but thanks all the same.) Warren quickly moves on to asking about getting with Anya, since she's now sleeping with vampires anyway. Xander punches and is facepunched across the room. I hate that Warren was the one to do it, but I can't say that wasn't a tiny bit gratifying. Particularly since that's where it stops – Jonathan comes to tell Warren it's time to go. He quickly gets very deferential – it's all your call – but says they're going to miss their big date with doom if they don't leave ASAP. Warren concedes, telling Andrew that it's NBD if he sics the slayer on them.
Chez Summers. Xander enternounces that his face found Warren. He stops short when he sees Spike's black leather jacket sitting on the banister. He rages up the stairs and asks Buffy if this is what she calls not seeing Spike. He stops when he sees that she's been crying and has a bruise on her leg. He asks if Spike hurt her and then gears up to go off looking for a fight, but Buffy tells him not to. Deeply as I hate Xander's unjustified judgey feelings about Buffy's love life the rest of always, I can't fault him for wanting blood right now. Willow appears because she's got info. She asks what's wrong, but Buffy says it's nothing and changes the subject back to Willow's discovery.
K: This bugs me, because it seems out of character for Willow to be all "Oh, cool. We'll just sweep past the fact that you're crying on the bathroom floor." If I found my best friend in that situation, I sure as hell wouldn't buy it being nothing and move on with the conversation.
Sweeney: I hadn't thought about it because I was pretty much in GET THIS SHIT DONE mode by this point, but I totally agree with your point here. I suppose Willow could be waiting for a later time to sit her down and talk about it, just the two of them. Still, it seems way weird. Still, I'd find Willow's reaction less annoying if they had just added additional, "Buffy, please, what's going on?" / "SERIOUSLY NOTHING DROP IT." Exchange, you know? Something to indicate that Willow recognizes that her best friend is not OK.
At the table, Willow and Tara explain that they've deciphered everything but one set of papers which are in a language they can't identify. Xander, holding an ice pack to his face, says that this it's written in Klingon and they're love poems though it has nothing to do with their insidious scheme. Said scheme includes plans for a lot of banks and other places where they can do some serious robbery. They're pretty sure they know where The Trio is headed tonight. Xander warns that Warren has "gone all Mighty Mouse," but Buffy isn't concerned.
TARDIS Crypt. Spike is having rape flashbacks while he pours himself a drink and he shatters the glass with his hands. The adorable Clem arrives with hot wings, not realizing that it's a bad time. Spike is asking what he's done and what she's done to him. Clem quickly realizes that he's talking about Buffy and offers his bro support:
Clem starts to talk about how being resurrected can make people go wonky. Spike then starts to wax poetic about the chip making him feel shitty and how simple things were before the chip and Buffy. He can't be a monster or a man so he's nothing. Clem says that things change, and Spike ominously adds, "
If you make them.
"
Speaking of change, the latest and greatest in inexplicable growth in supposedly tiny, who-would-want-to-live-on-a-hellmouth Sunnydale: they have an amusement park! (K: To go with their zoo, international airport, university, and shipping port. And a population of 38,500. LOL, OKAY SHOW. WHATEVER.) A truck is there to take away the cash for the night. As soon as they start to drive off, Warren uses the power of his MAGIC BALLS to overturn it. Andrew's excited to get to use them but Jonathan's pretty sure that's never going to happen. Buffy jumps on top on the truck, punning. (K: I stop to note that the armoured truck company is named SHIELD. Avengers shots? Also to note that she's wearing the Acorn Hat again!!) They fight and it's an awkward, super obviously choreographed fight with lots of pauses for jumps and spins and the like. A few comments about what a misogynist dick Warren is are thrown in there. The fight appears to be over when a bunch of rocks crush Warren, but just as Buffy turns to address Jonathan and Andrew, Warren emerges from the rubble.
Lor: Look, I know Warren's got Magic Balls now, but I cal bullshit on his being able to keep up with Buffy in a fight, just because of sheer strength. This guy has never thrown a punch before, and we learned today that B can avoid a swarm of saws. Maybe I just resent Warren even landing a punch. I hate him.
Sweeney: After a Not Commercial Break I pause the episode and laugh and laugh because I now realize exactly what part of Six Flags Magic Mountain this scene is being shot in! Fun. The fight continues, with Warren clearly winning. Just as he's gloating about his brilliance (with Andrew shouting, "Kill her!") Jonathan jumps on Buffy's back, appearing to attack her but whispering that she needs to destroy THE MAGIC BALLS.
K: I found this kind of interesting, because it's Jonathan more than the others who knows what the Slayer is. Jonathan, who presented her with the Class Protector award at the prom. Jonathan, who Buffy stopped from committing suicide. Jonathan, who wanted to be liked so much that he magicked himself into the Scoobies' lives. He knows who Buffy is, and how important she is to Sunnydale's continued survival. He's made a ton of shitty decisions this season, and I'm not defending those, because there's no possible way to defend them. I just think it's interesting that they had Jonathan tell her how to stop Warren.
Sweeney: It goes a long way to redeeming Jonathan. I hate The Trio for lots of reasons that I have mentioned elsewhere, but Jonathan definitely gets an interesting little arc.
Warren finally has Buffy down and takes a beat to tell her to say, "Goodnight bitch," which gives her enough time to seize/destroy said magic balls before saying the thing and kicking him.
Lor: And we all cheer as Buffy emasculates Warren, making his worse nightmare come true.
Sweeney: Just as Buffy's about to finish him off, he busts out a jetpack and flies off, promising to get her later. Andrew has one too, but Jonathan doesn't. Unfortunately for him, Andrew's a moron and launches his while standing under a wooden awning. He hits his head and knocks himself out.
Jonathan and Andrew are being taken in by Sunnydale PD (LOL) and while Jonathan is furious that he was left out of the escape plan and their imprisonment, Andrew is distressed that Warren just left him there. "He never really loved…hanging out with us."
On the edge of town, Spike is riding off into the night (SMOKING!) ominously telling Buffy-who-can't-hear-him that she should get nice and comfy because he'll be back for her.
K: Ugh.
Lor: This entire parting scene just solidified why I cannot stand Spike. It's not only his actions, but his character. He's so overwrought sometimes.
Sweeney: The next day it's bright and sunny at Chez Summers and Willow and Tara are happily getting dressed in Willow's room. Tara sees that Buffy's in the back yard and Xander has arrived, hopefully to make up, which she says is the best part.
Buffy's checking for additional cameras, since Warren's still out there. Xander assures her that she'll find him, since he won't be much good without his friends. They sit down to chat and Xander concedes that while it hurt that Buffy didn't tell him, he gave her plenty of reason to expect him to be an ass about it. They both admit to having made a lot of awful decisions lately. Xander says he doesn't know what he'd do without Buffy and Willow and they have a makeup hug.
That hug is interrupted by the arrival of Warren, angrily shouting  about how he's not going to let her get away with that before pulling out a gun and firing shots towards Buffy and Xander. He runs off, still firing. Up in Willow's bedroom, we see her nice white shirt suddenly splattered with blood. We cut back and forth between Xander jumping up to see that Buffy has been shot in the chest and Willow grabbing Tara as she collapses after also taking a shot to the heart. Xander tries to hold a hand over Buffy's wound. Willow grabs Tara and sobs. The final shot is Willow looking toward the ceiling, with full on Dark Magic Eyes.
TARA. I can't even with how awful it is to lose Tara. In this season of tragedy it stands to reason that we'd lose the most grounded, understanding, empathetic member of the team. This one cuts deep. That gifset is horrifyingly painful to watch.
K: I mean, we should have known it wasn't going to end well when a) Willow and Tara were all happy at the start of the episode, and b) Amber Benson was added to the credits for the first time ever. But OH GOD, ALL THE TARA FEELS. I just can't with this episode. It's indescribably painful to watch for so many reasons. So in summary? NOPE TIMES INFINITY.
Lor: I expected the attempted rape but I did not see Tara's death coming. I yelled at Twitter for a long time after this ending scene. My heart was crushed.
Sweeney: Indeed. We should have, because TROLL, but still. This was a rough and painful episode and it has left me with so many feelings that I'm now trying to dissect, but I'm not sure what there is to say here. Even at the show's feelsiest moments in episodes past, we still used this end-of-episode space to process, at length. This was a little more draining and there's not much left to say.
 Next time: Grief and trauma abound and Willow goes back to magic in a bad way on Buffy the Vampire Slayer S06 E20 – Villains.