Previously: Connor and Cordy have end of the world sex and it broke us.
—
Habeas Corpses
Lorraine: It's still raining hell fire. Angel turns away from where he's been watching Cordy and Connor…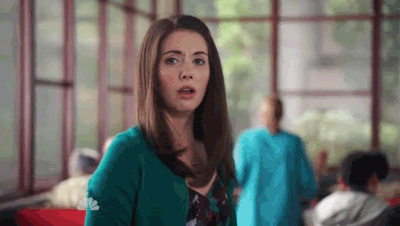 You know. He takes out his legit anger out on a nearby door. There is lots of off screen angry grunting and punching.
Sweeney: This is our way of letting you know that you missed nothing when you were leaning over dry heaving.
Kirsti: Seriously, all you missed was a dude in need of anger management therapy.
Lor: Electric cellos.
After the credits, Fred is listening to a radio report. Officials are calling the hell fire a mixture of earthquakes and meteor showers and are advising people to stay in their homes. The phone rings and Fred answers quickly. It's a client on the phone, and Fred half-assedly tells the woman not to panic. Mid-conversation, Lorne, Wesley and Gunn enter the Brooding Hotel. Fred drops the phone, runs to Gunn and hugs him. She thought he was dead. Gunn knows the feeling. It was the end of the world (almost) and all he wanted was her. Wesley walks by them and scowls because he's a hater. I don't like Frunn, but Wesley is a straight hater.
Fred is all, "oh yeah, I'm glad you other guys are safe too," and asks where Angel is. They were separated from him, though Gunn assures her he'll be back soon. He asks if she's okay and they look at each other deeply as Fred says she's fine. She just went for some fresh air and didn't expect the world to almost end. She sighs as she points to the Eye of Fire papers on the floor, saying she clearly missed some stuff. Gunn wants to give updates later and go fight the bad beast now. Wesley says that isn't what Angel would do. Gunn brats back, "Thanks for your opinion, and I don't remember asking." Wesley is a hater and Gunn is a brat.
Sweeney: Such winning characters! I sure do care how they'll get out of this apocalypse!
K: Especially as Wes keeps creepy staring at Fred from the background. DUDE. THE FRIENDZONE IS NOT A THING. GET OVER YOURSELF.
Lor: Fred kind of breaks it up by asking what demon-y thing they are talking about. Lorne is mixing a drink, because yep. That's exactly what would need to happen after some hell fire. (S: Because Lorne is obviously totes the best character. Lorne >>> Everyone.) (K: YUP. You could get rid of all the other characters and just make it Lorne and I would be totally fine with that.) Lorne tells Fred it's a big, possibly invincible demon, the one he saw when read Cordelia. Fred gently suggests to Gunn that they do wait for Angel, though Gunn protests. Angel of course enters just there. Or maybe he was standing in the shadows the whole time, waiting for someone to say his name so he could be all, "WHO ME?" You never know.
Angel stands at the entrance and Fred notices that he's hurt. He starts to say that he'll be fine, but none of us who saw what he saw will ever be fine. He instead says they will talk about it in the morning. Angel heads upstairs and Fred asks if anyone knows about Cordy and Connor. Angel says they are fine, but doesn't answer any follow-up questions. The Gang comment on how defeated Angel looked and Wesley says, "Can't blame him. No one likes to lose, whatever the circumstance." Then he looks at Fred so hard, it's almost an audible, "A-HEM."
Sweeney: Gross. So Gunn sees her as a doll that must be protected and Wesley sees her as a trophy that he lost. Awesome. Fred/Nobody, please.
K: Excuse you, Sweeney. I ship Fred/Science. It pairs nicely with our Angel/Art OTP.
Lor: I like it.

Brain Bleach Attic. Cordy and Connor are sleeping. Cordy is the first to stir. She looks at Connor and realization dawns. We watch her turn away from her, shock written all over her face. THAT'S WHAT HAPPENS. (S: YUP. NO PITY COMING FROM OVER HERE, GIRL.) Connor wakes and he places his gross baby hand on Cordelia's shoulder. He asks if the world ended. Lorraine: Yes. Cordelia: Not exactly. Connor kisses her shoulder and she finally looks in his face. She asks him to stop making that happy puppy face because it makes it harder. Connor has no idea what's going on, even as Cordy starts to give the, "last night was special," talk. It was special but it can never happen again. Connor puts his pants on and storms off.
K: Thank God, because I was literally fighting the urge to vomit when he started getting all snuggly.
Lor: Trapped in the Closet Apartment. Wesley is going over some of the Eye of Fire papers when there is a knock on the door. It's Lilah, and she sighs deeply when she sees Wesley, relieved to see he's alive.
He's stiff with her, though he does ask how she is. She slept at Wolfram & Hart and can see that Wesley was in less safe circumstances. She says she can make him feel better but he pulls away from her and turns his back. He can't do this anymore. Lilah's all, "yeah, yeah, heard it all before," but Wesley repeats that it's over. Lilah can tell he's serious, though I don't know how exactly, seeing as how HE'S ALWAYS GLARING. Anyway, after the hell fire thing last night, Wesley figures a day of reckoning is coming and he's choosing a side. Lilah points out that he happened to pick out the side with the girl of his dreams. He says this isn't about Fred or anyone, just about right and wrong. He admits he's made mistakes and Lilah says he's making one now. She tries a different approach and tells him she could wear the glasses again. Wesley: Don't embarrass yourself. Woof.
Sweeney: I'm trying to be proud of Wes for doing the right thing, but saying shit like that doesn't help.
Lor: Wesley says there is a line, black and white.
And then she says that Fred clearly likes black anyways. BECAUSE GUNN IS BLACK. Lilah, for all her complex emotions and vast multitudes of evil, is a top contender for the Best Villain Award, if you ask me.
Sweeney: YES. This scene probably evoked more feelings (not counting, "MAKE IT STOP!") than anything else we've seen lately. Lilah's totally evil, but her heartbreak gave me a tiny bit of feels. Her relationship with Wes, though squicky at many points, was basically the least evil thing she had going for her and Wes just threw it in her face as the last evil he needed purged from his. Shit burns.
Probably running off to do some Grade A villaining is the ideal solution to this problem, girl.
K: Truth. I had Lilah feels over this scene, mostly because Wes is such an epic twat about things, and am totally on board with Grade A villaining.
Lor: Brooding HQ. Gunn and Fred are researching but not finding much. Cordelia walks in and Gunn asks how her night was. She struggles for the right words and Fred pipes up, "Scary, nasty and nervous making?" And it's true because of the hell fire, and because of Connor penis. Cordy just flatly answers that the sky should not be made of fire. Fred directs Cordy to where Angel is "hibernating in his cave."
Cordelia opens the door to Angel's office and tentatively says she wants to talk about Connor. Angel says he already knows, but it's clear they are talking about two different things. Angel doesn't even know what to do with himself. He walks out of his office, he walks back in. Cordelia explains about the Beast rising up in the same spot Connor was born. Angel is shocked.
Angel: What are you— You think Connor's connected to this evil thing?
Cordelia: Me? God, no. He's a sweetie pie.
Angel: Then why're you telling me?
Cordelia: Because your son stormed out this morning, and he really does believe it.
A sweetie pie.
K: YUP. Also, Angel? Quit being a dick and USE YOUR WORDS.
Lor: Nah. As far as I'm concerned he can not use his words for a little longer.
Wolfram and Hart. Lilah is in her office making a threatening phone call. Daniel Dae Kim is on hand, fixing her coffee and helping her make said threats. After she hangs up, Lilah meanly asks DDK why he's still even there. He has a report that confirms that the Beast caused the rain of fire, though they don't know why he did it. Lilah says he did it because hell beasts do what they want, though that makes her new job of cutting a deal with this demon all the more difficult. DDK's all, "WHATEVS," and leaves Lilah's office only to walk back in, backwards, Connor walking in front of him.
Connor pushes DDK out of the way and tells Lilah he has some questions about why he's alive and who he is. Lilah goes on about those important questions and all they can do to help him answer them, but she pushes the silent alarm as she talks. Two guards show up behind Connor and she finishes her speech with, "and we'll slice you open and start poking around." Connor just knocks the guards out really easily, so maybe that wasn't a great plan, Lilah. He pins Lilah up against the wall by her neck and says he wants to find out how he's connected to the Beast. Lilah is suddenly more accommodating. Plus, she doesn't have to really do much because the building starts shaking and the lights go out, indicating that the Beast has come to them.
Daniel Dae Kim uses a walkie talkie on one of the passed out guards to call down to the front desk and then gets to hear lots of pain, slaughter and destruction noises. Lilah sends DDK down to investigate. He hesitates but she asks who is scarier: a giant murderous demon or me? He heads off. Connor leaves too and Lilah grabs a gun out of her desk.
K: I agree, DDK. Lilah is definitely scarier than The Beast, who is possibly the most boring villain to ever turn up on this show.
Lor: Downstairs, it's a bloody mess of lawyers. People scream as the camera pans across the floor, littered with bodies, until we hit the Beast's hoofs. We pan up to see he's holding a severed head, and generally looking really pleased with himself.
We cut to a woman pressing an elevator button repeatedly, to no avail. People are crowding the stairs and frantically trying to get out alive. Connor is power walking through a hallway, Lilah close behind him, right until she figures out that he's heading to try and kill the beast. Then she's all, "OKAY. BYE NOW."
Sweeney: Legit choice.
Lor: A group of those stair people reach the ground floor only to find themselves face to face with the Beast. He lets himself into the stairwell and closes the door. We cut to the Beast walking along a hallway, killing off anyone he encounters. He stops in front of a supply closet. Inside, DDK is rummaging around, knocking rolls of toilet paper off a shelf. The Beast grabs DDK by the neck and snaps it. HUH. WEIRD. I didn't expect DDK to die, because his character has had no general purpose. But, like, bye! RIP.
K: Sorry we didn't care enough to come up with a nickname that wasn't just the name of the actor who plays you! 
Lor: Daniel Dae Kim is always Daniel Dae Kim.
Connor is making his way around the dead bodies when he hears gunshots and heads to investigate. It's Lilah, futilely attempting to shoot the Beast. It grabs the gun out of Lilah's hands and pushes her onto a table. Beast plunges its finger into her abdomen and EW EW EW. The Beast shifts its attentions when Connor enters the room. It knows Connor by name. It also knocks Connor the heck out.
Lilah uses that as her chance to escape the room. We watch her struggle down a hallway. The Beast is soon trailing her. Someone grabs her and pulls her into one of the offices. It's Wesley. Lilah is weakened, though she manages to explain to Wesley that the building automatically shuts down under a full scale attack. Metal shutters fall across the window behind them. The Beast is now outside the room they are in. Wesley grabs Lilah and carries her out.
Wesley buys himself some time by throwing a grenade at the Beast. Lilah tells him there is a way out of the locked down building in one of the supply closets. Right outside of it, they see a dead Daniel Dae Kim. They don't have much time to think about the slain, though. Into the supply closet they go. Inside, they start tossing the toilet paper, much like we saw DDK doing earlier. Lilah locates a lever that opens a door to a chute.
The Beast rips off the door to the supply closet which is now empty. (K: The Beast looked hilariously surprised when the door came off in its hand) Cut to Wesley and Lilah landing hard after their trip down the chute. They both sit up as Lilah asks now what. Wesley tells her to move, change her name, go underground and generally get as far away from the big demon trying to kill her. Wesley walks away from her but she calls out to him. Wesley glares. I know you are surprised by that development. Lilah tells him that Connor is trapped upstairs.Wesley doesn't say anything. They just look at each other for a beat before they walk off in opposite directions.
Sweeney: They both give excellent broody stare-off. I wonder if that was a casting requirement for this show — like a "stare broodily into the camera" component of the audition process. Probably.
Lor: Definitely.
Brooding HQ. Gunn is reading from a book and tapping his pen rhythmically. Fred snaps at him for it, but she apologizes after he explains it just helps him think. They are all on edge. Cordelia says they are all tired and Angel passive aggressives, "Wonder why." Lorne is sleeping on the couch, but Angel wakes him up. We stand behind naps pretty hard here at Snark Squad and thus cannot stand by this action. Even if it was almost an apocalypse.
Sweeney: Letting your teammates nap over all other priorities is critical to building a trustworthy team. #SnarkCode
Lor: We've actually had emails that were all, "hey I was supposed to do this thing, but I want to nap." The reply is always, "YES. GO NAP GIRL. NAP SO HARD."
Anyway, Gunn has an a-ha! moment as he points out that the alley the Beast appeared in isn't only the same place Connor was born, it's also behind where Caritas used to be. (K: It took them THAT LONG to join the dots on that?! Like, they hid in Caritas, Holtz attacked, they ran from Caritas into the alley, Darla staked herself.) Lorne confirms that the whole block was an inter-dimensional hot spot. Wesley enters at that point, looking grim as ever, causing Gunn to snark about the imminent arrival of more bad news. Gunn brats at Wesley as he tries to get the news out: Connor is trapped inside Wolfram & Hart. Angel, bless his heart, doesn't suggest leaving the little critter in there. They are going to go after him.
Wolfram & Hart. DDK's dead body is in the foreground of the shot and we watch as Connor walks past it. After he does, DDK's eyes fly open. That moment would've caught me more off guard if the episode description didn't say the thing about a zombie army. Stupid episode descriptions.
Sweeney: I didn't read that description, but I have been commenting as I watched today, so I was surprised. Mostly, I just thought, "Hey, guess he'll get to serve a tiny bit more purpose before re-dying his zombie death".
K: I didn't read the episode description either, but the word "corpses" in the episode title was kind of a give away.
Lor: After a cut to black, we're back at the Brooding Hotel. Angel's got a sword and Gunn is picking out some weapons. Fred is fangirling over the fact that Wesley has inside information on Wolfram & Hart. He's all, "just doing my job," about it. Cordelia tells Angel that Connor is going to be fine because he's special and a champion just like his dad. EW EW EW EW.
Sweeney: Angel's face says he also +1s that EW.
K: At least this means we can kill a few brain cells with CHAMPION SHOTS??
Lor: Angel says someone should stay and hold down the fort. Lorne happily volunteers. Gunn points out that last time they went up against this demon, they got their asses handed to them. Angel says the plan is to grab Connor and get out. Should they come across the Beast, they should run like hell. Cordelia picks up a knife and says the plan works for her. Angel grabs the knife and sets it back down, telling her to stay with Lorne. Angel fakes his way through a, "it's too dangerous. I can't have you there," speech which he ends by telling Fred to get a move on. Fred is a part of the club; Cordelia is not. That's what happens when you sleep with boss's emotionally stunted son. They leave and Cordelia is not happy.
Also, I'm sorry, but I am loving passive aggressive Angel.
Sweeney: His general, "I really can't look at/talk to you right now," reactions are spot on. Neither can we, bro. Neither can we.
Lor: Sewers. Wesley shows them where he earlier came out of the chute. Gunn and Wesley are bickering again and Angel tells them to shut up and get it together so they can rescue his son. Angel then spidey jumps up the chute and drops a line down to the others.
K: I would never be able to climb that rope thing. 
Lor: Me either.
Inside, the Gang encounter the mass death scene. It really is chilling. They walk past a body, a woman who I believe was earlier repeatedly pressing an elevator button. Her eyes flash open. They walk past the supply closet DDK was dead outside of and Wesley notices DDK's body is gone.
In the conference room where they expected to find Connor, they only find that he's gone. Angel takes it as a good, he's still alive sign, though Gunn thinks Wesley's intel was wrong. (S: Gunn is due to get punched in the face at this point. Shut the fuck up.) Thankfully, Angel's super sense of smell is on hand to settle the argument: he can smell Connor. He sends the gang off to sweep the floors and takes off alone.
On the 7th floor, Angel finds Connor. He gives him a big hug and tells Connor that they have to get out of there. There is no use fighting the Beast. They have other concerns though because they come face to face with Dead DDK. Angel knocks him about a few times as he tries to explain to Connor what a zombie is:
Angel: It's an undead thing.
Connor: Like you?
Angel: No, zombies are slow-moving, dimwitted things that crave human flesh.
Connor: Like you.
UM, TO HELL WITH YOU CONNOR. HE'S TRYING TO SAVE YOU. Jerk.
Sweeney: Jerk, but also, I giggled. I giggled especially because I legit had that thought about 10 minutes ago, trying to wrap my head around zombies in a vampire universe — specifically because I started to type "undead" re: DDK, and it felt weird. So whatever. I LAUGHED. NOT SORRY.
K: It's okay, Sweeney. I laughed too.
Lor: Wesley, Fred and Gunn aren't having a better time. They get attacked by zombies coming from all sides. They manage to escape into an office, but not before Gunn gets bitten on the forearm. Wesley looks concerned about the bite, but he doesn't think it will turn him into a zombie. Gunn asks Wesley to get rid of him quickly if he does turn. Wesley asks for the same favor in return and Gunn is a bit too eager to consent.
The zombies start to break down the door to the office. Fred heads to the other door and breaks the lock with the hilt of her sword. She calls for the guys, though Gunn tells Wesley to take her to safety. He stays behind to fight them.
K: OH LOOK. Gunn making decisions on Fred's behalf again. WHEEEEEEEEEEEEEEEEEEEEEEEE.
Lor: Hallway. Angel exposits to Connor that the only way to kill a zombie is to stop their brain activity. Luckily, they are slow and stupid. Unluckily, Angel and Connor are pretty much surrounded.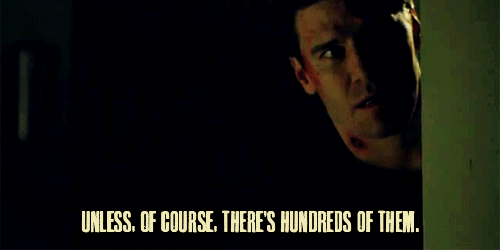 Wesley and Fred don't find much safety as they are also surrounded by zombies. They chat a little about if the Beast is the one reanimating the dead, before Gunn joins them, seemingly successful in his one man zombie killing spree. Next, Angel and Connor also join the group. Wesley only knows of the two supply rooms with exits, but Angel thinks they are too far away, given the zombie infestation. He remembers the white room, and suggests paying the creepy little girl living there a visit.
Sweeney: Bonus giggle for the character moment (remember those!?) when Gunn says something about where his heart's in the many-floors-of-zombies-v-creepy-little-girl debate and Fred quickly disagrees in favor of the little girl.
Lor: In order to get up there, they need Fred to rewire the elevator and bypass the building shut down. She gets to work while the rest of the Gang fend of zombies. (K: Um. The power is out to the entire building. How did she overcome that??) (L: MAGIC.) Once Fred gets it working, they join her in the elevator, and Angel punches in the code he remembers thanks to his photographic memory. It doesn't work the first time because of reasons, giving a moment of suspense as the zombies get closer and closer. One of them is DDK, and out of compassion, Gunn chops his head off. Thankfully, the doors close just before the rest of the zombies reach them and up they go to the white room.
There, the Beast kneels over the creepy little girl's body and is sucking some black smoke out of her. The little girl turns towards the gang and tells them, "the answer is among you." All done drinking the black smoke out of the girl, Beast gets up and walks slowly toward the Fang Gang who brace themselves. The little girl reaches out her hand toward them and chants quietly. The scene fades to white and the Gang find themselves back in the Brooding lobby. Lorne looks up from his book to find them all standing there. He considers his martini suspiciously.
Sweeney: Amazing. Many things on this show give me that face too, Lorne.
K: YUP.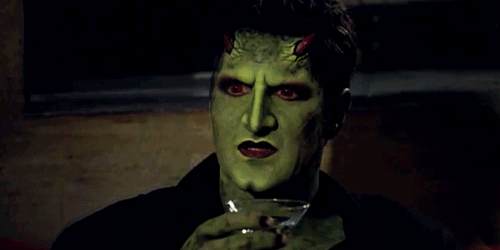 Lor: We're going to get so much use out of that gif.
Angel deduces that the creepy little girl sent them home. Then he sees Cordelia sitting there and he says, "oh." Angel turns away from her. Connor calls after his dad, but he ignores him and heads toward his office. Cordelia hugs Connor. Between Gunn and Wesley, they rehash the Beast besting the ancient evil disguised as a creepy little girl thing for Lorne and Wesley concludes that it's going to take a power stronger and smarter than they are to defeat it. Um, what is, "the answer is among you?" No? Just a guess.
Cordelia, who keeps plowing ahead despite this cold shoulder, enters Angel's office and says she was really worried. Angel deadpans, "I bet." Cordelia says she's just happy everyone is safe and together again. Angel: Me too. Now, take your new boyfriend, and get the hell out of here.
Maybe it was the fact that today's corresponding Buffy episode was so aggressively mediocre, or the fact that the Wolfram & Hart scenes were genuinely chilling or the fact that we got to watch Angel be a jerk to Cordelia, but I didn't even hate this episode!
Sweeney: That's a high mark for Angel S4 episode! "3/3 DID NOT HATE." Good job, episode!
K: And on the plus side, Cordy seems to have good hair again. IT'S A MIRACLE.
Next time: The Beast is trying to turn off the sun. Legit plan in Angel S04 E09 – Long Day's Journey.