Previously: Giles came back to Sunnydale with a few Potentials and Buffy got her ass kicked. But then she gave a good, rally the troops speech, so that was good.
—
Showtime
Lorraine: Sunnydale Bus Station. A young woman of color (LOOK KIRSTI) (K: Season 7, otherwise known as "that one time Sunnydale had POC characters who survived more than two episodes…) who is wearing some Overalls of Overall Sadness gets off a bus. I don't actually know if she's sad, but it's been a while since we've had overalls and I wanted to call them that again.
Sweeney: Season 7 has a lot of nostalgia to deliver and those overalls were definitely plucked from early season Buffy's closet.
Kirsti: Plus, it lets us bring back a tag that's been languishing unused since season 3. HURRAH.
Lor: Overall Girl goes to a payphone. She picks up the attached phone book (LOL) and tries to look someone up, but the pages are missing. A shadow creeps up next to her, and it's a Rage Ninja, or as the show would have you call them, a Bringer. Overall Girl is surrounded by Rage Ninjas. She slumps against the wall, more resigned that I'd expect a potential slayer to be, but thankfully for her Buffy is on hand to take them all down, with some punning to boot.
That all done, Buffy greets Overall Girl, Rona, and says she'd only just learned of her arrival. Rona was under the impression she'd be safe in Sunnydale and Buffy is all, "suuuure. Safe with me." Her follow-up to that, though, is "the next time you get attacked…" Rona is understandably displeased. Buffy welcomes her to the Hellmouth.
Wolf Howl.
Willow can't get comfortable, sleeping on the floor in a sleeping bag. Weirdly, Kennedy is just watching her. Like, straight in the dark, propped up on one arm, watching her. (S: SUPER WEIRDLY. STOP IT, GIRL.) (K: Seriously. Willow is decidedly NOT giving off "come hither" vibes. Tone down the creepy juuuuust a touch.) She continues to come on super strong by telling Willow to hop up in the comfy bed with her. Willow plays like she's perfectly fine on the floor, just uneasy since Buffy is out grabbing another Potential. Giles has the coven looking for more of them, so there should be more coming. Kennedy says that if they don't get another bathroom with this many girls in a house, things might get ugly. She isn't speaking from experience, though, because she grew up in a house with wings. Like, sections not appendages that allow it to fly. You probably didn't need that clarification, but I like to go the extra mile.
K: I approve of this clarification because the idea of a house that could fly suddenly makes Kennedy much more interesting.
Lor: Well, none of that. She meant sections.
Kennedy doesn't want to talk about her past, though, she'd rather hear about Willow's witchcraft deal, asking, her to show a trick. Willow's all, "yeah, no. Go to sleep." There were some strong feelings about Kennedy in the last post's comments and one scene does not a character study make, but all I kept thinking was, "YOU ARE NO TARA MACLAY." Then again, when Tara showed up, I was all, "wtf. Who is this chick?"
Sweeney: I don't remember her enough to have feelings, but throughout this whole scene she definitely needed to chill the fuck out.
Lor: Downstairs, the other Potentials aren't sleeping either. Molly tells the story of Annabelle being a big pansy and running away, but I'm only half certain she's speaking in English. A blonde Potential who has a southern accent for like 1.5 seconds tries to blame Buffy for Annabelle's death but Molly's all, "nuh-uh," 'cause if you're stupid enough to run away, it's like natural selection at that point. Something like that. A brunette Potential who only has an accent I don't entirely catch on the last word she says AND IS MIRANDA FROM LIZZIE MCGUIRE adds that the OG Vamp messed up Buffy pretty bad anyways. FELICIA DAY (whose avatar I will always want to date) corroborates the ass-whooped story.
Sweeney: I know everyone else was all pumped for Felicia Day and YAY FELICIA DAY, but mostly OMG OMG MIRANDA!
K: I am old and therefore have no idea about anything from Lizzie Mcguire, but Felicia Day turning up is the most excited I've been about this show in approximately FOREVER.
Lor: At this point, Xander tells them that he needs his sleep. (S: The lone employed person at this slumber party.) From in the corner of the room, Andrew tells them to either keep the chatter down or speak louder so he can hear them. None of these things happen because Buffy arrives with their new guest. Rona's first question is why Andrew tied to a chair. Giles enters and sends Molly to show Rona around the kitchen.
Still in the living room, Buffy tells Giles about the Rage Ninjas that welcomed Rona into Sunnydale, meaning that The First knows they are gathering Potentials. Giles makes a mental note to warn the coven to be careful. Buffy wants to know how she can hurt The First, but Giles still doesn't know much about their enemy. Even Anya went hunting around for information from demons and got nothing. On top of that, they also don't know much about the OG Vamps, other than what won't kill it.
From his Shame Corner, Andrew asks Giles how Buffy's going to save Spike if an OG Vamp is guarding the entrance. Buffy begrudgingly admits that Andrew has a point. The blonde Potential, aka Exposition Potential, is all, "oh, Spike the vampire who has been killing people, say wuh?" Yeah, thanks girl. We remember. Buffy tries to explain Spike, but she can't, much like the very writers responsible for this show. Stutter away, girlfriend. Stutter away.
K: Exposition Potential's really terrible southern accent makes it sound like she's saying "Spark" in a really terrible, drawn out attempt at an Australian accent. It's even worse than True Blood's Bee-yull and Sookuh.
Lor: Exposition Potential, whose real, real name is Eve, asks if they have any sort of plan. Buffy's working on it. Giles says there is one thing they haven't tried yet, but Anya jumps up and protests. She is not a fan of this plan, a plan revolving around visiting an oracle creature in a dark dimension. Just as long as no one is going to a cave, I should be okay.
Speak of the souled devil, here is Spike, chained to a wall. Some Rage Ninjas approach but Spike takes them out and runs away, only to come across Buffy, dressed in a dainty, light colored top. They smile at each other and Spike wakes up, still chained to a wall. First!Buffy, dressed in a dark top, knows what Spike was dreaming of. First!Buffy tries to convince Spike that Buffy doesn't care about him and won't face the OG Vamp just for him. First!Buffy keeps villain speeching, but Spike is muttering something under his breath. "She will come for me," he says over and over again. Aw. I like that better than, "she believes in me." First!Buffy gets up real close to his face and says, "no, I won't."
In an alley, Anya is asking a demon with a really deep hairline to open the doorway she needs, but he's not having it on account of Anya broke his heart. Anya says it was only one kind of date, and Giles is pretty over all this gross demony reminiscing. Finally, Anya offers to sleep with the demon.
You need to stop asking demons and vampires, friend.
K: She's like the polar opposite of Xander – he's inadvertently turned into a demon magnet over the years, whereas Anya seems to suddenly be demon repellent.
Lor: Giles takes over from here and tells Torg to open the portal or else he'll sic the slayer on him and his clients. Torg quickly makes a fist and pulls on a claw growing out of the back of his hand. He flings some blood, chants a thing and bam. Portal open. Giles and Anya go through.
Once inside, they find a really big eye. LOL, KIRSTI.
K: I hate everything. At least I've had 11 years to adjust to this particular eye.
Lor: Chez Summers. Willow answers the phone and it's someone from the coven. She wants to chit chat, but the person calling has some serious news. In the dining room, Xander is untying Andrew, who asks for some care with his "joystick hand." Xander: I'm not gonna touch that one. The joke or the hand, Xander, because it should probably be both. Anyway, Buffy threatens Andrew against running away.
Willow joins them and shares the news that there is another Potential in town, staying at a nearby motel. Her Watcher was killed before he was able to tell anyone about it, but a powerful seer in the coven located her. Buffy figures everyone will be safe at Chez Summers since they still have a few hours of daylight left, and takes off with Xander to collect the new Potential. Dawn enters in time to see them headed off and Willow fills her in on where they are going. Dawn is less than excited about another person and doesn't see how gathering scared Potentials qualifies as "help."
In the basement, the girls are half-heartedly training. Eve asks why they are even bothering with training, and we learn that Rona only just found out she was a Potential, and never even had a Watcher. I'm trying hard not to think too hard about the logistics here. (K: Good plan. It's another shining example of Whedon vagueness. I mean, neither Buffy or Faith knew or had a Watcher until they were called. But Kendra did. So it's a long running point of vagueness at least?) Eve keeps up whining about how she's never even seen a vampire and any of them could be called to be the slayer, and since there are so few left of them now, they'll all just be cycled through. Felicia Day heard that there is another Slayer and this just confirms to them all that they have no idea what the hell is going on.
Motel. Buffy knocks on the door of a room while Xander peers in the window. He tells her to kick the door down, and inside, they find a dead Potential. Buffy rolls her body over and finds Eve. Eve who we just saw in the Summers house. We cut there and First!Eve tells the girls she doesn't think the Slayer can protect them. The First has kind of been showing up and whispering things in people's ears, but I suppose now we know it can show up in a form that multiple people can see. The First could be anyone. It could be Cordelia sleeping with Connor, WHICH MAKES SO MUCH SENSE NOW. IT WAS PURE EVIL.
Sorry. One day I'll get over that.
Sweeney: Their numbers in both the OTTP and Brain Bleach categories suggest that nobody expects you/us to get over it anytime soon.
K: It will be with us until the day we die. There is insufficient brain bleach on the planet to counter that horror.
Lor: Chez Summers. Andrew asks Dawn why the slayer always has to be a girl because a guy slayer would apparently kick ninja ass, which he demonstrates with some hand gestures and a bad pun. Dawn assures him that Buffy can kick ninja ass, but Andrew is skeptical, since Buffy was bested by the OG Vamp. Dawn tells him to STFU and stop pretending like anyone there is his friend. HILARIOUSLY, Andrew brings up Spike again, asking why they are even going after him when he's such a bad killer. Dawn says that he was being controlled by the First and has a soul now and they need his help and OW SHOW. THAT IS MY HEAD YOU KEEP HAMMERING.
Andrew thinks he can help too since he used to be an evil genius. Dawn tells him that she has permission to kill him if he talks enough, leading Andrew into some 007 geek talk that leaves Dawnie super confused.
Andrew huffs over to the couch and laments how alone he is, prompting Dawn to remind him that he did kill his only friend. Andrew says she doesn't even know, but she doesn't plan on finding out either. He again insists he can help, since he has his ear to the ground. Dawn just leaves him alone.
Buffy gets back home in a rush, and the Scoobies +Andrew follow her down into the basement. She yells at First!Eve to get away from the Potentials. Everyone wonders what's going on and, in pieces, she explains that Eve is dead. First!Eve thanks the girls for the slumber party, as she's gathered a lot of useful information. Plus, she promises to send an OG Vamp later that night to tear them all to pieces. First!Eve disappears.
K: With a jaunty little "TTFN!" as she goes, because she's a child of the internet generation.
Lor: Beljoxa's Eye, which is in fact A GIANT EYE MADE UP OF SMALLER EYES. LOL. KIRSTI! LOOK! IT'S PULSATING. Sorry. A little sorry.
Sweeney: LOLOLOLOLOL
K: You're not even remotely sorry. Either of you.
Lor: That… is true.
Anyway, the Eye says The First cannot be defeated since it's been around forever and ever. Giles can't accept this as an answer. Does this mean The First will just win? The Eye can't see the future, just the present and the past. Anya hilariously says, "Yes, we've all got that—it's called memory." Giles asks why The First is attacking the slayer line now. The mystical forces surrounding the slayer line have been altered, not by The First but by the slayer herself.
Back at Buffy's house, Felicia Day thinks they should run, but Buffy tells them that it's safer in than out. That's hard for them to believe, since The First was living among them for a few days and no one noticed. Buffy tries to give them a pep talk about sticking together, but Xander reminds her that the uber-vamp is on its way. Buffy tentatively asks Willow for a protective barrier, and she says she'll try. They don't have many other options. The Potentials all start arguing, complaining and fearing for their lives again. Buffy looks at Willow across the table and without a word, they both stand and walk out of the room. Xander sees them and says, "what?" though Kennedy thinks he's speaking to her. He walks out with B and Willow, and in the kitchen, they listen to the Potentials still bickering.
Sweeney: I love this little scene – with or without the reveal of what's actually happening there. Seven seasons later the Scoobies are now the grown-ups, guiding a new generation of teenagers through apocalyptic terror.
Lor: Torture Caves. First!Eve sends OG Vamp to the Summers home to kill them all except for "her." The First morphs into First!Buffy and creeps about having Spike all to herself.
Chez Summers. The Rage Ninjas all line-up outside, not moving, but just looking at the house. I hope none of the neighbors look outside for any reason, though I'm sure if you live on Revello Drive, you stopped looking outside years ago. Buffy hands a sword to Rona who asks what the point is. Self preservation, dummy. Kennedy says the point is what you stick into the bad guy. Arya Stark would appreciate that.
Andrew wants a weapon too, since he's also in danger. Buffy hands him a big bottle of holy water. He looks at it apprehensively for a beat but then hugs it to his chest.
K: It's times like this I really like Andrew's character. He has his little moment of "HEY, I CAN FIGHT TOO" crankiness when she hands it to him, but then gets all "Yeah, legit choice" and accepts it. 
Lor: Willow is alone in the hall, levitating a candle and repeating to herself that she's facing her fears. Kennedy interrupts her, having apparently heard about Dark Willow and claiming she would've almost like to see that. It's a stupid thing to say. YOU ARE NO TARA MACLAY. Ahem. Sorry. Willow explains all about The First breaking and entering into her body the last time she used magic. She could feel and taste evil. Kennedy asks what evil tastes like and Willow, bless her heart, says "a little chalky."
The OG Vamp arrives. It bangs on the door and the camera pans a little so we see everyone standing in the Summers living room, just waiting. OG breaks down the door and Willow starts to chant, slowly, and like it pains her. Her eyes dark out and the shield goes up, but she's not sure she can hold it up. Buffy tells everyone to run, and they all do.
Outside, they take out the few Rage Ninjas stationed there and keep running. Inside, the shield goes down, and OG takes after them.
Alley. Giles and Anya exit the portal, Anya's hair looking like it, well, just traveled between dimensions. Legit. Giles exposits that it isn't Buffy's death that set things off balance, but the fact that she still lives. That isn't Buffy's fault. Anya realizes what this means. This falls back on her, Tara (!), Willow and Xander for bringing Buffy back from the dead. Anya: The world would've been better off if Buffy had just stayed dead. Giles looks like that wasn't really what he wanted to hear.
Sweeney: That's a truth that burns all around.
K: As if we/they haven't suffered enough for that particular turn of events and its consequences…
Lor: Sunnydale street. Buffy decides that they need to split up. What she really means is that she wants Xander and Willow to take everyone to a safe location while she tries to distract and lead the OG vamp astray. There are some protests, but Buffy's plan wins out. She grabs Andrew's holy water and sends them away.
Buffy heads towards OG at a run and tries to kick him in the chest. She falls to the ground and when he leans over her, she smashes him with the holy water. It hurts him, but not a ton. Buffy runs off and OG follows her a little bit, but then stops. By the time Buffy turns around, OG Vamp is gone.
Xander is trying to rush everyone down into the safe location, which is a construction site. Rona keeps complaining and DEAR GOD. SHUT HER UP. (S: FUCKING RIGHT? EVERYONE IS AWARE OF THE GENERAL LACK OF GOOD OPTIONS, SO UNLESS YOU'VE GOT A USEFUL SUGGESTION, STFU.) (K: YUP.) Willow tells them all to take position, but the OG vamp has followed them. It's here. Suddenly, the flood lights all come on and we see Buffy standing above them on a ledge, looking down into the construction site. Kennedy starts to load her crossbow, but Willow calls her off. "Just watch," she says. "It's show time."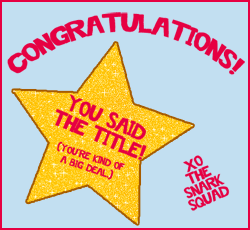 Willow leads them away. They climb back up the scaffolding and watch as Buffy confronts the OG Vamp. Buffy tells OG that it must look good, all of them waiting for him. She forward flips off the ledge down into the open area.
"That's all they've been doing for days. Waiting to be picked off. Having nightmares about monsters that can't be killed. But I don't believe in that. I always find a way. I'm the thing that monsters have nightmares about. And right now, you and me are gonna show 'em why. It's time. Welcome to Thunderdome."
Andrew appreciates the reference and finishes, "
two men enter, one man leaves.
" They start to fight, and Buffy manages to get a hit in every so often, but she's still taking some painful blows. Up on the scaffolding, Dawn figures out that they planned this all, letting the barrier fall and drawing the OG Vamp to this location. (
S: Snaps for clever Dawnie.
)
We cut back to that scene at Chez Summers where Buffy looks across the table at Willow. In her mind, Buffy asks, "Willow, can you hear me?" Willow answers back telepathically. B tells her to grab Xander and meet her in the kitchen. Willow calls Xander telepathically and he answers outloud, "what?" explaining that little outburst from before. In the kitchen, they aren't listening, they are mind-talking. Buffy wants to slay the OG Vamp to get into the cave, but she wants the Potentials to see her do it. Willow says the house is not the best place for that, but Xander's got just the place.
K: I love this. The original Scoobies, doing what they do best and showing the noobs what a Slayer really is.
Lor: We cut back to the fight in progress. OG throws Buffy through the air and she slams into the scaffolding, knocking the crossbow out of Kennedy's hands. Buffy picks it up and shoots OG with an arrow. It barely flinches. Buffy next picks up a pipe and uses that to propel herself away from OG, but he's right on her tail. He throws her back into the open space, and punches her repeatedly, into a pile of cinder blocks and then under the scaffolding. He picks her up and throws her up into the scaffolding, though she lands on the platform up top. OG follows her up there, grabs her by the throat, lifts her in the air and chokes her.
Molly yells that they have to do something but Willow yells at them to wait. Buffy grabs the arrow out of its chest and stabs OG in the eye. (S: An actual eyeball stabbing for Kirsti!) (K: This episode is just begging for my hatred. -_-) He drops her and Buffy uses this chance to punch it around. She's got the upper hand now, as she grabs a piece of barbed wire and uses it to slice-choke its head off. It falls in a pile of dust.
Buffy brushes the dust off her shoulders hands and then rousing speeches the Potentials one more time:
"See? Dust. Just like the rest of 'em. I don't know what's coming next, but I do know it's gonna be just like this. Hard. Painful. But in the end it's gonna be us. If we all do our parts, believe it, we'll be the ones left standing. Here endeth the lesson."
K: I LOVE the "here endeth the lesson", because it's a great throwback to the Master saying the exact same thing in Never Kill a Boy on a First Date, and also to Spike saying the exact same thing in Fool for Love. Buffy's learnt her lesson well over the years, and now she's the teacher.
Lor: Kennedy smiles appreciatively and we see the girls following Buffy out of the construction site. As they leave, we see First!Eve watching them and scowling, for today it lost an uber-vamp and next, a Spike.
Torture Caves. Spike is still tied up when he sees someone coming. It's Buffy, and we know it's really her because her face is still cut up from her recent fight and because she's wearing a white, flowy shirt. She's holding up a knife for reasons that amount to, "suspense" and "because." Spike tells Buffy, thinking that it is the First, that it can't hurt him. Buffy approaches him slowly and cuts him loose. He touches her, realizes she's real and smiles. They give each other super intense looks and she helps him out of the cave.
That was a good scene. I like when they don't talk too much.
Now, I totally get what they are trying to do with the Potentials. Buffy greets Rona, "Welcome to the Hellmouth," which brings us all the way back to the beginning. So many of the hang-ups they all have are ones we've heard Buffy express, from "what's the point," to, "I don't want to die." I get that, but having them all expressed together and over and over again and once we've already matured with the show? It became grating at times, which is a shame, because with a little more dexterity (and perhaps a more talented cast of Potentials…) it could've been a wonderful piece of commentary. But again, as with some many things in this last couple of season, it's heavy handed.
Sweeney: Indeed. I realized in the comments section on the last post that I need to be prepared to eat my flail on the subject of the Potentials, because mostly I adore the concept – unfortunately, it seems to fall into that same sledgehammer storytelling that they've been relying on for a season and a half now.
Lor: That, in large part, caused the first half of the episode to drag. It was a lot of repetition of things that really could've gone without saying. The whole eye in the portal thing was weird. Like it belonged on Angel weird. (S: Accurate description of inexplicable levels of weirdness.) The Spike scenes were also repetitive. Since Spike is a sleeper agent, I really don't get why The First is spending any time on him. Sing a little song, First, and send him on his evil way. I'm glad that's (apparently) over.
I enjoyed the big showdown. From the moment the Bringers surrounded the Summers house, things got creepy. I liked the confidence that Buffy had in herself to defeat the vampire and I liked the confidence her friends showed in her to let her. I liked that in the end, Buffy fought this thing all alone, all for the purpose of recruiting some allies.
It equals out to a net #meh for me.
K: That's pretty much where it's sitting for me too. There were some great scenes and some awesome reminders of how far we've (the Scoobies have) come over the past seven seasons. But some of this stuff is like being hit repeatedly with an anvil. The idea of the Potentials is great. The execution – having to develop that many individual personalities in so little time – is, as the girls have already said, lacking.  
Next time: Buffy takes the Potentials out on the town and Dawnie feels left out in Buffy the Vampire Slayer S07 E12 – Potential.