Previously: Tessa made out with Hardin during a night that wouldn't end.
—
Samantha: You guys I just want this night to end. Was there ever another plot to this story? I feel like one party night bled into another party night and now we're trapped in a college party hellscape.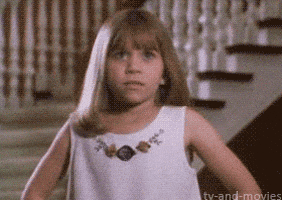 Tessa is walking away from the frat house at 4 am. I kind of refuse to believe that a taxi service isn't 24 hours in a college town but okay. She walks for an HOUR AND A HALF and omg I'm so exhausted thinking about it. How the heck far away was this frat house? (M: Ah, yes, the across town frat house. Classic.) She finally reaches campus and stop into 7-Eleven for "a cup." IDK maybe it's because I'm not a coffee drinker but I was hella confused over what the heck she meant.
Marines: It's a 7-Eleven. She should've clarified if it was a cup of coffee or a big ass Slurpee or an empty cup she asked for or what.
Samantha: She drinks her cup of air and wonders about Hardin. Why does he go from stiff and rigid to soft and flaccid? How can a punk boy be in a preppy fraternity? Why don't people fit into the neat little boxes she has created for them? She is totally done trying to be nice to him and thinking about him, though.
She thinks about how Hardin (M: Thinking about him again already, eh?) emotionally attacked her as soon as her guard was down and that she will fully deny kissing him. She then thinks about how she's going to explain going to a party again to her mom and Noah. Also that Noah needs to stop tattling on her like a little brother because she's an adult.
She gets to her room and she's so relieved, until she opens the door and finds Hardin witting on her bed. What the fuuuuuck I wish the chapter ended here. He tells her that he's been driving around looking for her for two hours. Cause he's a misunderstood sweet guy, okay everyone? Tessa now wonders why she didn't just ask Hardin to bring her home when she discovered he hadn't been drinking.
Mari: Maybe because he didn't stop kissing you when you said stop and later pushed you off himself violently. You were busy running away, girl. REMEMBER.
Samantha: He tells her its not a good idea to wander around at night alone and she kind of hysterical laughs. Legit, girl. She tells him to leave and we discover the titillating detail that Hardin runs his hands through his hair when he's nervous. I spent 30 seconds trying to find a Harry Styles gif before bailing.
Mari: Your effort is still appreciated, though. You can even claim the Questionable Google Search of the Day.
Samantha: Before anything else can happen however, Tessa's mom starts banging on her door. OMFG. Tessa tries to shove Hardin in the closet but he refuses because Theresa is an adult. IDK, dude, you have already invaded her space without permission here, probably just do what she asks. Tessa wipes at the bags under her eyes. Not with makeup or anything, I think she's just poking them. She also puts toothpaste on her tongue to conceal her alco-breath and opens the door with a smile. Except, dun-dun-dun, Mama brought Noah with her!
They push their way into the room, with Mama yelling about having a "tattooed troublemaker" in her room. Tessa starts feeling years of pent up rage start boiling in her, after years of her mom being judgmental and rude and controlling. Noah just glares at Hardin. Tessa decides that she'd like to scream at all 3 of them.
So, I'm going to transcribe what Mama then says, and preclude it with the fact that, at the end, both Noah and Tessa gasp.
"Is this what you do in college, young lady? You stay up all night and bring boys back to your room? Poor Noah was worried sick about you, and we drive all this way to find you running around with these strangers."
Anyone feeling like gasping at the end of that pretty typical and non-shocking rant? She didn't even use a swears!
Mari: If anyone reading this is writing a book, go back to your manuscript, search "gasp" and delete it if it appears. "But Mari," you say, "what if…" NO. DELETE IT. IT'S OVER. Gasping cannot keep being used this way.
Samantha: Hardin responds that he just got here and Tessa hasn't done anything wrong. Tessa, for her part, finds her subconscious tempting her to grab some popcorn to watch this fight. Oh….oh no. Not another sentient subconscious.
Mama is all "uh whatevs, wasn't even talking to you, street rat" but Hardin is unmoved by her insults. Tessa attempts to "defend" Hardin by saying the word mother through gritted teeth. She also wonders why she's defending him and if Noah can tell they just macked. Tessa's inner monologue is a fascinating place… in OPPOSITE TOWN.
Tessa's mother continues with accusing her of being out of control cause she's hanging with kids from the other side of the tracks. Tessa defends herself with "I'm an adult and just doing college" and Mommy Dearest asks Hardin to leave, suddenly referring to him as "young man". He does and Tessa knows he'll be waiting on the other side of the door for her. IDK what he's done to have that belief but sure. (M: Probably just always be around always. Her room, classes, the single frat house she visits, the room she randomly finds in that frat house, in the bathroom with her, her room again. Creeper.) I just want this night to end.
Tessa gets a 20 minute lecture that we luckily only have to survive through inner monologue summery. Basically more of the same and she promises not to drink or hang out with the hoodlums again. Then the mother decides that they should go get breakfast and shop, which… strange transition. Noah smiles at her and also hasn't said a word this entire time which is a little weird.
Tessa goes to leave but her mom is all "you reek of sin, change first." So she freshens up her purity and they all go out into the hall. Sure enough, Douchebag himself is sitting out in the hallway and Noah aggressively holds Tessa's hand. She finds that she doesn't want him to but pushes that aside to tell Hardin they're all going into town. Hardin looks hurt and vulnerable. No he does not, but fine. Noah and her mother pull Tessa along like the consolation prize and Hardin has to look away he's so *traumatized* by this. Ugh. Noah's first words are declaring that he doesn't like Hardin and Tessa agrees externally but internally she acknowledges the lie. Whatever.
Next time on After: We go shopping and eat breakfast because there will be no time jump in Chapter 21.