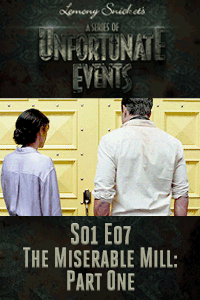 New two-parter = new credits! NPH sings, "the lumber mill is where the Baudelaires are forced to work, the eye doctor is sinister, the owner is a jerk, they end up in a fiendish plot with logs and hypnotism, the very thought of watching should be met with skepticism."

Look away, look away, etc.

New dedication to Beatrice: my love flew like a butterfly, until death swooped down like a bat.