Previously: Very intense decisions about bowling.
—
Marines: The bad news is that I think we've finally gotten to sex. The worse news is that it's taken just about half this book to get here. The worst news is that I have to recap it. In order to get through it alive, I've included a bunch of polls below. Enjoy.
"Hardin's fingers trail farther up my skirt causing my breath to quicken. A smile creeps onto his beautiful face as he becomes aware." 
1- A smile creeps onto his face? That is some creepy shit.
2- Becomes aware? I assume that she means he becomes aware of her breath quickening, but it mostly sounds like Hardin is some kind of AI that just became ~*aware*~. The tragic news is that Robot Hardin is not going to murder Tessa for humanity's sins against non-humans or anything.
Samantha: Now that sounds like a book I would read and also explains why so much of this writing feels like aliens pretending to be humans. If anyone wants a much better book to read about a rogue AI, check out Illuminae by Jay Kristoff and Aimee Kaufman!
Mari: They keep kissing and Hardin tries to slip his hand up Tessa's skirt, but she stops him. "I just thought I would do something for you this time?" Tessa wants to look away in embarrassment, but Hardin makes her look at him. He asks what exactly she would like to do for him and she levels him with a YOU KNOW. Specifically a, "you know, what you said the other day?"
We stand by our rule at Snark HQ: if you can't say penis, you probably shouldn't put penis in your mouth. According to Tessa, though, "the words "blow job" are not in [her] vocabulary." Because, sure, our virginal protagonist can put her mouth on a dick, but GOD FORBID she say the words aloud.
Samantha: As long as she doesn't say the naughty thing out loud she remains pure and not a slut. You know who probably said "blow job" out loud once? That hussy, Kate Steph.
Mari: That's what starts the official transformation into hussy, I think.
Hardin asks if she wants to suck his cock and he's clearly surprised, even though she's half-mentioned wanting to "do something for him" at least once before. Tessa says that she wants to if he wants her to. Hardin says he wants to if she wants to. OH MY GOD, DO EITHER OF YOU WANT TO? GET IT THE FUCK TOGETHER.
"Are you sure, though? Have you ever… ever seen a dick before?"
1- She can't even say dick, Hardin!
2- Maybe, maybe not, but is seeing one a prerequisite for her seeing yours now? Like, what's your question?
Samantha: Like, maybe he's afraid that she's going to run screaming from the room? Or catch the vapors? Or maybe he has an alien penis and he wants to know if she has any frame of reference to catch him out!
Mari: Huh. Well, unluckily for his alien penis, Tessa says she's totally seen one in pictures and one time walked in on a neighbor watching "a naughty movie." (S: Um, what?) Hardin laughs at her and says he's totally not laughing at her. He's just laughing at her because he's never met someone before with so little experience. I'm sure you have, Hardin, but it's not like it comes up in conversation with every person you meet. (S: Literally all I could think.)
The awful news is that this talk of her innocence leads us to a "it's so good because I'm the only person whose ever made you come, including yourself" place.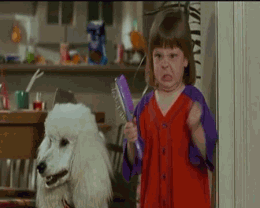 Tessa wants to get started, so Hardin stands and pulls his pants down. She pouts, because she wanted to do that, so he pulls them back up. Tessa walks over and pulls them back down. This is a regular thrill ride.
Hardin sits on the bed, and Tessa kneels in front of him, but she's nervous. Hardin suggests they kiss for a bit, and she likes that idea. They kiss, electricity builds, and she kind of dry humps him for a second, which is apparently too much for Hardin, so he tells her to stop.
Emboldened by a second of kissing, I guess, Tessa gets ready for the blow job again. She takes off her jeans and shirt and then takes off Hardin's boxers and– GASP.
"I can feel my eyes widen and hear my own gasp as Hardin's manhood comes into view. Wow, it's big. Much bigger than I expected. How am I going to even get it into my mouth?"
I'm torn between "manhood" and "wow, it's big" being my favorite parts of that reaction. It's a close call. (S: Wow. Free truck.)
Tessa pokes at it with one finger (for real, I swear) and then asks Hardin what she should do first. Hardin directs her to wrap her hand around him. The he gives her these further, brilliant instructions: Now.. just put your mouth around it. Not all of it, well, if you can… but just put as much as you can.

And so, with those simple instruction, Tessa instantly turns into a blow job prodigy. She gets him almost all in her mouth, sucks a few times, and just like that Hardin is soooo close. She looks up at him and bats her eyelashes, and that's the ticket. (S: I am so cringe.) Hardin comes, she swallows it down and even concedes that it doesn't taste so bad! I'd say more about how laughable this all was, but I'm feeling #blessed that it literally lasted a paragraph thanks to Tessa being an instant dick sucking sensation.
Hardin asks how it was for her. She says it was nice! Kind of fun to see him lose control and it didn't taste that bad. She asks how it was for him and he says:
It was the best head he's ever gotten!!!
Even Tessa is like HOKAY, but he swears it. For real. She's just so PURE (actual word he uses) and it was the best. Hardin says it's time for Tessa to feel good. He goes down on her but we kind of fade to black? I mean, she tells us she's coming within a sentence and then we fade to black.
I don't know why, though, because we pick back up after she comes? LOOK, I DON'T KNOW. DECISIONS WERE MADE. She's tracing Hardin's tattoos and he says that no one has ever touched him this way. Uh, why? I mean, I know because Hardin is kind of a Christian Grey character, but what's Hardin's no-touching excuse? Have I missed something?
Samantha: No one has ever cared for him the way Tessa can!
M: Ah. I see.
Hardin asks Tessa to spend the night with him, but she says no because she has classes tomorrow. Instead of respecting her decision, he begs and pleads and offers to make sure she's on time to classes and even has time to meet Landon for coffee in the morning. She's surprised he knows she does that.
He watches her but "not all the time." Tessa, unsurprisingly, finds this flattering. Tess agrees to stay the night, but on the condition that he comes back to Literature class. Hardin easily agrees and they keep canoodling.
Samantha: Can you drop out and then not drop out of classes? It was a whole thing at my college so this feels fishy.
Mari: And that's it?
I mean, sure there was a blowy, but it lasted a paragraph and I was expecting penetration? Like… not that I'm not happy guys but like… is there even sex in this book???
Next time on After: Separate showers in Chapter 54.