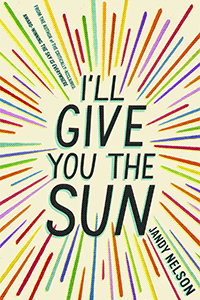 In a nutshell: Twin teenagers Noah and Jude used to be inseparable, but a series of events drive them apart. Each sibling only has half the story, though, and they need to find their way back to each other to put things back together.

We Judge Covers: This cover tells you very little about the book, but it's super fun. Definitely something I'd at least pick up in the book store, knowing nothing else about it. A+ work, marketing folks.

Main Character: There are two, though I think Jude got a little more time than Noah. The story jumps a little in the timeline – Noah begins the story when they're 13 and Jude begins when they're 16.