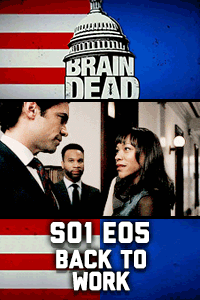 The "previously on BrainDead" songs have quickly become one of my favorites things about this show. Whatever you do, don't fast-forward through them.

Marines: "You can count on him when booty calls." 

Perfection.

Dani: This episode begins right where the previous one left off — with Laurel repeating what she just said because Anthony couldn't hear her. He claims it's just his tinnitus, which is worse in the morning, but Laurel and I remain skeptical. Then he tells her he has to get to work and asks if he can use her restroom.