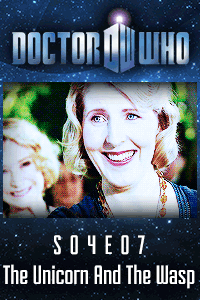 The TARDIS lands in front of a manor and the Doctor can smell grass, lemonade and a little bit of mint in the air. It must be the 1920s. Donna disbelievingly asks if he can really tell what year it is by the smell. The Doctor confirms, but Donna's on to his games.

Kirsti: I love the look on his face in the last gif. Equal parts pride and "oh, someone finally twigged…"

Mari: Some swing jazzy music starts. The man driving the vintage car (Professor Peach) is greeted by the manor staff. A reverend bikes up to the manor as well and he exchanges pleasantries with Professor Peach. The Reverend goes ahead inside because Professor Peach needs to check on something before the party… alone.