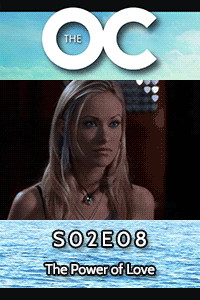 I feel like I should start by saying that I remember very little about season two. I diligently watched the entire season when it aired and then once again a few years ago when I scored the DVDs at Target for $10. But pretty much the entire season is one big blur of now-dated bands, bland love interests, and me wondering when Seth and Summer are going to get back together. So "The Power of Love" should be a fun trip down not-really-a-memory lane.

Marines: A+. "Not really a memory," describes 95% of my OC experience. The other 5% is a mixture of adorable Seth, flying pool furniture and a certain alley in Tijuana.

Sweeney: Television's gold standard depiction of Tijuana, really.