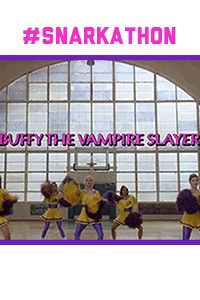 I first suggested that we cover the original Buffy movie way back in August 2012, not long after we started covering Buffy. Somehow, it ended up as a "this would be a good way to finish things" idea, and then with the birth of #snarkathon in December it became a "watch it alone-together with the Traumateers" thing. Aww.

Anyway, let's get to the movie, shall we?

We open in Dark Ages Europe, where we're given approximately two seconds of Slayer backstory – one girl in all the world, yada yada yada, she has a creepy birthmark on her chest known as "The Mark of the Coven".