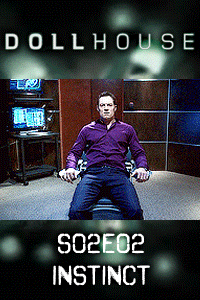 We open in the imprinting room with Paul approaching and then curiously fondling the chair. He walks around it a bit before sitting down and making a constipated face.

Sweeney: Watching TV I often find myself wondering at the frequency with which the direction was clearly, "Now look real constipated!" This has to be on purpose. I refuse to believe this constipated face epidemic is pure coincidence.

Marines: Plus, the only reason to sit in the nefarious, mind wiping chair is because you are constipated and you need to sit ASAP because of discomfort.