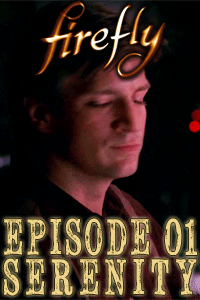 Our tragically abbreviated journey begins with stock war footage. There are explosions and bullets whizzing by as a band of futuristic aircraft gun down a group of soldiers. Welcome to Firefly everyone!

A man in a brown coat makes his way down a hill and safely into a bunker. Inside, he's addressed by another soldier as "sergeant." Sergeant Brown Coat is told that command is holding air support, but as we just saw, they could use some air support ASAP. He barks out a few orders right before a big blast makes everyone look at each other all, "we're totally gonna die, aren't we?"

Sweeney: It's a Joss Whedon show, so I'm sure some of you are correct!