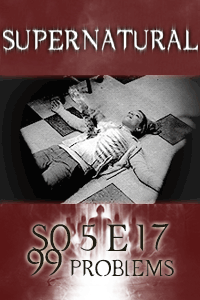 The previouslies show us Lisa, from season 3, who has a son named Ben. It was the episode with the creepy ass children.

Kirsti: I'm sorry, you'll have to be more specific. There are at least 2 episodes a season with creepy children…

Samantha: This segues us into the Impala burning rubber down a highway at night. Sam's arm is injured and they are both a little frantic. They mention how they've never seen that many in one place before, just as the Impala screeches to a halt in front of a flaming barricade in the road.