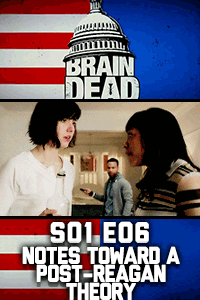 I was pretty excited about this episode, because Aaron Tveit and Mary Elizabeth Winstead have been tweeting for weeks about filming a scene with "inappropriate salami." MEW called it the weirdest scene of her career, and that's saying a lot for someone who's been in The Ring Two, Final Destination 3, and Abraham Lincoln: Vampire Hunter.

Marines: AND PASSIONS. THE WEIRDEST SOAP OPERA EVER.

Dani: We begin with the obligatory "Previously on BrainDead" song, and I know I won't shut up about them, but they really are the best thing ever.