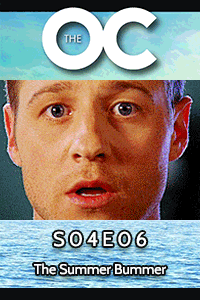 The last OC episode I recapped for Snark Squad had a lot of future Twilight actors and according to IMDB, this episode has a mini Pretty Little Liars get-together. Crossover magic is a thing I attract, apparently.

We open to Ryan staring at a fantasy of Taylor sexily dancing on the Cohen's kitchen counter with some very big hair.

We go to Ryan's POV and see Sandy offering him pre-smeared bagels, which he vacantly accepts. Ryan asks about Seth who appears to announce he's leaving for Rhode Island. Again.