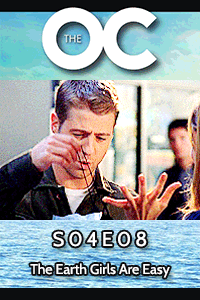 Seth and Ryan are at a gas station while Seth is simultaneously washing bugs off his windshield and being interrogated by Ryan.

Ryan is asking what's going on and Seth snarks that it's New Year's Eve and they're on their way to Las Vegas. Ryan's all like, "I know," but I'm like silly Ryan, that wasn't for you! That was for us, your loyal viewers. Good exposition, show!
Apparently what Ryan was really asking was why the girls are acting so strange. Seth kinda verbally shrugs and Ryan says he thinks that he's lying.