Sweeney:As we bring our Fifty Shades of hell to a close, we needed to have a proper celebration. With drinking. This book has induced a lot of drinking.
While we do not condone the reading of this book or drinking to the point of hospitalization, engaging in the first activity may well beget the other. Such is life. If you are going to read this book, we recommend doing it with a friend. Just ask Lor.
Lorraine: Dude, for a while there I think my friends just started ignoring my emails because they all consisted of, "…and then he beats her!!! Wanna read it with me??" No, Lor. No one wanted to read it with you. Sara did two chapters and then quit the whole site (kidding!)(mostly.) I daily thank the Youth Mauling Bear that Sweeney hasn't quit on me yet. Why? Alcohol. Hence? This game.

The moral of the story: do it with a friend.
Sweeney: To celebrate the end of our FSoG recaps, we bring you The Fifty Shades of Grey Drinking Game. Since we have no desire to encourage anyone ever to actually read these books, this game is being built around our recaps. That's a much better life choice for everyone. The Snark Squad is not responsible for whatever stupid decisions may follow.
Lor: On the bright side, it couldn't get any worse than say, getting drunk at a bar and then having your stalker quasi-boyfriend TRACK YOUR CELLPHONE just in time to see you puke in the bushes. I mean, don't make stupid decisions, but also know that it can't be worse than that, is all I'm saying.
Sweeney: That's an excellent point.
First of all: this is a group activity. Or a paired activity. It's actually ideal if you and your friend(s) are not in the same location — drinks can be commanded to one another via text message. Ideally your drinking buddy will be a friend who is out for the night. If your friend is super awesome (and super shameless) you can have them announce to whoever they are with why they are being ordered to drink via text. If there's anything we learned from FSoG, it's that inflicting suffering on others is how you demonstrate your love!
Lor: That and a nice flogging. Wait, no?
Sweeney: No, Lor, that's right except for the part where it's not.
(Note: The Snark Squad will not be held responsible for any friendships ruined by friends who tell you to fuck off when you try to tell them what to do. Also, on a serious note: don't be an idiot and don't drink yourself sick, all right?)
On to the merriment!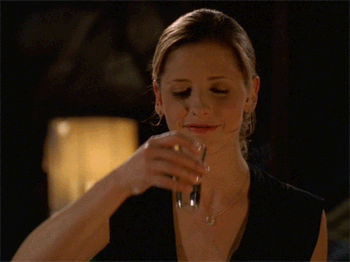 You drink when:
You see a gif that genuinely makes you laugh out loud
Lor has to define a word for E. L. James
We reference The Hulk
We have to describe the writing as "murdery"
The relevancy of the contract is called into question (use your judgement here, we don't want anyone dying)
Issue a drink to your buddy* when:
*(who should publicly announce the reason for this drink assignment)
We meet a new resident of Ana's head or they acquire new costumes/furniture.
You see your favorite version of Stalker Boyfriend
Someone mentions Ana's love of reading.
Someone references a shared toothbrush
Blood, in any way, shape or form
Finish your drink & call it a day:
When you lose all faith in humanity. This disclaimer will probably nullify the rest of the game. It's our hope that it'll happen quickly, in order to spare anyone the inevitable liver damage brought about by the rest of this book.
Lor: You are probably now Fifty Shades of WASTED. So, on that note, now would probably be a good a time as any to share some of the links we've amassed while covering FSoG. I often got emails, Tweets and comments directing me to other, brilliant content on the Interwebs. So that you and I don't feel alone, let's now watch other people making fun of this tripe:
Sweeney: We can't undo the tragedy that brought this book into the world, but at least we can take comfort in the knowledge that it brought us all of these gems. Enjoy, Traumateers.